Richard Lugar is president of the Lugar Center, a Washington, D.C., think tank focusing on nuclear non-proliferation, food security and other issues. Lugar, 82, represented Indiana in the U.S. Senate from 1977 to 2013. He manages his family's 604-acre corn, soybean and tree farm in Marion County.

IBJ: You were defeated in the 2012 primary by Indiana Treasurer Richard Mourdock, whose supporters urged voters to "retire Lugar." You were 80 years old at the time. How often do you encounter ageism these days?

LUGAR: I really don't encounter it. It may be because I continue to have very vital activities that take me across the country and around the world and am busy giving lectures on college campuses, working with students, in addition to press interviews. So in other words, people may feel that perhaps in their own lives they would prefer to slow down at this point. Certainly no one has raised a criticism of me being on these campuses, or being in these countries [working] on behalf of the things I think are very important.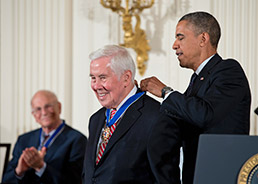 Richard Lugar (IBJ photo/Eric Learned)
2012 was not the only campaign in which people have suggested age is the reason whoever it is should be retired or defeated. Perhaps this is more common because Americans are living longer. There are more people in public life or in business … who in fact are living longer because they maintain good health practices.

IBJ: What is it like to keep working past the typical retirement age in a world that revolves around youth?

LUGAR: I've seen some polling, and I'm certain you have, people who are polled, regardless of their age, are very pessimistic about the future of young people. The answer usually is "no" by 70 percent or so. They're very pessimistic about the chances of young people succeeding. This comes down to polling of young people themselves. They're not so certain how they're going to get jobs or retain them, to pay off college debt. … I'm not that pessimistic, personally.

In part it's derivative of this terrible economic recession we've had for the last decade or so. This has been a rough time in terms of a large percentage of families.

IBJ: Why are you optimistic about young people?

LUGAR: I believe the education they are receiving is better than that which previous generations received. There'll be arguments about that I'm sure. Even though it may not be clear how this is going to be applicable in terms of employment, Americans are innovative. We're going to create new businesses. … The opportunities to latch on to some of this innovation are innumerable. I'm confident young people are going to find some of those opportunities. They're going to need some assistance.

[We have a] responsibility to be good mentors. … We're going to have great satisfaction from that. In doing this, we're going to help young people find the opportunities now, and having found them, they're going to build upon whatever they find because they really will have an educational background which is superior.

Click here for other interviews.