Amp Harris is as well-known for the company he keeps as he is for his work over the years as a DJ, radio host and promoter of community events, including the "Saving Our Youth" Celebrity Basketball Game. Among his confidants are comedian Mike Epps and professional athletes Reggie Wayne, George Hill and Edgerrin James. Harris spoke about his career, the company he keeps and how his life experiences molded his optimistic outlook.

You can be successful in anything you do if you have a moral compass to go along with your talents.

It's easy to sell negativity—drugs, violence, sex. It's hard to be positive—talking about going to school, getting an education, black families with black fathers in the household, church.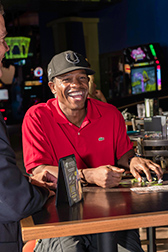 (IBJ photo/ Eric Learned)
Radio is an opportunity that you get—like a driver's license. It's a privilege. It's also a privilege to be an NBA athlete, to be a recording artist. It requires work.

I grew up in a single-parent home, the youngest of eight children. My mother wasn't a highly educated person, but she was a person with values she got out of reading her Bible seven days a week.

My stepfather killed my brother. I watched it. I was there. I picked him up, with a gunshot wound to the head, with the smoke coming out of my stepfather's gun. I live a stress-free life because I should be crazy, dead, on drugs or all of the above based on a traumatic situation like that. What that situation did for me was make me a much stronger person. I was a teenager when this happened.

My brother that died, we looked like twins. His friends today will see me and ask about him. He was crazy, but he loved his family.

I was able at a young age to learn from the mistakes of family members. I was always intrigued by successful older men, and I had the privilege of being able to travel at a young age with my mentor (attorney Burt Elmore).

When I got into the music industry, my mother used to call it the devil's music. If she didn't perceive it to be godly she let you know. I wasn't someone that went to church every Sunday, but what was instilled in me was respect, honor, loyalty, making sure you don't forget where you come from.

We used to picket Eli Lilly, for the injustice of how they were spending money in areas that wasn't touching the kids in the projects, in the inner city. I've always been on the front line. Some of my friends call me freedom fighter. I will speak up.

It doesn't matter what I can lose. I believe right is right and wrong is wrong.

My friend Paul George—everybody knows what happened to his leg. Everyone on Twitter was so focused on what was going to happen to his career. I don't give a damn about the Pacers at this moment. This is about this man's health, his family, then the Pacers.

No one person is greater than the next. I don't care if I'm standing next to a multimillionaire. I'm going to treat them the same way I treat a bum.

One of my best friends is Edgerrin James. We used to sit at his house—he had a TV and a couch. This is a guy who comes from humble beginnings, tossing watermelons in Immokalee, Florida. But when you meet his grandmother, you understand why he's the person he is. And today he's the same person. When the Colts won the Super Bowl, I was in Miami with him. We had tickets to the game. But we went to an amusement center and watched from there. One thing he and I talked about … I asked him if he was upset he didn't win a Super Bowl with the Colts. He said everything around him was because of the Colts. "They gave me $50 million. What do I have to be upset about?"

There is no book that teaches you humility. There is no book that teaches self-respect. That's wisdom. The only way you can get that is through trial and error.

Growing up without a father, the one thing that was most important to me was making sure my daughter doesn't grow up like I did. She's who I live for.

I don't drink. I don't smoke. Never been my thing. I don't judge those who do.

I should be a multimillionaire, but I've walked away from so many things that didn't give me a good feeling.

Every day, I take nothing for granted. My life could've been so much different in so many areas. Most of my friends say I make it look too easy.

No matter what I'm working on, my mission is to help.

My mom always taught me there's a huge difference between happiness and joy. Happiness is all external. Joy is what you feel on the inside. I live a stress-free life. I go where I'm celebrated, not where I'm tolerated. It doesn't matter how much money I have. You would never know if I have money or I'm broke.•

—as told to Cory Schouten

Click here for other interviews.