Denver Hutt is a 27-year-old dynamo. The California native studied political science and criminal justice at Indiana University, adding a public management minor in her senior year when she decided law school wasn't for her.
After graduation, she gave herself six months to find a job in Indianapolis. It took her about four to land something in legal processing, and not much longer to catch the startup bug.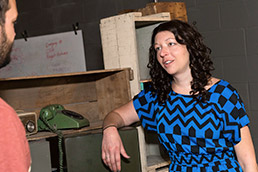 (IBJ Photo/ Eric Learned)
In March 2012, she was hired as executive director at The Speak Easy, the city's first collaborative co-working space geared to entrepreneurs. (She got the job by pretending to have it.) More than two years later, Hutt has become the face of the local startup community—and one of few women in high-profile leadership roles.
Last year, she was diagnosed with Stage IV ovarian cancer, life-changing news that only intensified Hutt's desire to leave her mark on her adopted city.
Her Twitter bio provides the answer to the question at the top of her personal FAQ list ("Yes, like the city. No, I wasn't conceived there."), but IBJ wanted to know more about Hutt and her take on community.
More on her name:
My dad is actually a big [Denver] Broncos fan. … I'm a Colts fan, but I'm happy to have that association with the Broncos still.
On her accidental career choice:
I never even thought of entrepreneurship. I never thought of myself as an entrepreneur, never thought of myself as really business-minded until I suddenly was in the mix of it, and it was like, "Oh, I actually do get this stuff. I understand it." And I think not having studied business is what makes me good at my job. There's not a lot of preconceived boxes I'm trying to fit stuff into. It's more, "Does this make sense?"
On why she chose to stay here:
If I had moved back to L.A., I'd still be very much an entry-level kind of person and not really have the opportunity [I have here]. I think Indianapolis is super accessible: If you want to do something here, to make a change, you can do it. … People are very willing to take meetings and give guidance, so it's really up to you to decide what kind of impact you want to have on the city.
On how the startup community fits into the city's fabric:
Indy as a whole needs all of its different parts to advance. I think there definitely is a community around startups and entrepreneurship. There's also a community around design, and a community around food, and a community around music, and standup comedy and all these different things. To me, the crossover of all those is what builds Indianapolis.
On kickball and collaboration:
When I first moved to Indy, I joined a kickball team because I had no friends, and that was a good way to meet people. I figured 20- and 30-year-olds that are playing kickball are probably pretty fun people, so it was a good, safe bet [laughs]. But I look at my team now, and we have managers and executives from all different industries and backgrounds. It's kickball, so it's our break from the work week, but those relationships also allow us to talk very candidly about what we're working on and ways that we can help each other.
On the value of failure:
I think failure is super important. For some people, I think it's probably more important than success. Failure teaches you—well it humbles you, so it makes you more aware of what you don't know. Often, when you're starting anything, you don't know what you don't know. … And it teaches you lessons: What worked, what didn't work, who do I need to bring in to support me? It gives you a chance to evaluate and reflect and figure out maybe how to do better next time.
I tend to think if you've never failed, you probably also aren't pushing yourself that hard. You're probably not challenging the status quo.
On sharing her health status with the public:
I always believe that by telling your story, you get to own it. You get to create the perspective, and you get to set the tone of how conversations go. … Honestly, it never really occurred to me that I wasn't going to share it with everybody. I'm in a public enough position running this space, I'm here enough, that I knew the second I started chemo, people were going to notice I wasn't here. I didn't know how I'd react to it, I didn't know how I'd feel about it. … The response was just overwhelming, beyond anything I could have imagined.
People sent me all sort of stories and love and support. People I hadn't talked to in years have reached out to me. … You never really want to forget the impact you have on others, and the impact others have on you.
On living with a serious illness:
I think in general, we have an image of what a cancer patient looks like, and I think it's really hard for people to see me and reconcile that against the image they have in their mind. I'm still super active, I still go out all the time, I'm working all the time. I still do all these normal things, so there's a little bit of, "So is that over now?" It is difficult. It's difficult for me. I forget I have cancer all the time. People always laugh, but it's true. My life continues to go on. [Treatment days are different, but] the rest of my week is a normal, 27-year-old's week.
On her prognosis:
I will likely never be cancer-free, but I can be stable. So it can be at a point where it's basically not doing anything, and that's really the goal. I think that's hard for people to understand, too. I may very well be on chemo for the rest of my life. As long as I'm able to do other things, that's just kind of a footnote to my story.
On how her priorities changed:
Initially, I said no to basically everything. … And I still have a hard time committing to things that are really far out, because in the back of my mind I don't know if my treatment is going to change. I don't know how I'm going to be feeling.
As I started getting back into things, I asked myself: "What's getting me excited? Do I find value in doing this? Is it contributing to the footprint I want to leave on the city?" That sounds so grandiose, but it's true. If it's not aligned with how you see yourself, the impact you want to make, and the person you want to be, you shouldn't be doing it.
On what she wants to be when she grows up:
Just as curious as I am today. I think this—this being [my role at] The Speak Easy or just my role in general—will continue to grow, hopefully on a city level, on a strategic level. … Hopefully, I have contributed positively to the tech/startup community, and hopefully the next level of that is contributing to the city in a more active way.
On elevating Indianapolis byembracing what it has to offer:
One of the things Indy struggles with a lot—and I hear this constantly in the startup world—is this comparison to the coasts: "We're not the coast, but …" No one cares. Let's be Indianapolis and be awesome at being Indianapolis. … We have to take a lot more pride in who we are, and worry a lot less about who everybody else is.
I've said this before, but it's true: You have the ability to make an impact here at any age. You have the ability to do something awesome at any age. And you have the opportunity to rally, motivate, excite, educate, collaborate—all across the board.
Click here for other interviews.
Please enable JavaScript to view this content.