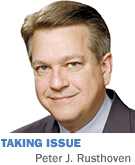 Tennessee-born Al Hubbard is a Hoosier by choice and an entrepreneur who held important economic posts under both presidents Bush. Al and his wife, Kathy, are also generous supporters of civic and philanthropic endeavors.

Their passion is improving education, the key to meaningful opportunity for those who need it most. Hearing Al Hubbard speak on this topic, as he did at a recent Indiana Leadership Forum luncheon, is an eye-opener on myth and reality in fixing our broken education system.

One myth is that we don't spend enough. In fact, there's no correlation between more spending per se and improved performance.

A 2012 Cato Institute study used Department of Education data to compare increases in per-student spending with impact on achievement. Over the four decades, from 1970 to 2010, per-student spending (in constant dollars) tripled. Impact on achievement was nil. Math and reading scores stayed flat. Science scores slightly declined.

Another shibboleth attributes poor school performance to student poverty. But evidence shows the disadvantages of impoverished background can be overcome.

The Oaks Academy is an Indianapolis private school committed to diversity in its student body. About half its students, hundreds of whom benefit from the Choice Scholarships championed by Govs. Daniels and Pence, are below the poverty level. Yet 94 percent of Oaks students pass both the math and English ISTEP tests—well above the 73 percent statewide figure.

Nor is this simply a private-school phenomenon. Harshman Magnet Middle School, at 1501 E. 10th St., has the highest percentage of students below the poverty line of any IPS middle school. In 2009, when Harshman principal Bob Guffin was given autonomy to reconstitute its staff, 71.9 percent of its students were eligible for free or reduced-price lunches

In 2013, that figure was 92.1 percent. But under Guffin's leadership, the percentage of Harshman students passing the ISTEP math test had climbed from 38.5 percent to 92.6 percent.

The keys to such stories, as Hubbard articulates and documents in greater detail than can be summarized here, are strong leadership and good teaching—especially the latter—operating in a structure where leaders indeed have flexibility and autonomy to lead, and teaching performance has consequences.

This should come as no surprise. But in too many public schools, principals' hands are tied, rewarding good teachers is difficult, and dismissing bad ones is nearly impossible.

Hubbard makes a compelling case that the problem is not the amount spent, but what it's spent on. IPS serves 20,000 students and (in 2011) employed 512 people in its central office. Mayor Ballard's Charter School Office serves 7,000 students and employs five administrators. The latter students, as a 2012 Stanford University study showed, were learning markedly more than their IPS peers.

Or consider this: From 1987 to 2012, the number of Indiana students increased 7.7 percent. The number of administrators and non-lead teacher staff increased 70.3 percent—nine times as much.

Had staff increases been no greater than student increases, Indiana would have saved $1.6 billion annually—enough for a $25,900 annual raise for every teacher.

Like Hubbard, that's where I want the money to go—but only under a system in which principals have the power and freedom to lead, good teachers can be paid more, and bad ones can be fired. Enterprises fail absent leadership and accountability. Schools are no exception.•

__________

Rusthoven, an Indianapolis attorney and graduate of Harvard College and Harvard Law School, was associate counsel to President Reagan. Send comments on this column to ibjedit@ibj.com.