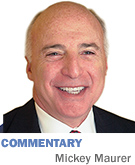 You have a chance to defeat a politician who consistently supported a ban on same-sex marriage to its bitter end and who had pressed to embody this hate law in the Indiana Constitution.

You have a chance to defeat a politician who is a pariah in his own party—thrown out of the Republican caucus, stripped of his press secretary and leadership title.

You have a chance to defeat a politician who writes unfortunate and unseemly remarks on social media.

You have a chance to defeat a politician who harbors the archaic belief and spouts the unscientific blather that Earth was created 5,000 years ago and who insists that man walked with dinosaurs.

Well, you can do this with just one vote. One vote to help the good people of Indiana oust Mike Delph as state senator in the 29th District.

The man to elect is J.D. Ford, a viable candidate who believes in America's core values but advocates fair treatment for all. It is Ford's most ardent desire to serve the people of Indiana as a state senator for the 29th District.

Ford is a young, bright, energetic guy with plenty of promise. He earned a bachelor of science in political science and criminal justice with two minors in conflict management and prelaw from the University of Akron. He followed that with a master's of science in education from Purdue University.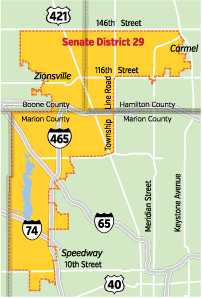 He supported the marriage-equality initiatives and applauds the U.S. Supreme Court's denial of the appeal of the 7th Circuit decision, thus preserving marriage victory in Indiana.

Ford is a proponent of early childhood education. He also advocates for laws prescribing the integrity and transparency of lobbyists. The J.D. Ford Democrat for State Senate website presents his positions on education, veterans, mass transit, the economy and myriad other issues.

The 29th District is gerrymandered to benefit Republican candidates. The district is a peninsula that extends generally along the west side of Interstate 465 from Speedway to Zionsville while sometimes encroaching within I-465. Running north, it makes a perpendicular right turn eastward along 116th Street through Carmel to Keystone Avenue. Check the accompanying map to determine if you can vote in the 29th.

Wake up, fellow Republicans. Even though the 29th is a Republican district, we can exercise independent judgment as we did when we elected Democrat Joe Donnelly and, before that, Evan Bayh, to the U.S. Senate.

Be practical. We need to dump Delph. His views and actions are an embarrassment to the party. If Ford doesn't measure up, we'll find a Republican candidate who will represent the party and the state of Indiana with intelligence and dignity.

Nov. 4 is the time for Hoosiers of the 29th District to shed ourselves of Mike Delph and to vote for J.D. Ford. Anything less would be a dereliction of our responsibility as an informed electorate.•

__________

Maurer is a shareholder in IBJ Corp., which owns Indianapolis Business Journal. His column appears every other week. To comment on this column, send e-mail to mmaurer@ibj.com.