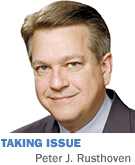 MIT professor Jonathan Gruber, once lauded by the left as "architect of Obamacare," is now unpopular. Seems he can't stay mum about the actual architecture.

Recently publicized video shows Gruber saying the bill was "written in a tortured way to make sure" it wasn't treated as a tax, which would doom it. If "you made explicit that healthy people pay in and sick people get money, it would not have passed."

"Lack of transparency," he explains, "is a huge political advantage"—"call it the stupidity of the American voter, or whatever, but basically that was really, really critical for the thing to pass."

Gruber called this a slip of the tongue when he "was speaking off the cuff" and "spoke inappropriately." But his tongue always slips into the same groove. Six other videos of Gruber saying the same have since come to light.

Democrats now run from Gruber. Nancy Pelosi says, "I don't know who he is. He didn't help write our bill." In 2009, she extolled "Jonathan Gruber of MIT's analysis of what the comparison is to the status quo versus what will happen in our bill."

Obama now calls Gruber "some adviser who never worked on our staff," whose statements are "not a reflection on the actual process." In 2006, Obama called Gruber someone "I have stolen ideas from liberally." In 2009, he put Gruber's ideas to work on Obamacare.

Gruber's many White House visits included a July 2009 Oval Office meeting where (as he told PBS) Obama feared the bill wouldn't pass because of higher taxes on employer health plans:

"And Obama was like, 'Well, you know'—I mean, he is really a realistic guy. He is like, 'Look, I can't just do this.' He said: 'It is just not going to happen politically. The bill will not pass. How do we manage to get there through phases and other things?'"

Obama did "manage to get there," including by insisting the bill wasn't a tax. Afterward, his lawyers successfully defended the act only by labeling it a tax.

A November 2009 White House blog post, titled "MIT Economist Confirms Senate Health Reform Bill Reduces Costs and Improves Coverage," featured Gruber. The administration's paying him nearly $400,000 went unmentioned.

Obama's 2012 campaign touted Gruber both in a video attacking Romney, and in a press release calling Gruber the man "who helped write Obamacare."

Gruber's comments illustrate the cynical dishonesty employed to enact a "reform" Americans now oppose by double-digit margins. The prime example remains the president's false, repeated promise that, "If you like your plan, you can keep it."

As Charles Krauthammer notes, "Obama knew the falsity of his claim as far back as February 2010, when, at a meeting with congressional leaders, he agreed that millions would lose their plans."

As for Gruber, his big mouth isn't done. The Supreme Court will soon decide if Obamacare subsidizes only policies purchased on "state exchanges," which is what it says. Enforcing the act as written is a death blow, because (contrary to supporter expectations) numerous states didn't establish exchanges.

So supporters now say the act "intended" to subsidize purchases on "federal exchanges," too. But Gruber, captured again on video, says otherwise. Limiting subsidies to state exchanges was deliberate, to force states to create such exchanges lest their "citizens don't get their tax credits." He should know.•

__________

Rusthoven, an Indianapolis attorney and graduate of Harvard College and Harvard Law School, was associate counsel to President Reagan. Send comments on this column to ibjedit@ibj.com.