A growing number of savvy charities are tapping into the viral power of social media, using popular platforms like Facebook and Twitter to connect with supporters and build awareness along with their spheres of influence.
Largely considered a marketing tool rather than a fundraising strategy, social media outreach nevertheless is starting to pay off for organizations—though few can claim jaw-dropping successes like the $115 million donated to the national ALS Association since late July through the so-called Ice Bucket Challenge.
More common are smaller wins like the $13,423 Indianapolis-based College Mentors for Kids raised this month during its second Giving Tuesday campaign.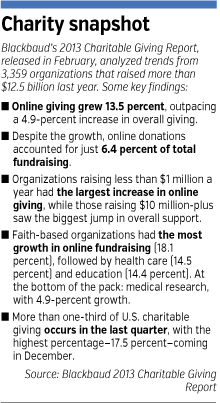 Launched in 2012 to encourage Americans to keep their wallets open after Black Friday/Small Biz Saturday/Cyber Monday shopping sprees, the one-day initiative on Dec. 2 raised more than $45.7 million nationwide for charities using five major donation platforms, according to an early tally from researchers at Indiana University's Lilly Family School of Philanthropy.
College Mentors set out to improve on the $1,000 it collected during its first Giving Tuesday foray. Leaders lined up a $3,000 match from local marketing firm Element Three, created the hashtag #GiveAMentor, and put together a toolkit for staff and volunteers to use to spread the word.
Their medium of choice: social. Equipped with sample tweets and Facebook posts—plus "unselfie" signs donors could hold in photos to signal their support—College Mentors started mentioning the fundraising blitz online about a month in advance.
"Most of the year, it is a marketing strategy, building awareness around mentoring and the great results it can have," Interim Executive Director Amanda Koushyar said. "It's about going where people are and engaging them."
With 12 full-time employees overseeing 1,900 mentor matches on 27 campuses, College Mentors can't devote a lot of time to social media. But Koushyar said the viral nature of the services, which allow users to share content with their friends and followers, is effective.
"Our message is even more powerful when it comes from mentors," she said.
Indeed, experts say what made the Ice Bucket Challenge so successful was its origin: not the ALS Association itself, but a Massachusetts man who wanted to raise awareness of Lou Gehrig's disease. He challenged friends and family via a video message and the phenomenon took off from there.

Love
"It energized people, started conversations about ALS," said Jay Love, an Indianapolis tech entrepreneur who has worked with charities for more than three decades. "The videos [of supporters being doused with buckets of ice water] were so effective, I think the donations were almost an innocent byproduct."
But he doubts the message would have been as well-received if it had arrived as a standard fundraising appeal.
"It only works in that manner when it's coming from a network you already have and it excites you enough to send on," said Love, founder and CEO of donor-management software firm Bloomerang LLC. "If you get an email from your best friend or college roommate, you're going to open it."
Viral or not, he and others said, the ice-bucket videos likely would have been much less effective from a fundraising perspective if the ALS Association didn't have a robust website where donors could learn more about the disease and the organization—and give online.

Stanger
"If they hadn't put in the time, I don't know if it would have gotten as far as it did," said fundraising consultant Jeff Stanger, who teaches a "using social media in fundraising" course for The Fund Raising School at IUPUI.
Social media has helped level the playing field for small organizations looking to broaden their appeal, he said, but it's not a silver bullet. The basic principles of fundraising still apply.
Not-for-profits need to make a solid case, craft a clear and concise appeal, and provide enough information on mission and results for a would-be donor to make an informed decision.
"A lot of Facebook 'likes' isn't a guarantee that you'll get the results you want," said Stanger, a former Salvation Army Indiana Division fundraising executive who launched The Fund Raising School's social media class in 2009. "You have to do regular posting, provide quality content. I liken it to [soliciting] major gifts: It's a long-term commitment."
Experts said savvy charities also recognize that social media is not just a megaphone for their messages—it's also a way to engage the community in candid conversations about the cause.
Early on, some organizations were fearful about losing control of their message amid the sea of social media snark, but most have found supporters are quick to jump to their defense.
United Way of Central Indiana uses social media to tell its story directly to donors, rather than relying on traditional media and employers to make the case for support. The biggest sources of traffic to its website: Facebook and Twitter.
"Social media allows us to connect in ways we didn't have previously," said Chris Herndon, senior vice president of engagement for the Indianapolis area's United Way. "It has opened some doors."
But he said it is just part of a larger digital marketing strategy that aims to build awareness of United Way initiatives and strengthen the organization's relationship with supporters.
Nate Lichti has similar aspirations for Hamilton County Area Neighborhood Development Inc.'s social media presence, but as the organization's only full-time employee, he has to prioritize his time. Two part-timers also pitch in.
HAND, which promotes affordable housing in the largely affluent county, has planted its flag on Facebook, Twitter and LinkedIn—just enough to improve visibility and "stay on people's radar screen," Lichti said.
That has done the job so far, he said, but "you still have to move from awareness into action." And personal appeals have been much more productive for HAND.
Still, it's hard to predict the long-term results of charities' relationships with their cyber supporters. Love, the fundraising software executive, said this year's ice-bucket challenge alone is likely to make financial ripples for decades, as estate gifts pledged during the campaign are paid.
Donations made on Giving Tuesday doubled from 2012 to 2013, and the explosive growth appears to have continued this year—an indication of the power of social media. Online giving represents only about 6 percent of charitable contributions, still just a splash in the $335 billion pool, but that's expected to change as the tech-savvy millennial generation acquires wealth.
"My children are in their 30s now, and the youngest says nothing good ever comes in the mailbox," Love said. "Anyone who's going to build a relationship with millennials is … going to need a multifaceted, multichannel communications strategy, with social being one of the key components."•
Please enable JavaScript to view this content.