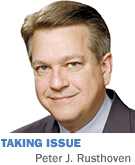 Speculation about Gov. Mike Pence as a potential 2016 presidential candidate is a familiar topic in Hoosier political circles. It is now increasingly part of national political conservation as well.

Here are examples from the last 30 days:

The Dec. 12 Washington Post featured an article titled "Mike Pence lays out vision for a presidential campaign. But will he be a candidate?" Author Philip Rucker notes that Pence "has powerful boosters encouraging him to seek the presidency," including soon-to-be Senate Minority Leader Harry Reid's bogeymen, the Koch brothers.

More important, Rucker says an argument for "Pence is as a potential uniter in a deeply divided Republican Party," someone who "is well liked by GOP establishment donors but also has credibility with tea party activists."

Jennifer Rubin, the Post's "Right Turn" blogger, agrees, saying Pence "has executive experience, foreign policy smarts and broad appeal with both the grassroots and establishment Republicans." He is also "poised and solid, the neighbor who you'd call to get the tree off your roof."

Rubin's Nov. 24 post on possible Republican candidates ("The GOP should look to the heartland") notes potential strengths of Govs. Rick Snyder (Michigan), John Kasich (Ohio) and Scott Walker (Wisconsin), then states: "Mike Pence of Indiana may be a synthesis of all three, along with some foreign policy bona fides from his days in Congress added to his portfolio."

Then there's national columnist Cal Thomas, writing on Dec. 17: "If success at the state level were enough to recommend someone for president of the United States," Thomas begins, "Gov. Mike Pence of Indiana would be among the front-runners."

After reviewing Pence's record, Thomas adds that, "Pence is a model of humility and restraint," and concludes: "Humility, coupled with a proven track record of success and more confidence in the states and the people, is what's needed at the national level. Mike Pence could be the one to bring it."

This isn't just conservative talk. On Dec. 12, decidedly leftist Vox published "7 reasons Mike Pence will be the GOP nominee in 2016," by liberal Michael Yglesias. As he observes, "you don't need to be a celebrity to win a nomination, you just need to be known—and liked—by the network of elected officials, operatives, donors, and ideological activists who make up a modern political party."

That, says Yglesias, "is why I think Pence is actually the guy with the best shot at being the GOP's candidate in 2016." Yglesias' "7 reasons" include many noted above, but his first is the most insightful.

"The baseline criteria for becoming a major party presidential nominee is that you have to be the kind of person a major party would nominate for president." Others may do well in polls and primaries. "But to be the nominee, you have to be like a nominee. And Pence certainly fits the bill."

That's why some Republicans who plan to run—such as Sens. Rand Paul (Kentucky) and Ted Cruz (Texas)—will never be nominated. And it's a key reason Pence is such an intriguing possibility.

I don't know what Pence's decision about 2016 will be. Forced to bet, my money would be on his running for and winning re-election as governor.

But current national discussion of his possible presidential candidacy is a testament both to his achievements and to his character, and may portend his future.•

__________

Rusthoven, an Indianapolis attorney and graduate of Harvard College and Harvard Law School, was associate counsel to President Reagan. Send comments on this column to ibjedit@ibj.com.