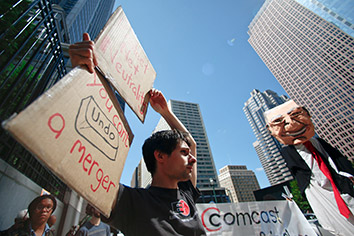 Comcast, the nation's largest cable company, is looking to expand with its proposed $45 billion acquisition of Time Warner Cable.
But customers in central Indiana won't come along for the ride. To ease antitrust concerns, Comcast plans to hand 2.5 million customers to a new spinoff called GreatLand Connections.
Indianapolis is one of several markets that will see GreatLand take over for Comcast if federal regulators approve the deal.
What does that mean?
Rates might rise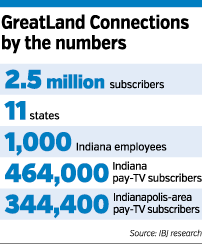 GreatLand, which for the moment is a division of Comcast, said in a regulatory filing that it expects content and other expenses to tick upward when it leaves Comcast's nest.
With only 2.5 million customers, GreatLand won't have the economies of scale 22-million-subscriber Comcast has, not to mention the sizable leverage Comcast enjoys in negotiations with content providers.
That and other factors might squeeze GreatLand's profit margins, observers said, putting pressure on the rates consumers and businesses pay.
But the verdict on higher rates isn't in.
Herb Terry, professor emeritus of telecommunications at Indiana University, said competition will be the biggest rate driver.

Terry
"It is likely to be more determined by the marketplace in Indianapolis than by the economies of scale of an operator," Terry said. He doesn't expect GreatLand's smaller size to make much difference in content-provider negotiations, either.
"The economics will work out and they won't be terrifically different among the competitors in the same market."
Even if such a switch prompted big rate hikes, they wouldn't disrupt existing contracts.

McCall
Rates have been on the rise nationwide, anyway, Terry noted. And Jeff McCall, a professor of media studies at DePauw University, said a major rate restructuring is in the forecast as pay-TV packages start to unbundle.
"Part of that is because a lot of the companies that provide the programs are now going over the top, where they are sending their programs directly to the consumer through the Internet," McCall said.
Marketing ramp-up
Expect a deluge of advertisements from GreatLand and its competitors, experts said.
Pay-TV providers like AT&T and DirecTV are likely to ratchet up ad campaigns and promotional offers—at least temporarily—to entice former Comcast customers. GreatLand will not only have to advertise promotions, but also introduce itself.
Satisfied Comcast customers "are going to have to be resold," McCall said.
GreatLand is taking over for Comcast in about 955 communities across 11 states, and the switch could bode well for local media companies.
We're not Comcast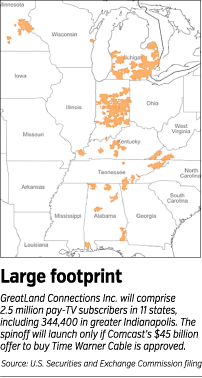 Comcast exercises its lobbying muscle the most in Washington, D.C., but has a presence at statehouses across the country.
Here in Indiana, players like John Ruckelshaus of Faegre Baker Daniels are part of its lobbying effort. It's unclear who will lead GreatLand's lobbying, but some observers said they wouldn't be surprised if local players remain relatively unchanged.
McCall, the DePauw professor, said GreatLand's lobbying might be more intense than Comcast's.
"A smaller company that is more focused on the Midwest might actually have lobbyists who can work the General Assembly in ways that are more meaningful," he said.
McCall said he expects GreatLand to engage in "image lobbying" to help counteract poor perceptions consumers have of large multi-service operators. Earlier this month, a Harris Poll survey ranked the country's most visible companies by positive public perception. Comcast came in at No. 93.
"Comcast is one of the most hated companies in America," said Dom Carasiti, professor of telecommunications at Ball State University. "The Xfinity brand is an attempt to escape that.
"I think the first thing you're going to see from GreatLand is the claim that they're homegrown, that they're an Indiana company, and that they are not that big old company that doesn't care about you."
Layoffs unlikely
Comcast employs about 1,000 Hoosiers, but numbers for Indianapolis were unclear.
In a letter to various franchising authorities last fall, GreatLand signaled that, at least initially, employee count won't change significantly.
"Following the closing of the transaction, all former Comcast field technical operations employees associated with the spinoff systems will become [GreatLand] employees," the letter said. "Current Comcast system level management and operational employees will remain with the system.
"Because [GreatLand] is committed to maintaining a strong existing workforce in the community, the spun-off systems from Comcast to [GreatLand] will not include job reductions in affected service territories."
Nearly all of Comcast's cable systems in Indiana are transferring to GreatLand, except a few in markets such as Gary. So that could alter its Indiana headcount.
Terry said the workforce might even grow.
"There might actually be some increase because of things that are being provided by Comcast that are not being provided locally now that the new company might need," he said.
Headquarters destination?
Under the auspices of Comcast, GreatLand operates in 11 Midwestern and Southeastern states. If the Comcast/TWC deal closes, GreatLand will become the nation's fourth-largest publicly traded cable operator behind Comcast, Charter and Cablevision.
GreatLand covers a wide swath of Indiana, mostly central Indiana, with more than 460,000 customers. The Indianapolis metropolitan area has about 344,400 pay-TV subscribers, or 14 percent of GreatLand's total.
The company's biggest market will be Detroit, which is home to about 28 percent of its 2.46 million pay-TV subscriber base. Behind Detroit is Minneapolis-St. Paul, which has about 22 percent, or 541,000, subscribers.
GreatLand filings have not indicated where its headquarters will be.
Hometown team
The management team at GreatLand should be familiar with the Indianapolis market. Its CEO is Michael Willner, co-founder of Insight Communications Inc., which provided cable to 760,000 customers in Indiana, Kentucky and Ohio until the company was sold to Time Warner Cable in 2012.
Chief Financial Officer Matthew Siegel and Executive Vice President of Corporate Affairs Keith Hall are also former Insight executives.
"We are excited about the prospect of having GreatLand Connections come to Indiana," officials with the Indiana Cable Telecommunications Association said in emailed remarks.
"Their leadership ran a successful cable operation in Indiana for many years, so they understand Hoosiers and Hoosier values. GreatLand will offer the best of both worlds—small enough to focus extraordinary amounts of attention on our state and big enough to be a real player in a rapidly changing landscape."
The company also named other senior executives and board members, and even set tentative salaries for when the spinoff occurs. Willner will be paid a base salary of $1.5 million and be eligible for a $2.25 million bonus based on performance.
Smoother path here
GreatLand is in the process of assuming the franchising rights from Comcast in about 955 communities, and several media reports indicate they're about 90-percent finished.
The transfers often involve going before elected officials to seek approval. But GreatLand doesn't have to do that in Indiana.
"An existing franchisee can transfer their certificate of franchise authority by using the notice of change form," said a spokeswoman with the Indiana Utility and Regulatory Commission, which regulates telecommunications companies. "No hearings, meetings or votes are required."
The process is one of the results of the 2006 Indiana telecommunications deregulation law, which moved authority over cable franchising from the local level to the IURC.
The law saves Comcast and GreatLand a great deal of time and work, but it also prevents localities from extracting concessions to approve the switch. City council members in Minneapolis, for example, got Comcast to agree to pay $40,000 in overdue franchise fees after an audit found it underpaid the city for public right-of-way use. The city also got free basic cable for seven years in 30 municipal buildings, a $50,000 value, local media reported.
Possible holdovers
Besides general cable, Internet and phone service, Comcast has some niche offerings.
Those include Xfinity Home, its home security/home automation product, and X1, its personalized TV platform that leverages apps, social media and more. Comcast Business and its $10-per-month Internet Essentials program are also in the mix.
The future of these services is still to be determined, but various regulatory filings note GreatLand has a "transition service agreement," in which Comcast will maintain certain offerings during the transition, which might last at least a year.
It's in GreatLand's best interest to keep customer disruptions to a minimum if it wants to keep defections low, McCall said. "If they're smart, they'll handle this as smoothly as possible."•
Please enable JavaScript to view this content.