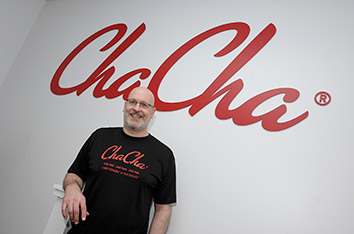 Back in early 2008, the excitement around ChaCha Search Inc. seemed warranted.
An exuberant Scott Jones, a pioneer of voice mail technology, was at the helm of the young Q&A-service company. Amazon.com CEO Jeff Bezos and Compaq founding CEO Rod Canion led ChaCha's $6 million funding round a year earlier, and more money followed. The company showered its tech-savvy employees with perks, including free haircuts and massages.
It was around that time that New York-based directory assistance giant Kgb offered to purchase the 2-year-old firm for $100 million, several people familiar with the matter said. Carmel-based ChaCha, which billed itself as the "only human-powered search engine in the world," didn't bite.
It's not uncommon for founders and heavyweight investors to pass up buyouts if they believe their startup has greater potential. But the offer might have been the best exit opportunity for a company that never found sustainable footing in a rapidly changing tech landscape. Today, with ChaCha's workforce down to 15, the jubilance is gone, Web traffic continues to drain, and Jones appears ready to move on.
"I want it to have a great landing," Jones recently told IBJ. "I'm just not sure what that conclusion looks like."
Investors have poured $82 million into the company since its founding in 2006, with $32 million coming from Jones himself, he said in a brief interview. Jones could not be reached for follow-up questions.
That ChaCha's funding approached $100 million is an impressive feat. Few Indiana startups have raised half that sum.
But market observers doubt that if the company finds a buyer, the price would be anywhere near what investors put into it.
Ross Rubin, a technology analyst at Reticle Research, said the value of its assets—such as its trove of question-and-answer pairs—likely will diminish with time.
"It's like asking about the value of an encyclopedia from 1978," Rubin said. "It's not very useful today for many things."
Innovative origins
ChaCha incorporated in spring 2006. The concept was simple, yet powerful: Ask ChaCha a question and get a human-guided response for free. 
In their early days, search engines worked best when users typed in pertinent words, said Jim Bumgardner, a software developer at Disney who wrote a 1998 guide to using search engines. "Instead of asking, 'What year did Magellan circumnavigate the globe?'" he said, "I would use the query 'year Ferdinand Magellan completed.'"
By 2006, search engines had come a long way. But in Jones' mind, they still lacked human judgment and understanding to answer questions like, "Where can I get a late breakfast in Chicago?" on the first try.

CEO Scott Jones invested $32 million of his own money over the years.
The original version of ChaCha was, like other search engines, tethered to a desktop. But in 2008, Jones launched a text-based service and a voice-based service. People could text CHA-CHA (242-242) or call and leave a message with their question; an answer would be texted back soon after. The business was powered by a network of part-time guides around the country, and it wasn't long before Coca-Cola signed on as one of its first major advertisers.
"It was a great concept," said Bill Johnson, CEO of Indianapolis-based Salesvue. "My three daughters grew up using ChaCha for a number of years, often saying, 'Hey, let's ask ChaCha.'"
Businesses and entrepreneurs had sought for years to connect people to answers and monetize the concept, and many such ventures had failed. But this was Scott Jones, the high-octane entrepreneur who sold voice-mail company Boston Technology for $843 million in 1997, then sold music-tech firm Gracenote to Sony for $260 million in 2008.
Those close to Jones, including former ChaCha Chief Marketing Officer Shawn Schwegman, described him as an extremely driven, generous, "wicked-smart guy." Schwegman, a former Overstock.com executive, said he was getting ready to launch his own firm around 2010 when ChaCha recruited him.
Not everyone is a fan of the 54-year-old. In 2006, one local angel investor told IBJ, "Scott is one to get distracted easily when other opportunities come along. Perhaps that's a strong sign of entrepreneurship—or inability to focus."
Smartphone disruption

Jones was laser-focused on ChaCha, former employees said, serving as evangelist-in-chief, and as recently as 2013 he was still raising money for the company. Observers said it's difficult to point to a single reason ChaCha lost ground, but they described a company that never found a core offering largely immune to obsolescence.
Problems started early. 2008 was shaping up as a good year, as the company experienced traction with its text service and inked deals with national sponsors, including Barack Obama's presidential campaign. Then the financial crisis hit, and ChaCha laid off eight of its 108 employees. 
But probably more significant than that headwind was the rise of smartphones, which greatly improved the mobile Web experience. Once the first iPhone debuted in 2007, consumers could search the Internet instantaneously and not have to wait for a ChaCha text.
Consumers still used the desktop version and the text service, but smartphones prompted ChaCha executives to embrace the mobile Web and reconsider where they were deploying manpower. In March 2009, the company announced a $12 million equity raise but said it was undergoing a corporate restructuring that ultimately slashed about 50 positions.
The moves appeared to have worked, and 2010 was a banner year. As questions poured in, mostly from the coveted 24-and-under demographic, the company hit record after record, including receiving 1 million Web questions in a day and 2 million text questions in a day. By year end, ChaCha also had doubled Web traffic, to 32 million visits a month, and ad sales were up 300 percent. Advertisers including AT&T, Walmart and Paramount Pictures renewed their deals.
But momentum turned south in February 2011 when Google launched algorithm updates widely known as Panda. The result for ChaCha, Schwegman said, was that Q&A sites appeared lower in Google search results than before.
"Google wants you to go to Google to do your search," Schwegman said. "They don't want you to go to ChaCha or Answers.com or Ask.com."
Business model search
ChaCha fought on, launching an iPhone app that spring and continuing to push its mobile strategy. But executives began launching other business lines in 2011, including directory assistance, municipal information services and Q&A services for corporate call centers.
Jones said at an IBJ Technology Power Breakfast in 2012 that the company had become cash-flow positive. But none of the new ventures proved to be "it."
The effort that gained a good amount of traction was Social Reactor, which used a mix of celebrities, advertisers and Buzzfeed-type content. The concoction was quietly launched in 2012. The idea was that people or brands with a high number of followers on Twitter and other platforms would encourage followers to click links to content that included galleries and listicles like "10 Epic Life Hacks."
Advertisers would embed their content in those galleries, and the promoters and ChaCha would split the ad revenue. In 2012, Social Reactor generated about 20 percent of ChaCha's $12.2 million in revenue. But another Google algorithm change in 2014 dealt a fatal blow. That May, Jones shut down Social Reactor and cut 28 of 44 employees.
"There was no impact to our ChaCha Q&A business, which has been stable and steady," Jones told IBJ at the time. "The remaining staff is now fully refocused on the Q&A part of our business at ChaCha.com and via our iOS App."
Startup fatigue
Technological change wasn't the only source of ChaCha's struggles. The company at one point had 55,000 part-time guides across the country, and managing them proved difficult—especially when they were fielding questions that involved religion or other topics where answers aren't cut and dried.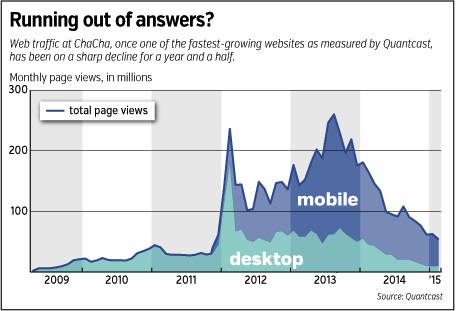 Mike Burroughs, former director of mobile development, said the company expended a large chunk of resources managing guides.
"It was a scaling problem. It was a cost problem," he said. "The reality is … the guides didn't get paid enough to make it worthwhile for anybody with any expertise to do it."
Another issue was culture, at least in the latter years. The multiple pivots induced fatigue, some said, and employees spent long hours trying to get something right. By 2013, one former employee who asked not to be named said, "It was a long time for a startup to be in startup mode."
Nancy Herther, an anthropology librarian at the University of Minnesota who published research on ChaCha, said the company had a novel idea, but its appeal has waned for consumers and advertisers. She said the market's hunger for human-cultivated answers didn't prove to be as strong as imagined.
"I think what we found is that a majority of users are willing to accept good-enough information as opposed to really wanting to have some intermediary," she said.
Moving on
Jones said the company always has been open to offers, but he's been shopping ChaCha actively for about a year. He said he's talking with prospects about ChaCha assets and he recently reached a deal to handle taxpayer queries for the Department of Veterans Affairs. Last August, Jones started a coding boot camp of sorts called Eleven Fifty, and tech observers say he has shifted his focus there.
ChaCha may yet attract a buyer, even if the valuation comes in far below its peak. Don Aquilano, managing director at Allos Ventures, said ChaCha's Q&A machine "could be valuable to other search-related companies—or any company that is seeking to add or enhance their solution with really humanized answers to questions."
It certainly has brought value to Indianapolis, in part by raising millions of dollars and attracting top tech talent.
Matt Hunckler, who led Social Reactor, said ChaCha played a significant role in solidifying Indianapolis as a tech hub. "Whether ChaCha gets acquired or not, it has certainly had a net positive impact on the tech community."
Added Aquilano: "Very few people have the courage to try to pull off something as big as the original ChaCha concept. It takes someone like Scott to really shoot for the moon."•
 
Please enable JavaScript to view this content.