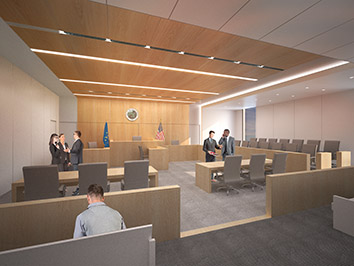 The odds the Indianapolis City-County Council will approve plans for a new criminal justice center this year are tanking fast.
Two council members, Democrat Mary Moriarty Adams and Republican Ben Hunter, who initially supported Mayor Greg Ballard's project, are now saying any action on it should be delayed until after the municipal election in November.
With Adams asking for a delay, the rest of the majority Democrat caucus likely will follow suit, said Bart Brown, policy analyst for the council. "The votes aren't there to approve the deal," he said.
Hunter is breaking ranks with Minority Leader Michael McQuillen, who wants the council to approve the Ballard administration's preferred vendor, WMB Heartland Partners, in the next two months. Hunter could not immediately be reached for comment.
Ballard had hoped to see the justice center approved before he finishes his second and final term.
"Public safety is the standard by which all communities are judged, and clearly is the most important issue facing our city right now," Adams and Hunter said in a letter to local newspaper editors. "Over the last several decades, numerous studies have been completed to assess our current jail and court facilities, and to plan for new facilities and upgrades. Now the City-County Council is being asked to approve an extremely complex, public-private partnership to build a $1.7 billion Justice Center Complex—with a 35-year mortgage—here in Marion County in the next two months.
"We believe the best way to keep politics out of this debate is to postpone any final action until after the municipal election if possible. We do not know which party's candidate will prevail, but we know we will elect a new Mayor in November. That person must have an opportunity to review, provide input, and align with this decision. This small but important delay will give us adequate time to go back to gather and analyze the necessary information, and to determine whether this proposal meets our long-term public safety needs in a fiscally-responsible manner."
David Rosenberg, the city's director of enterprise development, said the Ballard administration has briefed council members 100 times and will continue to talk to members about the project. "We have a solution," he said. "It deserves a fair hearing, and it shouldn't be punted because there's an election coming up."
Brown said the council will spend $15,000 to have independent consultants evaluate the financing options for a new justice complex. Under Ballard's proposal, it would be funded by private-sector investors through a public-private partnership, or P3.
The council hired Umbaugh Associates and a sub-contractor, Jeff Baize, to evaluate financing options, including public financing, Brown said.
Rosenberg said the council's consultants are hardly independent. Umbaugh's point person on the study is Bob Clifford, a Democrat and former city controller, he said. Baize had tried to pitch the administration on entering a different type of P3 deal but was rejected, he said.
The council's delay means that the preferred vendor, WMB, could walk away. Brown acknowledged that WMB's offer was the best of those that bid.
"This is the best deal we're  going to get under a P3," he said, but added, "There are other ways to finance it."
Ballard released a statement late Monday afternoon urging the council to move ahead with the project.
"We pursued it so that future mayors would not have to address this issue, politically or financially," Ballard said. "The city has been debating this challenge for more than 30 years, and collectively, we have worked together to create a solution. The council, sheriff, courts and other stakeholders have been involved in decision making on the justice center project from the beginning. Now is the time to execute the plan so that a future administration will not have to deal with this continuing challenge."
Please enable JavaScript to view this content.