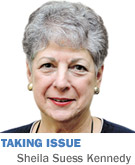 Leonard Nimoy died Feb. 27, and with him died one of the most indelible characters of modern popular culture: Mr. Spock, the pointy-eared Vulcan science officer of the Starship Enterprise.
Media outlets from The New York Times to Vox.com and innumerable blogs used Nimoy's passing to consider his and Spock's legacy. As one noted, Spock was a cheerleader for science and the scientific method—"careful experimentation, reason, making choices based upon evidence rather than instinct or intuition."
"Star Trek" was created by Gene Roddenberry to address the hot-button social and cultural issues of the 1960s; by creating a futuristic "morality play," fraught issues could be handled more abstractly—minimizing emotional baggage. Issues could be addressed logically.
The series and its spinoffs—most notably, "Star Trek: The Next Generation"—captured the imagination of fans and scholars alike. From law review articles considering the "Law of the Federation," to psychiatrists characterizing McCoy, Kirk and Spock as representations of id, ego and super-ego, to sociologists considering Spock (and later Data and Worf) as a representation of "Otherness," "Star Trek" generated far-reaching debates about humanity's foibles and potential.
Among its other purposes, the Spock character embodied the cultural fears of the '60s—fears that have re-emerged with a vengeance in the aftermath of President Obama's election. Half human, half Vulcan, Spock represented, in one scholar's phrase, "the colonialist nightmare"—a mongrel.
Whatever one's reaction to these flights of scholarly fancy, most of us who loved the various iterations of "Star Trek" responded to its vision of a future in which not just races but species would work together to explore and understand our universe. The importance of science, and scientific ways of knowing, resonated. We understood the emotional outbursts of Dr. McCoy, but we valued the calm logic of Spock.
No longer.
During the past couple of weeks, we've said goodbye to Spock in more ways than one.
• U.S. Sen. James Inhofe—a dunderhead who inexplicably leads the Senate's committee on science and technology—threw a snowball on the Senate floor and proclaimed that the winter's snow disproved climate change.
• Idaho State Rep. Vito Barbieri suggested that the small cameras used to track abnormalities in the digestive system be swallowed by pregnant women to allow viewing of the fetus.
• Nevada Assemblywoman Michele Fiore proposed to reform end-of-life medical care so that more cancer patients can simply flush out their disease using baking soda. (She says cancer is a fungus and baking soda is the cure.)
• The U.S. House of Representatives passed a bill that prevents scientists who are peer-reviewed experts in their field from providing advice—directly or indirectly—to the EPA. (The bill will, however, allow industry representatives with financial interests in fossil fuels to have their say.)
Although the Republican "war on science" deserves its higher profile, the ignorance is bipartisan. A recent Pew poll did find that 43 percent of Republicans don't believe in evolution, and Grist tells us that 72 percent of Republican senators disagree with the 98 percent of actual climate scientists about climate change.
On the other hand, anti-GMO hysteria and the re-emergence of measles—a disease science had virtually eliminated—is a consequence of mostly liberal people who would rather listen to ditzy celebrities with no scientific credentials than to doctors and scientists who know what they're talking about.
I don't think Gene Roddenberry anticipated this wholesale rejection of science, evidence, reason and logic.
I will really miss Mr. Spock.•
__________
Kennedy is a professor of law and public policy at the School of Public and Environmental Affairs at IUPUI. She blogs regularly at www.sheilakennedy.net. She can be reached at skennedy@ibj.com. Send comments on this column to ibjedit@ibj.com.
Please enable JavaScript to view this content.