I could not care less about most craft-food trends ushered in by the neck beard and skinny jeans crowd. Handmade cocktails and gourmet doughnuts just don't seem like enough of an improvement to justify the added expense.

Then, the pour-over method of brewing coffee started showing up in my universe.

I first learned of it when my token hipster friend (carries spare diapers in a Chrome messenger bag) ditched her French press in favor of the hot-water pot, cone and filter required for a pour-over. I didn't give it serious thought, though, until I stumbled into Hubbard and Cravens' coffee bar on the ground floor of the Barnes and Thornburg building (11 S. Meridian St., 295-2336), where an array of nifty-looking chrome nozzles drizzle steaming-hot water over fresh grounds.

Before I gush further about the barista robots, let's cover the slow-brewing method and its alleged merits.

You place a cone-shaped device over a mug or carafe, insert a filter and grounds and pour hot water slowly over the top. Pour-over enthusiasts will tell you there's much more to the process, from the water temperature to the uniformity of grounds, but those are the basics.

How is this procedure any different—or better—than Mr. Coffee?

Well, it's slow. One online source advised that, if your cup is full in less than two minutes, you're doing it wrong and should grind the beans finer. If it takes more than four minutes—and your cup is full of motor oil—go coarser.

Now, about those robots: At Hubbard and Cravens, the computerized modules—created by Modbar of Fort Wayne—can be "taught," or programmed, to copy the barista's preferred pour-wait, pour-wait cycle. The baristas keep multiple glass flasks lined up under the spouts, so even when there's a rush, your wait won't be long. The same device is also employed by gourmet breakfast joint Milktooth (534 Virginia Ave., 968-5131).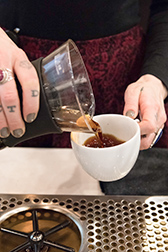 Pour-over coffee fans say the payoff for your three-minute wait is a smoother brew. (IBJ Photo/ Eric Learned)
I admire H&C's business-minded approach to this foodie fad. The Modbar allows a coffee shop to crank out pour-overs at about the same pace one would expect from any downtown location. After all, busy caffeine addicts can't be expected to wait a whole three minutes for a cup of coffee.

And how did it work? I thought the H&C coffee tasted extra fresh, but the roast also had a mulch-like flavor that drove me to add a lot of milk.

I wanted to try a hand pour-over, so I took a friend to Coal Yard Coffee (5547 Bonna Ave., 777-1161) in Irvington. Housed in a cinder-block building, this coffee shop is a DIYer's dream. I forgot to watch the barista's handiwork because I was checking out a lamp made from a log. The shop ran out of clean ceramic mugs, so we had to conduct our taste test from paper cups. It's that kind of place.

At an independent shop, I expect more subtle flavor than Starbucks, and in that regard Coal Yard delivered. Otherwise, I didn't detect much difference from countless other cups that were pulled from a large vat. We sat and sipped for about an hour, and the last lukewarm drops were still smooth and tasty, which is a good sign: When it's piping hot, even old-people coffee tastes good.

We asked a couple of other patrons to weigh in. One said pour-over is a definite improvement. Another declared that he liked it, but it was indistinguishable from Maxwell House and, while he had our ears, ranted about the absurdity of people fussing over coffee as if it's fine wine. He said people are making coffee out of "cat poop" and talking about hints of berry, for godssake! (Not quite, but, yes, harvesting partially digested coffee beans from civet dung is a thing.)

Pearings (6 W. Washington St., 608-6456) offers pour-overs and an even more elaborate slow-brewing method, the siphon, which looks like a chemistry experiment. Water heats inside a glass bulb before flowing up into another vessel, where you brew the grounds before pulling the finished product back into the bulb through vacuum pressure. It takes about 15 minutes to brew a two-person pot, which costs $9.

I let mine cool and can confirm that it was delicious (did I detect a berry note?). Pearings says its siphon brew has a "tea-like" quality. It's true that the consistency is very clear and clean, not murky like we expect coffee to be, but the coffee flavor comes through strong as ever.

So, yes, a slow-brewed cup of coffee can be worth the wait. The question is whether you can stop and savor it before tackling your day in a caffeine-fueled rage.•