Hc1.com has raised another $14.4 million from angel investors to help it pursue an audacious goal: It wants to become the Salesforce.com of the health care industry.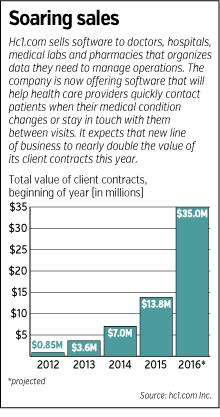 Zionsville-based Hc1 is using the money to expand from its roots—making software to help medical labs, pharmacies, physicians and hospital systems track the business relationships they have with one another—into a company that also helps those organizations interact directly with patients.

That puts it in competition with San Francisco-based Salesforce, the $4-billion-per-year goliath that sells customer-relationship management software. Such software helps companies in all kinds of industries track customer data and use it to send customers and potential customers messages to keep them coming back for more business.

Two years ago, Salesforce paid $2.5 billion to acquire Indianapolis-based ExactTarget Inc., which used email marketing to help companies bond with customers.

Compared with those companies, Hc1 is a pipsqueak. The value of its customer contracts hit a respectable $13.8 million at the end of last year. The company employs about 100 people.

But its recent growth has been tremendous. The value of its customer contracts nearly doubled last year. And the number of clients using its software—each of whom pays a monthly fee—more than tripled in 2014, to more than 5,600.

Since its founding in 2010, Hc1 has raised $28 million, nearly all from angel investors. The company now has clients in five countries, including Australia, Austria, Canada and the United Kingdom.

Bostic
CEO Brad Bostic said Hc1 already has picked up numerous clients that were previously using Salesforce and other customer-relationship-management software that is not health-care-specific.

Even though Salesforce is spending $760 million per year on research and development, Bostic said Hc1's exclusive focus in health care already is proving it has the upper hand in that field.

"We have a chance to be a truly great, global, health care cloud company," Bostic said while drawing diagrams on the washable white walls of his office at Hc1's headquarters in the technology office park on the southern edge of Zionsville. "The question is, how quickly we can scale and grow and expand."

Snagging clients

Hc1 expects the value of its client contracts to hit $35 million by the end of this year. It is on pace to have 300 employees by 2019, as part of a state tax credit deal signed last year.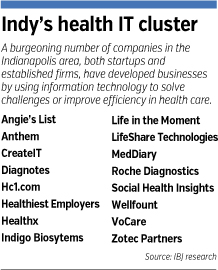 Hc1 has been signing up hospital systems—such as the Cleveland Clinic, HCA Inc., St. Vincent Health and Eskenazi Health—to help it interact more effectively with patients.

Hc1 creates patient profiles from lab and radiology test results, prescription drug information, billing and scheduling systems, and, to some extent, from a health care provider's electronic medical records. The profiles also include what kind of health insurance the patient has—so providers know which ones will be the most and least profitable.

When a patient's profile changes, Hc1's system can automatically generate messages to send to that patient. It also can send that patient's name to the right staff member in a health care organization, who can then call the patient.

"If a pre-diabetic lab test comes back," Bostic said, "I want to hit that patient with a message tonight that says, 'We're all over this. We can help you and we're going to help you.'"

Those kinds of messages might do more than just help health care providers get patients to use more health care. They also could help hospitals reach out to patients before their health conditions worsen to the point they need a hospital stay or a surgery—both of which are expensive.

That could help hospitals and doctors succeed in the growing number of health insurance programs that reward health care providers for keeping the cost of their care low.

It also could help them interact with patients in ways they've come to expect from nearly all non-health-care companies.

"Health care is so consumer-oriented now that we're thinking of managing it like we do other sectors," said Emily Tisdale, president of Indianapolis-based Recourse Resource Consulting, which helps health care providers improve their patient experience.

Managing health care in new ways requires new kinds of information technology tools. That has caused investors nationwide to pour money into the field, including more than 20 companies in the Indianapolis area. Big health care firms, such as Roche Diagnostics Corp. and Anthem Inc., are also investing more in IT as part of their strategies.

"We've got assets and people here that will help transform the health care system for us," said Kristin Eilenberg, who helped Eli Lilly and Co. use IT to improve its drug development processes and now runs her own consulting firm, Indianapolis-based Lodestone Logic.

Satisfying patients

Customer-relationship software like Hc1's is more important than ever for hospital systems because the federal Medicare program—the largest health insurer in the country—now makes part of its payments to hospitals hinge on patient satisfaction scores.

So health care is a growing area of focus for broad CRM software companies like Salesforce and Oracle's Siebel unit. In addition, Utah-based MarketWare and Colorado-based HealthGrades now are offering customer-relationship software and services that combine the three things Hc1 does—clinical data, marketing data and business data.

Up till now, health care providers did those things in more of a piecemeal fashion.

Jim McGregor, an Ohio-based consultant to hospitals on data-based marketing, said it's common to reach out to patients who might be at risk of diabetes, or heart disease or hypertension, to encourage them to come in for a test or a consultation.

The databases used for that kind of marketing, however, have to be built from multiple sources, then analyzed by statisticians, before the necessary insights can be pulled out of them. He questioned whether Hc1 truly is ready to handle all the data health care clients and their patients will generate.

"I think that's going to be a challenge for them. Building the model and the reporting capabilities is going to take some time," McGregor said.

Pete Barth, CEO of The Iron Yard, which draws digital health businesses from around the world to its business accelerator in South Carolina, said hospital executives from around the country have told him they need software specifically tailored to their needs—but so far haven't been able to find any.

"There's not a good fit for our industry. We use very different phrases and processes and how we move people through the system. I have heard that from many health care institutions in multiple conversations," Barth said.

Hc1.com, of course, hopes its new focus on engaging patients directly fits the bill.

Barth said whichever software company fills that need, it's likely to become large like Salesforce. That's because hospital systems don't buy lots of little programs—they like to buy one program that can work for all their facilities and physician offices.

Tom Arena, who was an executive at Hc1 until leaving last fall to become chief growth officer at New Mexico-based General Genetics Corp., had that company buy Hc1's software to deliver its genetic-testing results to both doctors and patients.

"The issue is, you need a view of the clinical activity, the customer service or business activities, and then revenue cycles," Arena said. He added that companies like his "have to mash those together into something you build yourselves and put your own face on. But we're not a software development company; we're a testing company."

Bostic's bet is that Hc1's software can put health care providers on par with other companies.

"When I order a book on Amazon.com, they treat it like a life-or-death situation if they deliver it to me. But if I go to a health care situation, where it actually is life or death, I get treated like a number," Bostic said. "This is a really big deal. It's a big game-changer about, how do you treat patients like individuals?"•