The small, vacant building on Virginia Avenue in Fountain Square that for decades housed Skip's Food Market is priced to sell for $390,000—more than seven times its assessed value.

Nearly across the street, two adjacent buildings are available as a package for somewhere in the neighborhood of $1 million, roughly five times their combined assessed value.

Those are but a few examples of skyrocketing commercial real estate prices in Fountain Square, where property owners seem emboldened by a resurgence of interest in the historic neighborhood southeast of downtown.

"Even though the pricing seems to be exaggerated … in all fairness, it's realistic for the time in which Fountain Square is being appreciated and realized," longtime business owner Linton Calvert said.

Calvert, who owns the 70,000-square-foot Fountain Square Theatre building at the corner of Prospect and Shelby streets in the heart of the neighborhood, bought it in 1993 for $600,000.

To put that in perspective, the price was just $210,000 more than the owner of the Skip's Food Market building on Virginia Avenue is asking for a building that, at 3,800 square feet, is nearly 20 times smaller.

Don Donella has been trying to sell the Skip's Market building, assessed at just $53,000, for the past 18 months with no offers. Perhaps he's asking too much for the heirloom that's been in the family since 1940. But he doesn't think so.

"I just looked around Fountain Square and saw what everybody else is asking," Donella said about how he arrived at his $390,000 price. "It's an excellent location."

It sits about a block south of the new Wildwood Market and along the Cultural Trail—one of the biggest factors driving the rejuvenation of Virginia Avenue and the Fountain Square and Fletcher Place neighborhoods.

More retail and residential options are springing up along the avenue, as the trail helps link the neighborhoods to downtown.

Across from the Skip's Food Market building on Virginia, Don Swayze also hopes to cash in on longtime investments. He bought the two adjacent buildings in the 1980s at 1024 and 1028 Virginia Ave. that house Athena's Fashion Boutique, the Cultured Swirl frozen yogurt shop and Days Gone By Antiques.

Swayze, 75, is attempting to unload the properties for a few reasons: his age and a son who's unwilling to assume the responsibility of becoming a landlord. The building occupied by Days Gone By also houses nine apartment units.

The assessed values of the two structures total nearly $260,000, well below the more than $1 million Swayze is seeking.

Swayze declined to divulge a specific asking price that he's promoting only by "word of mouth." But sources in Fountain Square peg it at $1.2 million—a number from which Swayze seems unwilling to budge.

"I'm not coming down in price," he said. "It's prime property."

Prospect Street promising

Virginia Avenue isn't the only part of Fountain Square witnessing an uptick in property values.

Three properties, two of which are vacant, along Prospect Street to the east of the signature fountain have changed hands within the past year at prices well above their 2014 assessments.

Radio Radio owner David "Tufty" Clough bought the building in February 2014 to his immediate east for $250,000, county records show, or more than twice its 2014 assessed value of $120,200.

It remains vacant, but sources say his plans call for some sort of related nightclub or lounge.

To the east of that, and two doors down from Radio Radio, Kuma's Corner is set to open sometime in the spring. The Chicago-based heavy-metal-themed burger joint bought the building at 1127 Prospect St. in September for $225,000, according to county records.

Its 2014 assessed value: $89,000.

Kuma's also paid a premium for the Fountain Motors property across the street, at 1150 Prospect St., to provide parking for the restaurant. The $250,000 price dwarfs the $90,300 assessment. Meanwhile, a sign on the building's door says the used-car dealership is moving to 3735 Prospect St.

Downtown retail broker Brian Epstein is not surprised by the prices properties are fetching. He represents Norle Investments Inc., which owns the building at 1106 Prospect St. occupied by Maria's Pizza until the end of February.

The pizza joint paid just $5 per square foot in its initial five-year lease term, said Epstein, who now intends to seek a more realistic amount of $12 to $15 per square foot.

"The value of the buildings you're seeing is in direct correlation to the rents that you can get there," he said. "That's what's driving it."

Fairer assessments

Von Deylen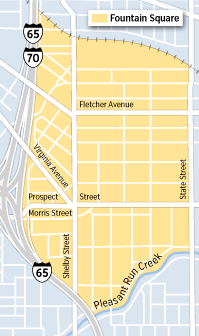 Architect Craig Von Deylen, a principal of Deylen Realty on Virginia Avenue, is participating in the resurgence. The firm's apartment projects include The Hinge on Virginia and the accompanying Slate, now under construction.

Later this year, the firm is expected to break ground on the $9.1 million Forte, to be built on a surface lot the firm purchased from the city at 1202 S. Shelby St. in Fountain Square.

Von Deylen said he wishes landlords of vacant buildings had to pay property taxes on the amounts they're asking rather than assessed values, to contribute more to the neighborhood.

"When properties are allowed to sit vacant and are under-assessed, it holds the neighborhood back," Von Deylen said. "It just contributes to the cycle."

Tax bills typically run a year behind from when the property was last assessed, Marion County Assessor Joseph O'Connor said. The office oversees 24,000 commercial properties, making it nearly impossible to scour list prices to determine assessments.

But O'Connor said the office is well aware of what's occurring in Fountain Square and hopes to issue new assessments to reflect the true market.

"We have already proactively been looking at it," O'Connor said.•