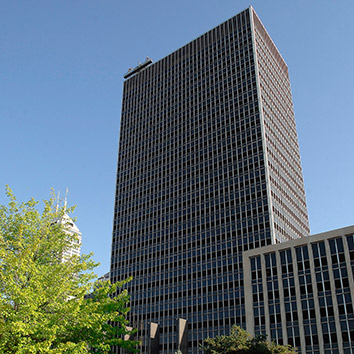 If you've ever sent an email—or think you've sent an email—to Indianapolis Mayor Greg Ballard, the closest you've come is a constituent services address to which he sometimes responds.
Ballard declined to set up a city email account when he took office in 2008, and he does not use one to this day, spokeswoman Jen Pittman said. Ballard has a personal email account, but he doesn't use it for official business, she said.
Taking a cue from his career in the U.S. Marine Corps, Ballard prefers to meet in person or talk on the phone so he doesn't miss the nuances of a conversation, Pittman said. "It's a leadership style."
Ballard's freedom from the inbox is not without precedent. His predecessor, Bart Peterson, also did not have a city email address, former Deputy Mayor Steve Campbell said.
While eschewing email suits Ballard's style, it's also a way that some elected officials—from former President Bill Clinton to members of Congress—avoid leaving a trail of communication that's subject to public scrutiny. (In the midst of former Secretary of State Hillary Clinton's email scandal, the ex-president's spokesman told The Wall Street Journal that Bill Clinton sent two emails in his lifetime.)
Unlike the federal government, Indiana does not require public officials to use public email accounts for government business.
"There are no rules, statutes or case law addressing this," Public Access Counselor Luke Britt said.
Private email, public record
Britt asserted that all official communication is subject to the Access to Public Records Act, regardless of whether it's conducted from private or public servers or phones.
"When a public official avails himself of any communication medium, whether it is phone, email or text message, he is availing himself of the Indiana access laws when communicating in his official capacity," Britt said in an October opinion on a Lake County complaint.
Britt acknowledges, though, that the use of private accounts makes enforcement impractical. That's why he encourages officials to use public accounts, or to at least designate a private account for official business.
Indiana University journalism professor Gerry Lanosga said it's certainly plausible that a top elected official could delegate email duties, but he's skeptical that the communication is entirely verbal or in-person.
"It's hard for me to believe that an official isn't conducting some public business over email, in this day and age," he said.
It's not that Ballard is a Luddite. He uses a smartphone, and he sometimes tweets from the @mayorballard Twitter account.
Pittman said Ballard responds to many of the 3,000 to 4,000 pieces of communication fielded by the constituent services team each year through a Web form, phone and the mayor@indygov.org email account.
Indianapolis officials, past and present, are all over the map in their email preferences. Several members of the City-County Council, including President Maggie Lewis, default to private email accounts.
Peterson did not set up a city email account and, Campbell said, he didn't have even a personal email account until the mid-2000s.
Campbell said Peterson and his aides decided against email in 1999 because, at that time, it would have required more desk time.
"He didn't want to be chained to his desk," Campbell said. "Had he started with email, we were afraid it would quickly consume his life."
Republican Mayor Stephen Goldsmith was notorious for his attachment to the computer, said Lanosga, who covered the administration. Goldsmith was an avid user of an early instant-messaging tool, which he would use even during face-to-face interviews with reporters.

Ballard
"He was only half paying attention," Lanosga said.
Harder to reach
Ballard's inaccessibility is a sore spot with members of the City-County Council's Democratic majority. Scheduling a meeting has required working through the chief of staff, said council Vice President John Barth, who negotiated a compromise on funding preschool for low-income households.
If email were in Ballard's repertoire, Barth said, he might have communicated his policy positions to council leaders earlier in the process. "It would've been helpful to have a swifter form of communication, rather than go through multiple filters."
On the other hand, Ballard may avoid having his mayoral communication haunt his future. As president of Purdue University, former Gov. Mitch Daniels faced questions about his commitment to academic freedom because of an email he wrote about the late historian Howard Zinn.
"This terrible anti-American academic has finally passed away," Daniels wrote on Feb. 9, 2010, to Tony Bennett, superintendent of public instruction. Daniels sent the email, obtained by the Associated Press in 2013, from his own state account, MD@gov.in.gov. The address was different from the one publicized as the governor's address, which was mdaniels@gov.in.gov.
Similarly, Gov. Mike Pence has a non-publicized email account, from which he communicates with staff, spokeswoman Christy Denault said.
Even if Ballard were a prolific email user, his communiqués wouldn't necessarily be preserved for posterity. The city has no rules on which types of records to preserve, or for how long, Campbell said.
Having also worked in state government, Campbell said, "It was disappointing to me how little history of Indianapolis we save as a city."•
 
Please enable JavaScript to view this content.