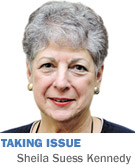 The only thing one can say with any certainty about Indiana's "religious freedom" bill is that Mike Pence didn't have a clue.
But before turning to this latest major miscalculation from the Governor's Office, let's talk about the bill at the heart of this fiasco.
The wildly different readings of the legislation reminded me of one of my favorite stories. A rabbi was asked to mediate a quarrel between two men. He listened to one intently, then said, "Yes, you are right." Next, he listened to the other man's position, and said "Yes, you are right."
A bystander protested. "Rabbi, they can't both be right!" To which the rabbi replied, "You also are correct."
Legally, this bill is neither the sword opponents fear nor the shield supporters desire. Essentially, it simply requires government to show a "compelling reason" for applying civil rights laws to those who object to those laws on religious grounds.
Of course, its effect in Indiana will be different—and for gays, potentially more damaging—than in states where similar measures are modified by civil rights laws protecting LGBT citizens.
But what defenders fail to admit is that making law was never the point: This bill was intended to send a message to the gay community that despite winning marriage rights, some "good Christians" still don't want them here. Its passage was a leftover "culture war" eruption, a last tantrum by those who recognize that they've lost the battle to keep LGBT folks marginalized and closeted.
Politically, it was an enormous, expensive and telling miscalculation.
Despite the governor's disingenuous "this won't discriminate" protestations, it's worth noting that an amendment to explicitly state that the bill wasn't intended to allow discrimination was rejected, and that support for the measure (and rhetoric to the effect that it would protect good Christians from the "gay agenda") came almost entirely from virulently anti-gay organizations.
Senate Bill 101 was intended as a political message, and the punishing blowback indicates that that is how it has been received.
Unfortunately for Pence, it also represents an enormous political blunder. If he is angling for a spot on the national ticket, he can kiss any vice presidential ambition goodbye: He has managed to make himself more polarizing than Sarah Palin.
In fact, this is the third major political blunder by the governor. The first was his determination to neuter Glenda Ritz and to administratively reverse the results of the election for superintendent of public instruction. The Pence administration has instead made Ritz a martyr to those who voted for her, and has outraged teachers throughout the state, a good many of them Republicans, and almost all of whom vote.
The second was his widely derided and quickly abandoned "Pravda on the Plains" news agency.
The governor doesn't seem to listen very well to the parts of the Hoosier constituency that extend beyond the conservative Christian base represented by Micah Clark and Eric Miller. He clearly didn't heed the warnings—or respect the objections—of the pro-business wing of the Republican Party, a wing that is considerably larger than the party's dwindling percentage of theocrats. It is clear that he was entirely blind-sided by the overwhelmingly negative reaction to this particular decision to pander to his base.
It's impossible to know at this point how big a hit the state will take economically. The one thing we do know is that voters all across the country have seen the real Mike Pence.•
__________
Kennedy is a professor of law and public policy at the School of Public and Environmental Affairs at IUPUI. She blogs regularly at www.sheilakennedy.net. She can be reached at skennedy@ibj.com. Send comments on this column to ibjedit@ibj.com.
Please enable JavaScript to view this content.