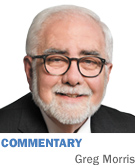 Welcome to Indianapolis. Contrary to what you may have seen in the national media the past few weeks, Indianapolis is a hospitable and welcoming city to all. In fact, if I may be so bold, we are the best in the business. This is Indy's seventh go at hosting the Final Four men's basketball tournament. We're really good at it. And Hoosier hospitality is a real thing, not a marketing slogan.

So, we welcome all our friends from Lexington, Madison, East Lansing, Durham and from all around the country. Many sports fans consider the NCAA men's basketball tournament to be the best sporting event of the year. On April 6, we'll find out what team is the best of the best. It's an exciting time in our city and we hope you enjoy your stay.

But at the same time, you would have to be living under a rock not to know there's something else going on here that doesn't relate to basketball. For you out-of-town folks who may have been half listening, the disruption to life as we know it here in Indiana is a result of blowback from the recently passed law called the Religious Freedom Reformation Act. It has consumed us the last several weeks.

I would much rather see NCAA President Mark Emmert talking on TV about one of the best collections of great teams at a Final Four men's basketball tournament in recent memory than discussing how Indiana's new law might affect future relations with his organization. Mark—I'm sorry you were put in the position to have to respond to this contentious issue during your biggest event of the year. It is inexcusable, and it was preventable.

It's clear this law was divisive from the beginning. You can add my name to a long list of community and business leaders who all agreed this law, in its original form, was potentially discriminatory, especially to the LGBT community and others. The CEOs of the largest companies in the state have come out as a unified voice against this law, along with Indianapolis Mayor Ballard and countless others. This is bad for business, plain and simple. Check that—it's horrible for business.

As proud residents of our city who get up every day and work very hard to do the right thing and put our best foot forward, we've taken a real kick to the gut the past few weeks. And it hurts. Our leaders have, in a very short time, seriously endangered decades of progress that has made this city and state great.

This government-created debacle has made good folks question whether they should visit here, live here, work here or do business here. This has been personal. I'm not bigoted and non-inclusive. I don't work with anyone at my company that I know to be bigoted or non-inclusive. I don't have any friends, family or business clients that I know to be bigoted or non-inclusive.

I'm not naïve. I do understand there are people who have malice in their hearts. You'll find those people in any city or state in the country. But we are a friendly and welcoming people who have worked our tails off to create our well-known brand of Hoosier hospitality. I ask that everyone take a pause and not judge us based on the recent media coverage of the actions of our governor and Legislature. Their actions related to the original version of this new law have nothing to do with the way the majority of us think and act.

At press time, a proposed fix with revised language to the law was announced. Early reactions from select community leaders who were very vocal opponents of the original law seem to think the proposed redraft will achieve a much better balance between religious freedom and non-discrimination. If the rewrite makes it to the governor and he signs it, then the healing can begin.

How long will it take to repair the significant damage that has been done to our reputation? That remains to be seen. We all know from experience that actions speak louder than words.

In the meantime, it's game on at Lucas Oil Stadium. To our out-of-town guests, know that all are welcome in Indianapolis and we thank you for your business. May the best team win. Safe travels home. And please come back anytime.•

__________

Morris is publisher of IBJ. His column appears every other week. To comment on this column, send e-mail to gmorris@ibj.com.