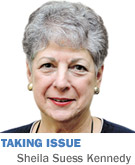 There's a famous quote by Martin Luther King: "The arc of the moral universe is long, but it bends toward justice."
Of course, as the pitched battles over social issues like abortion and same-sex marriage demonstrate, what constitutes justice is frequently in the eye of the beholder. The (inevitable) differences among peoples and religions and cultures over where justice lies and whose justice should prevail are what makes governing so difficult and politics so tendentious.
Here in Indiana, we've just come through one of those recurring conflicts that erupt as social attitudes change.
Pretty much everything that could be said about the merits and motives of combatants on both sides of the recent RFRA battle has been said. Several times, actually. But before we move on to the next Contest Between Good and Evil, it might be productive to reflect upon what such debates can tell us about the proper role of government.
When I became politically active, at 19, it was as a Republican. I was persuaded—and remain persuaded—by what has been called the "libertarian principle," the belief that the best society is one in which we individuals are free to set and pursue our own life goals so long as we don't harm the person or property of a non-consenting other, and so long as we are willing to grant an equal right to others. Back then, with some notable exceptions, the GOP understood the importance of "so long as" in those last two caveats.
The political questions raised by the libertarian principle are deceptively simple: What are the harms that government has a duty to protect us against? When does following the admonition to "live and let live" cause harm to others?
Americans have long had problems with "live and let live." Prohibition was a cautionary tale. Laws against private "sins" are statements of social opprobrium rather than rules a government can actually enforce—and they tend to undermine respect for the rule of law. When behaviors harm only the individual—so-called "victimless" crimes—taxpayers have a legitimate right to ask whether government should expend resources protecting individuals from themselves.
Americans also have a long history of using laws to let disfavored minorities know who's in charge. (Indiana blogger Doug Masson compares such efforts to dogs "marking their territory".) When social attitudes change, however, those attempts to assert continuing dominance can backfire.
There are some Hoosiers—and some Americans—who believe that recognizing the equal legal status of LGBT citizens somehow harms society. They believe that an absence of laws privileging their particular religious beliefs operates to victimize them.
I recognize the sincerity of that attitude, although I don't understand it, and it's pretty clear that most Americans no longer share it. (The arc of the moral universe—at least in America—does seem to bend toward civic equality.)
The Puritans defined religious liberty as "freedom to do the right thing," and established colonial governments that would make sure their neighbors were doing the right thing, too. The founders, however, adopted the enlightenment definition of liberty: the freedom to do your own thing—so long as you aren't hurting anyone else, and so long as you're willing to let your neighbor do likewise.
At the end of the day, these culture war skirmishes aren't about equal rights for women or Christians or LGBT folks. They are about the rule of law, the role and legitimacy of government, and whose definition of liberty should prevail.•
__________
Kennedy is a professor of law and public policy at the School of Public and Environmental Affairs at IUPUI. She blogs regularly at www.sheilakennedy.net. She can be reached at skennedy@ibj.com. Send comments on this column to ibjedit@ibj.com.
Please enable JavaScript to view this content.