Yes, I've driven past them many times. But only recently did I learn that the Flap-Jacks Pancake houses that dot central Indiana are a locally owned operation. And, apparently, I'm not the only person who didn't get the memo. Even this page's designer, who loves the place, thought it was a national chain.

Ah, well. Live and learn (and eat).

Launched in 2002 in Brownsburg, Flap-Jacks has since expanded to Lebanon, Plainfield, Bargersville, Whitestown and Indy. But I didn't pay any attention until one popped up in my neighborhood (5025 W. 71st St., 328-8505) in what used to be a Chinese buffet in a nondescript Kroger-anchored center. That's dangerously close to home for a place that offers friendly service, reasonable prices and, based on my stops, very satisfying food. Plus a gigantic pitcher of syrup on every table.

First stop, breakfast.

At Flap-Jacks, you've got choices. The menu offers four pages of variations in addition to daily specials. And, as with most breakfast spots, there are choices within the choices.

The 2x2x2 ($5.75) gets you a pair of eggs, two pancakes, and a choice of bacon, sausage links or patties (turkey variations are available sometimes if you ask). Here, they call the flap jacks "gourmet." I'm not sure I'd go that far. But the slightly sweet buttermilk batter does heat up to a set of impressive discs. And they were delivered hot, with just the right exterior crispness and interior fluff.

Along with the staples, the menu also includes breakfast sandwiches, Eggs Benedict variants, homemade gravy combos, oatmeal, crepes, potato pancakes and cornmeal mush. Somewhere there's someone who would order mush instead of any of the others above. I'm not that man.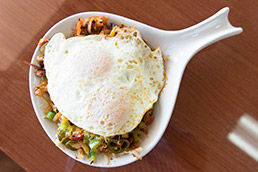 The skillet meals, above, include 11 choices. (IBJ Photo/ Eric Learned)
There's still more at play in the skillet section, with 11 choices from the Country Fried Steak Skillet to the Kitchen Sink Skillet, the latter of which comes with a triple crown of bacon, sausage and ham. I went with the Mexican Skillet (like the rest, $7.25) with ample amounts of chorizo sausage evenly spread through a hearty mix of hash browns, onion, green peppers, cheddar cheese, enough jalapenos to give it bite but not fight the rest of the flavors, and a pair of eggs on top. Bonus points for the thick slices of rye bread that came with it.

The rye was also put to work when I returned for lunch to try a Patty Melt ($6.55 before a $1.25 French Fry upcharge). Two sizable slices packaged a one-third-pound burger and grilled onions. The soup of the day was a Chicken Tortilla that went the extra milla with corn and carrots adding density, crispy tortilla chip strips adding crunch, and a flavorful broth bringing it all together.

Again, service was friendly without being intrusive. And the overall diner vibe makes Flap-Jacks a place I expect to return to when I'm in that $10-with-tip mood. Here's hoping the quality stays high once the shine of the new location wears off.

Note: Flap-Jacks is open only for breakfast and lunch.•

—Lou Harry