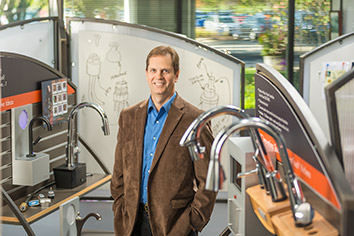 The higher-ups at Carmel-based Delta Faucet Co. hired Bob Rodenbeck in 2002 to captain creation of a product that could trigger a sea change in the industry: a hands-free electronic faucet.
But he had an even trickier challenge. Rodenbeck needed to persuade naysayers across the company that it was worth the struggle.
"There is a phrase I like that goes, 'If a product is disruptive to the industry, you can guarantee that it will be disruptive to your company,'" Rodenbeck said. "Suddenly, it's nonstandard work for everybody. And everybody gets nervous."
The very idea of adding electronics to a water-delivery system gave everyone the willies. Delta employees also questioned nearly every other aspect of the project. How would we manufacture it? Won't it be too expensive? Won't it look weird? How would we do tech support? What if it fails?
Intensive consumer research illustrated the desire for hands-free faucets. Delta brought in Rodenbeck because he had expertise in electronic engineering and marketing, as well as in introducing electronics to firms focused on mechanical systems.
Several years passed. Rodenbeck's project was yanked from Delta's product plan several times. Many changes were made. Much angst was expressed.
Rodenbeck's small development team finally sparked enough confidence in the faucet that Delta slipped it into a trade show. Users could turn on water by tripping a motion sensor or by touching any part of the faucet. It was a huge hit.
Even then, it took Delta's president to make the call for a full-blown launch. The Pascal faucet debuted in Delta's high-end Brizo line in 2006. Despite its warm reception, Rodenbeck needed about two years to get the company behind a mass-market version called Touch2O.
Once the advertising group decided in 2009 to feature Touch2O in a full-fledged campaign, sales erupted like a geyser.
"It's a classic innovation story, and it wasn't easy," said Rodenbeck, now Delta's director of research and development. "Innovation is never easy."
Innovation also takes many forms. There are product innovations, like Pascal and Touch2O. There are process innovations, such as the research and development pipeline Delta has established to whip up more cutting-edge products.
Experiential innovations change how customers interact with established products. Think of the new ways the Indianapolis Motor Speedway is luring fans to the track, such as "glamping"—glamorous camping—and reviving the Snake Pit.
Sometimes, acquisitions or partnerships lead to innovations, as firms combine forces and resources. Eli Lilly and Co. has accelerated innovation in its diabetes business by signing development deals with other drugmakers.
Sometimes a brainstorm leads to a whole new business model, such as when Interactive Intelligence took its call-center software to the cloud and switched from up-front payments to a subscription model.
Some innovations are huge leaps. Some are incremental.
"There's everything from the big conceptual leap, where we're going to come out with a new product or a new service that goes after a new market," said Don Brown, CEO of Interactive Intelligence. "And then it's all the way down to, 'Here's a cool new feature we could add to something we currently do.'"
Companies have different methods of seeding cloudbursts. Marketing firm SmallBox sequesters employees on week-long sabbaticals. The Indianapolis Zoo pushes department heads to collaborate on project planning. Sales software firm TinderBox goes to great lengths to encourage and integrate customer input.
"The core basis of any company I have started has been the question, 'What is a problem that needs solving that no one else has solved well yet?'" said Dustin Sapp, CEO of Tinderbox.
"It's about delivering value for whomever you're serving."
IBJ picked the brains of Indianapolis-area firms and organizations known for liquid thinking to discover how they open the spigot on innovation. As in the example of Delta Faucet, part of the challenge is to flow over or push through clogs in the process. Executives need to take the lead. And employees must be comfortable navigating a sea of change.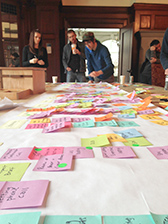 SmallBox employees use Factory Week to tackle transformational projects big and small. (Photo courtesy of SmallBox)
SmallBox
Web design, branding and marketing
Employees: 19
Jeb Banner, CEO and co-founder
Factory Week: In 2011, SmallBox was suffering from a case of "organization constipation," Banner said. Ideas for new projects and ways to improve the firm were piling up, but he and his employees were swamped with client work. After investigating several ways to get innovation flowing, they decided to spend a full week outside the office to focus on new projects.
"We needed it to be a long enough period of time to really move the needle on the business and be away from client work," Banner said.
They called it "Factory Week," inspired by the creative and collaborative model set in Andy Warhol's New York City studio, The Factory.
Planning matters: SmallBox now stages Factory Weeks twice a year. An effective session requires at least three months of preparation. Employees start collecting ideas and vetting them in weekly lunch meetings. A team is designated to organize the event. The project list is pared down, and employees are assigned to lead particular initiatives.
The product: The outcomes can be big (redesigning the company website) or smallish (recording and editing a video to demo a product). In one session, the goal was to answer five essential questions related to the company's future. The creation and development of SmallBox's content-gathering tool Wrangle stretched across multiple sessions. In general, the project scope is limited to something that can be accomplished in a week.
Client communication: SmallBox huddles with clients beforehand so they understand the firm will be mostly occupied during the week.
"They know why we do this. Part of why they hire us is that they know we are dedicated to disruption and can bring back these gold nuggets that will help serve them better."
Don't get crazy: Banner champions the idea of "quarantined disruption." A business can't survive a constant state of change. Productivity, innovation and well-being plummet.
"We have found that time-blocking is required to practice healthy disruption. The key was being able to set aside everything else for a dedicated period of time."

Indianapolis Zoological Society
Also known as the Indianapolis Zoo
Employees: 416
Michael Crowther, president and CEO
Mission possible: "What I believe is that creativity and innovation come from a crystal-clear understanding" of mission, Crowther said. "We try to understand everything that we need to do within the context of our mission and strategic plan." The zoo's lofty mission is to "empower people and communities … to advance animal conservation."
Implementation: The zoo opened a $26 million orangutan center in 2014 because the species is the ape population most likely to become extinct. "We don't want them to go extinct, so we open a center so people can learn about them."
Attendance projections foresaw another 250,000 visitors coming to the zoo in a year, very likely leading to over-crowding on peak days. The solution: Create a variable pricing plan for admission, lowering the price on lower-traffic days. "In 2013, we had 13 days in which the zoo had over 11,000 guests. In 2014, it was just four days, and yet we had a quarter of a million more people in the facility."
Enter The Matrix: Three years ago, zoo officials added a layer called The Matrix to their annual planning. The innovation was designed to smooth the process, previously hindered by zoo department heads' including projects in their business plans without first reviewing them with other affected departments.
Interaction: The Matrix is a multi-dimensional spreadsheet that coordinates the initiatives of the departments and identifies costs. It essentially requires department heads to collaborate on proposals. Thus, projects are evaluated and details are ironed out before plans are submitted for the overall budget planning.
"This all sounds like business-school stuff, but that is how innovation happens."
Interactive Intelligence
Maker of customer contact-center software
Employees: 2,200
Don Brown, CEO and founder
Clouds ahead: Interactive Intelligence was an early champion of cloud-based computing. In the late 2000s, it started evolving its business from selling call-center software that customers installed on-premises to selling cloud-based software. The move changed its business model; customers of on-premises software had paid up-front, while cloud customers pay smaller but regular subscription fees.
"It was a fairly gutsy move for us," Brown said. "It cost us a lot of money. But it just took off."
The next trick: About three years ago, Brown decided the company needed to rewrite its product from scratch using a public cloud infrastructure. That product became PureCloud.
"It wasn't some stroke of genius on my part. It was more waking up one day and realizing that if we didn't do this—and this is how I presented it to the board—somebody else would, and we were going to be in a world of hurt."
Pain now: "There's a lot of skepticism any time you have something that is working well. There's a strong inclination to say, 'Why change?' Especially if it's going to hurt the company economically. But when something is changing in our world—the competitive landscape, the underlying technologies, whatever it might be—you have to face up to it."
Skunkworks: The company set up a center in Research Triangle Park in North Carolina to develop PureCloud, and initially staffed it with about 50 people, including new hires.
"It's kind of a skunkworks operation that you want to keep relatively secret, and just let those guys go off and do their thing so the people who are doing things to pay the bills aren't distracted by it."
Eventually, it makes sense to clue in the rest of the company and have them work on portions of the project.
"That was probably the trickiest part, to make sure people don't worry their job is going away."
PureCloud launched in June 2014.
New input: The company spends about 20 percent of its revenue on research and development. It regularly invites customers and industry analysts to speak on the industry's direction. It also has a dedicated website for customers and employees to submit complaints and suggest improvements.
Scare yourself: A board member recently suggested an exercise for innovation in which you imagine a competitor has created a product or service that blows your company out of the water.
"'What would be your worst nightmare? If there's something that scares the bejeebers out of you, then why don't you do it first?' That spurred some really interesting thoughts, and some that we put into product plans."
TinderBox
Makes and sells software designed to streamline the sales process
Employees: 60
Dustin Sapp, CEO and co-founder
Problem-solving: For Sapp, the main pillar of creating and evolving a business is focusing on unmet needs. The firm first focused on improving how salespeople made proposals—e.g., determining the best material to put in front of clients to help a sale.
"Then customers pushed us to solve other problems in their sales process," Sapp said. TinderBox learned some were using its proposal product to help manage closings.
"We didn't have a close product at the time, but we said, 'We bet we can make that even better.'" Also in the last year, the firm has developed a product to help salespeople make their initial pitches and quickly create bonds with potential clients.
Always right: Customer-service teams at TinderBox are empowered to solve problems without approval from higher-ups.
"You solve the problem. Period. Even if it's something that costs us money. We're hiring people who think differently than I do, and they'll see a solution I don't see. And everyone here has stock options on some level, so they all have the opportunity to experience success."
Empowerment in action: Earlier this year, a post-grad employee at the company on a fellowship had collected so much input from clients that he asked to meet with the development team to address the issues. Over pizza, "they ran through the customers' experiences and then ran through the software, found areas where they could improve the product, and fixed it right there in real time."
Always right, part II: A few weeks ago, TinderBox established a client advisory board, inviting 12 clients from 10 companies to a two-day conference. Developers were in the room to hear their direct feedback.
"It's one thing to hear it from our client success teams. It's one thing to hear it from me. But it's another thing to hear it from the person using your product every day."
Inside info: A main hiring goal is to identify people who jibe with the culture of customer focus and autonomy. All employees meet at least monthly in a town-hall setting, and are invited to ask questions on any topic and suggest improvements. Executives, in turn, update them on progress on earlier suggestions.
"It's even tactical things like website messaging. A salesperson said, 'I need a website that reflects what we're doing. We've added all these products and features, and our website is now confusing. Can we improve it?' So we did."
Indianapolis Motor Speedway
Hosts races and other auto-related events, as well as other entertainment
Employees: 150
Doug Boles, president
Start your engines: The Speedway is in the midst of a $90 million effort to improve and modernize the track before the 100th running of the Indianapolis 500 in 2016. For at least five years, IMS officials and employees also have been learning to add dimensions to the fan experience without dinging the Speedway's character.
"We're trying to encourage our team to look at the Speedway in new ways," Boles said. "It needs to retain a certain history about it, but we need to find ways to refocus it and reposition it to continue to grow."
Pit restart: In 2010, the Speedway hosted an official party in Turn 3 to revive the tradition of the Snake Pit—the fan free-for-alls that became notorious in the 1970s for bacchanalian behavior. The Pit fizzled in the 1990s as officials tried to sanitize the fan experience, but they later realized something was missing.
"That was often the first experience that younger adults had with the Speedway," Boles said. At the suggestion of an IMS staffer, the new annual party morphed into an electronic dance festival attended by tens of thousands.
"It has turned out to be maybe the most successful marketing tool that the Speedway has—not just to attract youth but people in general. And that's an idea where maybe 15 years ago it would have been rejected, or people would be afraid to bring it up."
Culture: The best way to encourage a creative culture is for employees to see others in the organization do it and be successful, Boles said. And bringing departments together to collaborate—the Snake Pit revival included marketing, ticketing and operations—usually results in better ideas.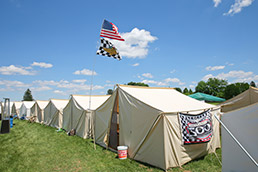 The Indianapolis Motor Speedway introduced glamping—glamorous camping—based on a suggestion from a young employee. (Photo courtesy of the Indianapolis Motor Speedway)
Glamazon: In late 2013, a young woman in the marketing department floated a suggestion for "glamping" in the infield over the Memorial Day weekend. Glamping is the practice of sleeping in tents pre-furnished with high-end amenities. Speedway bosses told her to run with the idea, and she fleshed it out.
"At that point, it went to the marketing, communications and operations departments, and they came back with a business plan. It all came together in two or three months." Fans reserved 75 tents for 2014—the same amount offered this year.
Going further: Other innovations include allowing fans at the Angie's List Grand Prix of Indianapolis last month to walk the entire racetrack after the event. And in March, the Speedway announced it would host a Rolling Stones concert on July 4.
Delta Faucet Co.
Maker of fixtures kitchen and bath
Employees: 2,200
Bob Rodenbeck, director of research and development
Fuzzy front end: When Rodenbeck joined Delta in 2002, the company had just formed a small research and development group with five members outside of the product development work the company already was doing. Today, thanks in part to the success of Touch2O, the department consists of about 15 people in research, marketing and engineering, focusing on cutting-edge projects that are three to five years out.
"We work at what we call the fuzzy front end," Rodenbeck said. "And it's extraordinarily fuzzy. A lot of times, it's like reaching into the mist of the fog and pulling the germ of an idea out."
Watch and learn: The wellspring for innovation is ethnographic research: studying consumers' behavior as they use faucets.
"If I say, 'Give me all your ideas on faucets,' you'll spend 30 minutes and you'll have some decent ideas. But if I show you an image or a video of somebody preparing a meal, you can probably generate 10 times that amount. You see a workaround somebody is doing, and you can generate ideas to solve that problem."
The process: Ideas in Delta's innovation-heavy research and development process—as opposed to Delta's "new product development" process, which covers shorter-term prospects and more modest changes—go through three stages. The team can generate as many as 800 ideas a year in the exploration stage. Team members take about 40 of them into the functional stage and try to make working models to see if they're on the right track. About 20 ideas get passed on to the feasibility stage, to see if the devices are practical for the company to produce. The prospects then are scrutinized and vetted by a committee, and about 10 will survive.
Dedication: "You have to have people dedicated to that process. If you don't, then the company's urgent needs will push out anything you might consider important for the future. You also have to have executive staff support. You have to have people who are willing to take the risks when maybe lower-level folks are uncomfortable."
Patachou Inc.
Restaurant company with 10 eateries among four concepts
Employees: 250
Martha Hoover, owner and president
 Joe Huff helps tend the block-long garden that supplies Patachou's Public Greens in Broad Ripple. (IBJ photo/Eric Learned)
Distinctive debut: Hoover opened the first Cafe Patachou in 1989 with no restaurant experience but an intense interest in from-scratch cooking that emphasized fresh, farm-to-table ingredients. That was long before the concept became chic.
"We were disruptors," Hoover said. "I think that's one of the things about innovators. They don't say, 'I'm going to innovate.' They say, 'I'm going to DO.' I didn't realize until about 10 years ago that what we did was very innovative."
More mindful: Today, the company is more intentional about innovating, adopting the motto "Radically Different, Radically Better." However, it simultaneously honors a seemingly contradictory credo: "Creativity is the enemy." That essentially means the company and its restaurants follow strict operation systems and carefully choose spots to try new ideas.
"People here are allowed to have ideas, and they communicate ideas. But they can't just go do it on their own. You have to know when creativity is OK, and you need to control that."
Principles: Elements of Patachou that might seem radical actually are logical outgrowths of its corporate principles: in order—product, people, place and then profit, Hoover said. "We usually end up with a profitable restaurant. We just get to it in a non-bean-counter way."
An early example of focus on product was the creation of a production kitchen in 1995 to ensure that foods common to all locations (for example: soups, salads, salad dressings, desserts) tasted the same. The kitchen currently is in a rented building, but the benefits of consistency outweigh the expense, Hoover said.
Green space: The latest eatery, Public Greens Urban Kitchen in Broad Ripple, is not intended to ever produce profit. Its earnings are dedicated to the not-for-profit Patachou Foundation, which provides meals for at-risk and food-insecure local children. Patachou Inc. identified community service as a corporate value, and the restaurant was created to help fund the foundation. Other elements of the restaurant follow Patachou's farm-to-table blueprint. For example, it grows produce onsite, and employs a full-time farmer to maintain the block-long grounds.
Eli Lilly and Co.
Drug development and manufacturing in five business units, including diabetes treatment
Employees: 41,000
Enrique Conterno, president of Lilly Diabetes
Structural innovation: Lilly's current approach to diabetes treatment is based in a structural innovation from 2009, when the global firm reorganized into five business units. They included a unit focusing on Lilly's bread-and-butter segment—diabetes. In addition to allowing the company to run leaner by eliminating 5,500 jobs, the approach was designed to make each unit more nimble and bring new medicines to market faster.
Looking outside: Lilly is known for its acumen in developing drugs, including the first commercially available insulin in 1923. But leaders of the new unit decided they also could speed drugs to market by partnering with outside firms that already had products in early development. In 2011, Lilly inked a deal with German firm Boehringer Ingelheim to jointly develop and commercialize four diabetes drugs (two from each company).
From the two medicines provided by BI—Tradjenta and Jardiance—four products have been approved and launched in America. Lilly's contributions were Basaglar, which has been approved in Europe but not yet launched, and basal insulin peglispro, which is in late-stage testing. (In 2013, basal insulin peglispro again became a Lilly-only asset, after BI elected to terminate the collaboration with Lilly on the drug.)
"Having a culture that is willing to access innovation outside of its own walls is key. Do we have great scientists at Lilly? We do, but are there great scientists outside of Lilly? There are."
Twice as nice: Lilly Diabetes isn't just looking for home runs and paradigm shifts. It's also focusing on more incremental wins, such as improving established products and the ways its drugs are administered to patients. For example, Lilly Diabetes now has a product that doubles the concentration of its Humalog insulin, allowing injection pens to hold twice as many doses.
"Sometimes we call this incremental innovation, but it's an innovation that our customers value a lot, and why shouldn't we bring this to our customers as well?"
Its own devices: In May, the firm announced that it would establish a drug-delivery and device-innovation center in Massachusetts. The center will draw from the Boston area's critical mass of talent from universities, bioscience firms and technology companies.
"This is part of the belief that we need to go a little beyond our four walls. It's also a recognition that we see delivery devices undergoing a very significant transformation, and in particular as it relates to digital technology."¨•
Check out the rest of IBJ's 2015 Innovation Issue.
Please enable JavaScript to view this content.