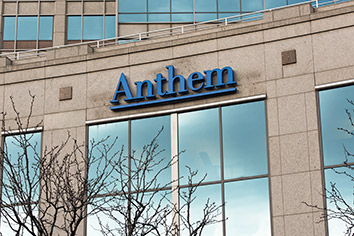 While health insurers in states around the country have proposed large rate increases for the health plans they sell on the Obamacare exchanges, insurers in Indiana are asking for modest increases or even decreases.
The bad news is that it appears the rest of the country is just catching up with Indiana's already-high prices.
Hoosiers' premiums in the Obamacare exchanges for 2014 and 2015 coverage have been higher than those of residents in most states.
When the Obamacare health plans began in 2014, the premiums offered in Indiana were 28 percent higher than the average of the 36 states where the federal government is operating the exchange, according to a June 2014 analysis of so-called "silver plans" by the U.S. Department of Health and Human Services.
And for coverage that began this year, the plans Hoosiers selected in the Obamacare exchange cost 20 percent more, according to a March report from the Department of Health and Human Services. Hoosiers selected plans that cost an average of $5,256 per year, versus an average for the federal exchanges of $4,368 per year.
"Our baseline was a lot higher. So maybe actuarially our carriers were closer at the start than other states," said Matt Kleymeyer, a benefits consultant for Bernard Health in Indianapolis.
That's how Anthem Blue Cross and Blue Shield sees it, too.
"It goes back to our pricing strategy in 2014, the first year of the exchanges. At that time, Anthem did extensive analysis of the new exchange market, which included significant unknowns such as community rating and guaranteed issue," said Tony Felts, a spokesman for Anthem's Indiana health plan.
"Guaranteed issue" is the industry term for Obamacare's requirement that insurers no longer deny coverage because of pre-existing medical conditions. "Community rating" is the Obamacare requirement that insurers set rates based on all their customers, rather than the pre-Obamacare practice of adjusting premiums based on health status.
"Since then, we've only had to tweak the overall strategy," Felts said.
Indeed, Anthem's average premiums on the Obamacare exchange rose just 2.5 percent for 2015 and would rise just 3.8 percent for 2016 if its rate request to the Indiana Department of Insurance is approved.
That increase would make Anthem's average health plan for 2016 cost $5,405—which ranks seventh-highest among nine insurers that have filed to sell policies on the Obamacare exchange in Indiana for next year.
By contrast, the Blue Cross and Blue Shield plans in New Mexico, Tennessee, Maryland and North Carolina have requested rate hikes of 52 percent, 36 percent, 30 percent and 26 percent, respectively, according to The Wall Street Journal and the Associated Press.
Some of those health plans had losses. For example, the Blue Cross and Blue Shield plan in Tennessee reported losing $141 million on individual insurance policies last year.
In Indiana, the largest rate-hike request—26 percent—came from New York-based Assurant. But that company reported in April that it would not participate on the Obamacare exchanges in 2016 unless it finds a buyer for its employee benefits business. That unit lost $84 million in the first quarter because Assurant did not receive payments as large as it expected from Obamacare's risk-sharing programs, which are known as the three R's because each starts with that letter.
"A lot of them were very uncertain about the money they would get from the three R's or how much they would have to pay out for the three R's," said Paul Houchens, a principal and consulting actuary in the Indianapolis office of Seattle actuarial firm Milliman Inc., who helps some insurers with their rate filings.

Houchens
The only other double-digit request came from Physicians Health Plan of Northern Indiana, which insured 9,700 Hoosiers in the Fort Wayne area via individual policies. It asked for a 14.5-percent premium increase.
Four insurers actually are lowering their average premiums: MDwise Inc., which has requested a 19-percent reduction, and Indiana University Health Plans, which requested a 16.5-percent cut.
Representatives of the two Indianapolis-based plans, both of which are at least co-owned by the Indiana University Health hospital system, did not return calls seeking comment. Also asking for rate decreases are Dayton, Ohio-based CareSource Inc. and St. Louis-based Centene Corp., which sells under the Ambetter brand.
Insurers' 2016 prices are the first based on a full year of medical claims, which is important because claims often surge at the end of a year as more patients satisfy their deductibles and go in for expensive procedures.
A year ago, insurers had to make their rate requests with just a few months of claims data. Initial rate requests were quite high, with Physicians Health Plan asking for a 46-percent increase and Indianapolis-based MDwise Inc. asking for a 35-percent hike.
But the rates the Indiana Insurance Department actually approved for 2015 were an average of only 5 percent higher than 2014 rates.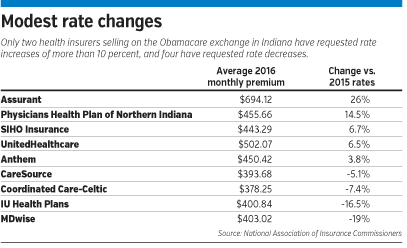 Insurers' prices for 2016 won't be finalized until August, after a back-and-forth with Indiana insurance regulators. And by then, lots of things could change.
First, insurers are bracing themselves for a U.S. Supreme Court ruling expected this month on whether Obamacare's tax credits are allowed in federally run exchanges. This year, those tax credits helped nearly 90 percent of the Hoosier exchange buyers reduce their insurance costs an average of more than 70 percent.
If the court invalidates the tax credits for federally run exchanges and there is no immediate action from either Congress or state governments to reinstate them, that could cause insurers to exit the individual market in states like Indiana, according to an analysis by Milliman.
If the tax credits do stay in place, insurers will face other challenges, such as predicting whether the exchanges will see a trickle or a tidal wave of new customers. That will depend on whether Obamacare's tax on the uninsured—which rises to a minimum of $695 per adult next year—will force lots more people to buy insurance.
Also unknown is how many small employers, whose pre-Obamacare plans will finally have to end next year, will choose to send their employees to the Obamacare exchanges.
"It's definitely an evolving marketplace," said Houchens, the Milliman actuary.•
Please enable JavaScript to view this content.