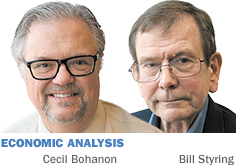 Four little words: " … established by the State." The meaning of those four words buried in Section 1331 of Obamacare is what the Supreme Court is deciding in King v. Burwell.
If the supremes keep to schedule, they will have ruled by the time you read this. At stake is whether persons in the 36 states where the federal government runs the Obamacare health insurance exchanges ("Healthcare.gov") are entitled to receive health insurance subsidies. If those subsidies are removed, the net cost to the purchaser can more than double. Indiana is one of the 36.
As a simple matter of statutory construction, the answer should be obvious. We understand the justices can rule however they please, but Healthcare.gov is in no way "established by the State." It's federal. Plain English would argue a ruling for the plaintiff. No federal subsidies in those 36 states.
Suppose that's the ruling. Here's what will happen:
About 7 million people who purchased individual health insurance policies on federal exchanges will lose subsidies. It will be argued many of these can "no longer afford" the premiums.
Media coverage will be a thing to behold. You'll see a parade of pitiful souls who will die if their chemo is cut off, or grandmothers who have to choose between medical care and food. All of that can be fixed if only Congress would amend the law to include federal exchanges, or if states would set up their own exchanges.
Doing nothing will not be a feasible political option.
Our sound economics response is something like this: Remove the Obamacare individual mandate to purchase health insurance but extend subsidies for a fixed transitional period, perhaps through December 2017. End "guaranteed issue" of health insurance policies, but target part of that transition money to encourage states to expand existing "high risk" insurance pools. That should take care of those with "pre-existing conditions."
Bring down health care costs through measures encouraging competition. Competition is superior to Obamacare price controls. Allow purchase of health insurance across state lines (presently each state is its own little health insurance oligopoly).
End Obamacare-mandated coverages, such as 60-year-olds who don't need maternity coverage. We're not in love with such a plan, and President Obama might well veto it. But we're at where we're at, and it's time to search for the best second-best solution.
Then let's fight it out in 2016 as a key election issue.•
__________
Bohanon is a professor of economics at Ball State University. Styring is an economist and independent researcher. Both also blog at INforefront.com. Send comments to ibjedit@ibj.com.
Please enable JavaScript to view this content.