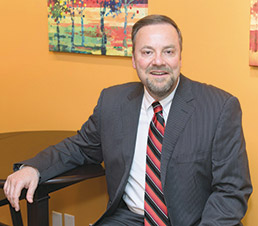 3-year growth: 63 percent
2014 revenue: $4.8 million
Turnaround:
Eight years ago, Mark Hall bought Tech Trades out of receivership. The timing, he said, turned out to be perfect. Between the dynamic of a shrinking workforce of skilled tradesmen and businesses looking to contract with workers rather than hire them full time, Hall found himself with plenty of opportunities.
Who hires and who gets hired:
A typical client is a construction company that won a piece of a job building a large structure and is going to need 100 tradesmen for about six months. The typical workers Tech Trades provides are "the guys and gals who take their showers after work," said Hall, whose father was a union boilermaker. "Electricians, millwrights, crane operators, welders, carpenters, glazers—think skilled trades. It's a shrinking marketplace. New college graduates are not going into trades."
Changing direction:
Early on, Tech Trades did a lot of disaster-recovery work following hurricanes and snowstorms. But that was feast or famine, Hall said. Now, it's doing more steady, predictable work: about 70 percent "not under the roof"—meaning new construction—and 30 percent under the roof, or maintenance-type jobs.
Outside factors:
Tech Trades has competition from small and national firms, and it always deals with lulls in December and January, when outdoor work slows. Hall said he counters that by working closely with clients. He tells them the workforce they deploy is no different than any other raw material or product and promises "the efficient, optimized delivery of people."
Temps of the future:
Hall sees the workplace of the future as "a core group of true employees who own the intellectual property of the business, who are key individuals to the success and the lifeblood of the business." Everyone else will be a free agent. There are about 3 million people today in variable or temporary jobs and about 20 million who are independent contractors, he said. "We see that number continuing to grow."•
Check out more of IBJ's ranking of Indy's fastest-growing companies.
Please enable JavaScript to view this content.