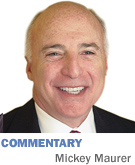 Three Jews Walked into a Shopping Center … No, this is not the start of an ethnic joke, nor is it the title of a religious treatise. It is the rollicking memoir of Eliz Kraft, former senior vice president of the Simon shopping mall empire. You gotta read it.

Kraft is a courageous storyteller, not afraid to delve into her tragic and personal early life. After the first few chapters you marvel about Kraft and the enormity of the pit from which she emerged to launch her successful career:


She never touched me except to hit, and she liked to beat me with the telephone receiver. My mother was a promiscuous, prescription drug addict and child abuser and eventually addled her brain so badly that she had to be bathed and fed. At age 42, she was declared a recluse at the morgue where I identified her body.



But the book is cheerful. Kraft wastes little time on sorrowful recollections before she launches into her experiences with the Simon brothers, particularly Mel, and she does so with exuberance, relating one hilarious anecdote after another. The reading room of a public library is not the best place to flip these pages.

Kraft's memoir is enriched by the repartee with Mel, her friend and mentor. In fact, it's really their story – a deeper meaningful story – the growing mutual admiration between the crusty but lovable rascal, Mel Simon, and the unsinkable Eliz Kraft. In a conversation with Mel, Kraft explained, "I treat you the way I do because I'm grateful and I respect you more than anyone I have ever known." He rejoined, "Well, Eliz in that case it's mutual." Mel would have loved this book.

Kraft describes her first presentation to Simon execs as a circus with cigars and back-slapping jokes – like a locker room after a win. Her presentation was interrupted many times, and no one seemed to listen to her. When one of the guys in the room started drawing on her ads, she took the artwork out of his hand, looked him in the eye, crumpled up the ad and threw it over her shoulder and said, "I am going to do the marketing here, or you're going to do the marketing here but both of us are not going to do the marketing here." Fred Simon took the cigar out of his mouth and started laughing. He said, "You are going to do alright here girlie."

She did do alright. That experience began her journey of becoming the person that she wanted to be—bold, strong, outspoken and uninhibited. She lost 50 pounds and became a beautiful young woman—comfortable with herself for the first time. Simon was the perfect environment for her. She flourished and bloomed.

Mel was caring. He loved his family, his community and all mankind. Kraft says, "Whenever we reported progress on any project, Melvin always asked, 'What are we doing for the community?' Then he would say, 'Do more.'"

Mel was born for risk. Witnessing Mel at a blackjack table where a minimum of $10,000 per play was required, she said, "Melvin, you just lost more than you pay me in a year." Eliz, he answered, "You've got to learn to be a better negotiator."

Perhaps not a skilled negotiator, Eliz is a creative mastermind. She reflects, "A fabulous idea was like magic to me, lightening in the brain that demanded attention. It seized me so that the thought of it … so strong, so clear, so right … became an obsession. And nothing but that idea would do, no compromise, no second best. Sometimes when I was presented with a problem or challenge, I saw the answer immediately. From start to finish the solutions occurred to me. This ability may have been my only gift, but it was all I ever needed."

Three Jews Walked into a Shopping Center … will be your most entertaining summer read. Order a copy at www.threejews.org.•

__________

Maurer is a shareholder in IBJ Corp., which owns Indianapolis Business Journal. His column appears every other week. To comment on this column, send e-mail to mmaurer@ibj.com.