Last month, telecom behemoth Comcast Corp. introduced a residential, fiber-based Internet package here that gives customers access to speeds up to 2,000 megabits per second, 167 times faster than the average U.S. connection speed.

Most residents won't even come close to needing that bandwidth, industry experts said, and even the households bustling with movie streaming and music downloading would easily be pleased with around 100 mbps. But that means little to Comcast and other Internet service providers, which are aggressively rolling out gigabit—1,000 mbps—offerings nationwide.

Collins
"Let's face it: The two-gig product is a niche product," said Tim Collins, senior vice president of Comcast Cable's Heartland Region.

"Most people don't need two gigs in their homes today, but we're a big believer in staking that claim, that superiority position early. It's probably faster than the vast majority of people would ever use, but check back with me in a year or two years and, before long, that's going to be the sweet spot."

Evansville-based Metronet Inc. is another player in the budding gigabit arms race, boasting one-gig, fiber-based packages in 14 cities with more in queue, including Greenwood and Westfield.

AT&T has expanded its fiber-based GigaPower offerings to 15 markets, many this year, and plans to nearly double that. Cox, Google Fiber, and other ISPs are making similar moves across the country but haven't announced plans to enter this market.

The average U.S. Internet connection speed is 11.9 megabits per second, according to digital traffic company Akamai's State of the Internet Report for the first quarter of 2015. For peak usage, when large file transmissions push the limits on speed capacity, the average is 53 mbps.

The United States is no laggard in either category, ranking 19th and 22nd, respectively, out of more than 130 countries. Even the average peak speed in Singapore, the global leader in that category, is just under 100 mbps. So why are ISPs here clamoring to offer 1,000-mbps speeds?

McCall
"A lot of this is just the marketing of the companies, I believe," said Jeff McCall, a professor of communications at DePauw University.

"These Internet suppliers can't ever have an image that they are behind the times technologically. They can't tell customers, 'Well, there's new higher-speed technology available, but we don't necessarily need to provide it.'"

First movers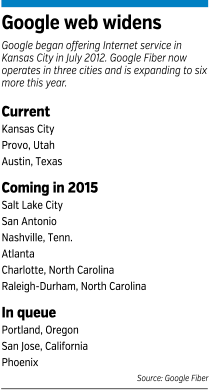 Gigabit speed is available around the country, and Google Fiber was among the first ISPs to offer it. The service debuted in July 2012 in Kansas City—both Missouri and Kansas. One-gig packages, starting at $70, are now available also in Provo, Utah, and Austin, Texas, with construction under way in six more cities. Google is also in talks with San Jose, California; Portland, Oregon; and Phoenix, a Google spokeswoman said.

The Google Fiber website says users, with a one-gig connection, can download an HD movie in about seven seconds, compared with two minutes and 11 seconds with a 50-mbps connection.

When asked about the possibility of expanding to Indianapolis, the company said it doesn't "have any details to share about future expansions."

No matter which cities are on Google Fiber's short list, industry observers said, the company's steps have been felt by ISP incumbents nationwide.

"Google created a conversation that they were in the middle of—cities are literally begging Google to come wire them," Michael Bremmer, CEO of TelecomQuotes.com, said in an email. He said Google's campaign made other large ISPs "offer faster services because they're afraid Google will come to their town next."

The Web-speed wars are heating up just as Americans increasingly ditch their pay-TV subscriptions. In just the second quarter, the industry shed 566,000 subscribers, according to MoffettNathanson Research.

Meanwhile, Internet usage—which paves the way for pay-TV alternatives like Netflix—continues to climb and represents the best prospect for telecom growth. But, as with cell-phone carriers, that growth will largely come from nabbing competitors' customers, DePauw's McCall said, so the perception of technological staleness can prove disastrous.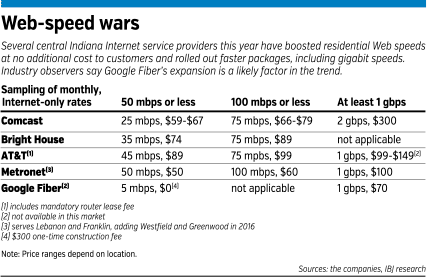 Comcast and Metronet are the only residential service providers in the Indianapolis area offering gigabit speeds today, although Metronet's market presence is limited to Lebanon and Franklin. Comcast's stand-alone two-gig package costs about $300 per month, and Metronet's one-gig package costs about $100 per month, according to their websites.

Florida-based Bright House Networks, the other ISP here, doesn't offer residential gigabit speeds.

Even if they aren't all serving gigabit packages, they all have been boosting their speed offerings here. Bright House, for instance, increased its 90-mbps product to 150 mbps without increasing prices, spokesman Joe Durkin said, and did the same for other tiers as well.

Comcast took similar steps. And last spring, AT&T introduced 75-mbps speeds in certain parts of Indianapolis.

Consumers impatient

The burgeoning speed wars have yet to meaningfully affect Indianapolis residents like Josh McNair, and might not for some time.

McNair, 41, said he's a Comcast subscriber who streams shows and movies over Netflix, which displays an average connection speed of about 14 mbps. McNair started a Facebook group—called "Bring Google Fiber to Indianapolis, Indiana"—in hopes of improving consumer prices and choices.

"We just don't have a lot of options," he said.

Gary Cull of Indianapolis also launched a Facebook group, his called "Bring Google Fiber to INDY." The 32-year-old said he's a Comcast customer and his parents are Bright House customers, and neither he nor they have high-speed Internet alternatives.

"And my parents are paying the same if not more than I am" for slower speeds, he said. "And it's all because of the monopoly that a lot of these cable companies have."

In Indianapolis and the rest of the country, when cable companies built out their systems more than 40 years ago, they did so in exclusive territories. Today, they face a host of competitors—from Dish Network to AT&T U-Verse—but continue to have a strong grip on customers in those territories.

Some residents say wanting affordable gigabit Internet service is not too much to ask. People might not engage in activities that approach that potential today, Cull said, but may in the future. He said people didn't max out their DSL bandwidth when it replaced 56-kilobits-per-second "dial-up" connections more than a decade ago.

Proponents say there's also an economic development case for one-gig speeds. Better service could speed up commercial transactions, which are increasingly digital, and be pitched to prospective employers and employees as a quality-of-life asset.

Doug Karr, a local marketing technology consultant, said gigabit speeds can be a boon for someone who telecommutes or is starting a business from home.

"I think gigabit Internet can really open up the home office," Karr said.

Indianapolis tried to attract Google Fiber around 2010, government officials said, but to no avail. Adam Collins, Indianapolis' deputy mayor of economic development, said it would be "wise to consider" the company if another opportunity arises, but that the city is exploring all options to cultivate a high-speed fiber network here.

When asked where gigabit Internet falls in terms of priority, Collins said his office's goal remains low-, mid- and high-skill job creation.

Enhancing the city's entrepreneurial culture comes second, he said, and "gigabit fiber is not the only piece of that."

Future of fiber

The city of Westfield also unsuccessfully vied to attract Google Fiber, but it's now gearing up to host Metronet. The company, which uses a 100-percent fiber network, started laying the foundation in recent months and residents are expected to have access by 2016.

It's investing $17 million to bring fiber to nearly every doorstep, IBJ reported in March. In return, the city has allowed it to use up to $2.5 million in future property tax payments to pay for bonds used for the project.

Westfield Mayor Andy Cook said the finished product will mean "the entire city will now have a private-sector choice in services." Comcast is the other major service provider there.

Despite its momentum, Metronet has stumbled a bit in Greenwood, where complaints about ruined property, gas line breaches and other concerns came to a head this month. The company has been barred from getting new construction permits to continue building its fiber network until further notice, Greenwood Deputy Mayor Terry McLaughlin said.

"[Metronet's] contractors received a lot of complaints from city residents about the condition that they're leaving their properties in," McLaughlin said.

Metronet did not respond to requests for comment.

Comcast's two-gig service is also a fiber-to-door product, but its deployment is on an as-requested basis. Collins, its senior vice president, declined to say how many customers have signed up. But he said, "We're talking to customers and have definitely been approached by a number of customers. Each one requires a separate look and a custom design to get there."

Comcast sends fiber cables to nodes and then coaxial cables to individual homes, and Collins believes that model has staying power. He said as data compression technology improves, the copper cables gain more bandwidth. The result, he said, is that Comcast might not need to deploy fiber to people's doorsteps in order to give them gigabit speeds.

"I think for quite a while, we'll have a mix," he said.•