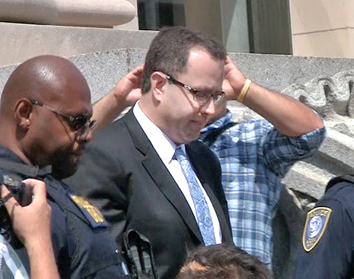 The attorney for Jared Fogle said the former Subway pitchman was accepting responsibility for "his deplorable behavior" as he agreed Wednesday in federal court to plead guilty to paying for sex acts with minors and receiving child pornography.
The case has destroyed Fogle's career at the sandwich-shop chain and could send him to prison for more than a decade. (Editor's note: An earlier story about the charges appears here.)
Authorities say they reviewed tens of thousands of text messages and emails as part of their investigation.
U.S. Attorney Josh Minkler said Wednesday that Fogle, a Zionsville resident, used "wealth, status and secrecy" to exploit children. Among the allegations are that Fogle traveled out of state to engage in sex acts with underage girls.
Prosecutors say Fogle knew child pornography had been secretly produced by Russell Taylor, the former director of his Indianapolis-based charitable foundation, which sought to raise awareness about childhood obesity and arranged for Fogle to visit schools and urge children to adopt healthy eating and exercise habits. Taylor was charged in May with producing child pornography.
"Jared Fogle is agreeing to plead guilty to the charges filed against him today," defense attorney Jeremy Margolis said in a written statement issued after Wednesday's court hearing. "In doing so, Jared is accepting responsibility for what he has done. He is also volunteering to make restitution to those affected by his deplorable behavior."
"While Jared fully recognizes that such monetary contribution will not undo the harm he has caused, he is hopeful it will assist these individuals as they try to move forward with their lives."
Fogle, dressed in a dark blue suit and a light blue tie, appeared in federal court late Wednesday morning.
Fogle answered several times that he understood his rights and the charges against him. The hearing lasted about 20 minutes. Surrounded by a throng of media and a curious public, Fogle, flanked by his lawyers, left the downtown federal courthouse without answering questions and was whisked away in a black Dodge Journey.
Fogle has been released on home detention as he awaits sentencing.
Margolis said Fogle has a medical problem, but didn't elaborate about his condition while speaking to reporters after Fogle appeared in court .
Margolis also said Fogle expects to go to prison and "will do his time." He didn't take any questions at the courthouse.
"Jared also understands that he requires significant psychiatric medical treatment and counseling," Margolis said in the written statement. "He has already begun that process by being extensively examined by a world-renowned expert in sexual conditions in order to chart a course to recovery. It is Jared's intent and goal to become healthy again."
United States Attorney Josh J. Minkler said Fogle has been committing child-exploitation crimes since 2011 and failed to stop crimes by "alleged co-conspirator Russell Taylor."
"Mr. Fogle has admitted in court pleadings that he received child pornography involving multiple minors living in Indiana and other countries over the course of several years," Minkler said in a written statement. "His child pornography crime began when he learned that alleged co-conspirator Russell Taylor was sexually exploiting a 14-year-old girl in March 2011.  
"At that time, Mr. Fogle did nothing to stop the abuse or report it to authorities, but chose instead to receive and repeatedly view the child pornography involving the girl and those other minors produced by his alleged co-conspirator in the years that followed."
The government agreed not to seek a sentence of more than 12-1/2 years in prison, and Fogle agreed not to ask for less than five years, according to court documents.
Federal judges have wide discretion in sentencing, and Fogle could get a longer sentence. The child-porn charge carries a maximum penalty of 20 years in prison. The count involving sex with a minor is punishable by up to 30 years.
Please enable JavaScript to view this content.