Locally based Green BEAN Delivery has made a name for itself in the Midwest and nationally by bringing technology and efficiencies of scale to the decidedly gritty, low-tech world of organic and natural-food production. It's helped the company survive in an industry growing more competitive by the day.

"I like to say that we're a tech company that likes to get dirty," said CEO Matt Ewer, who founded the firm in 2007 with his wife, Elizabeth Blessing.

Green BEAN provides membership-based grocery delivery services to customers in Indiana, Ohio, Kentucky, Missouri and Tennessee. For a fee ($35 minimum), subscribers can order food online and receive a customized plastic bin containing everything from organic tomatoes to organic root beer. The service is one of four interrelated entities under the umbrella company Bean LLC.

Business has been good, with revenue reaching $15 million in 2014 and set to increase 10 percent to 20 percent in 2015, Ewer said. The company employs about 200 and recently opened a $3.8 million warehouse/headquarters near the Interstate 70/Emerson Avenue exchange. Green BEAN Delivery typically expands into one or two markets annually.

The "killer app," management says, is vertical integration. The company controls pretty much every aspect of its food's journey from field to plate. Much of its organic produce is grown at two company-owned, certified-organic farms: 60-acre Feel Good Farm in Sheridan, and Ecohio Farm near Mason, Ohio. Products are stored at six company-owned warehouses, distributed via an in-house service called Tiny Footprint Distribution, and taken to customers' doors by a fleet of more than 100 trucks.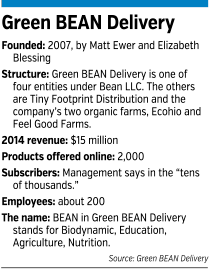 "We are an agricultural company that's also a grocery store," Ewer said. "That simply doesn't exist in the marketplace. We are one of the only vertically integrated ag companies that are out there right now."

This creates efficiencies that allow Green BEAN to survive and grow in the cutthroat U.S. grocery industry—a $2-trillion-per-year business that, in spite of its titanic annual revenue, is infamous for its razor-thin profit margins.

"There's countless competitors regionally and nationally, but I can tell you unequivocally that there's no competitor in our market or nationally that has the type of vertical integration we have," said Shane Towne, president of Bean LLC. "Nobody that I know puts all the pieces together, where the product goes from farms that we own and operate all the way to consumers' doors.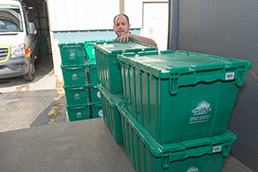 Clients can customize both products and delivery schedules for their bins of produce and other groceries. (IBJ photo/Eric Learned)
"I've joked that the only way we could be even more vertically integrated is if we start manufacturing the bins we pack our product in."

Speed also is vital, given the perishable nature of most organic crops. Lettuce, for instance, might be harvested at 3 a.m. at Feel Good Farm, then washed, processed and shipped to customers the same day. Such agility is a great selling point for the service, but also a necessity given the breathtakingly short shelf life of organics.

"We kind of look enviously at other companies whose products don't die within four days," Ewer joked.

Seeds of the idea

The Marion native got the idea for Green BEAN Delivery in the early 2000s, while working in Seattle for a smallish Oregon-based company that supplied produce to city folks. Ewer wondered if he couldn't do the same—on a larger scale—in the Midwest. Which on the face of it seemed like a terrible idea. While the coasts are famous for interest in organics, in the early 2000s the Midwest still was considered Cheetos country.

"That was the kind of reaction I got when I talked about this idea in Seattle," Ewer said. "It was, 'Don't you guys eat hot dogs and baked beans for every dinner?'"

Apparently not. Or at least, not so much anymore.

"Organics have been going on quietly in a lot of markets for a while, picking up steam," said Meg Major, chief content editor for Progressive Grocer magazine. "And [Green BEAN] has two things going on. They offer online delivery services, which is growing, and organic and natural products, which are growing as well. The trick is the execution. Their success depends on the delivery model."

Ewer said company expansion is accomplished, to no surprise, in an organic, sustainable manner. Instead of taking on equity investors, BEAN gets bank loans. Which means sometimes it's not the most liquid operation in the world.

"Cash flow is always a restraint," he said. "The other thing would just be management and how you manage a growing company."

Not too long ago, Green BEAN was small enough for Ewer and his Indianapolis executive team to personally oversee everything, right down to crop harvests at Feel Good Farm. But that hands-on approach grows ever-more problematic as the company ranges farther afield.

"So now we have to put those management pieces into place that allow us to make sure we have control over our product in multiple markets," Ewer said.

He figures that, in the next few years, the company will grow to perhaps 500 employees. But while that might present oversight problems, the firm's burgeoning warehousing and distribution systems also create profit opportunities.

"We're finding other ways to build sales," Ewer said. "Green BEAN Delivery is one aspect of our business. We've also got the certified organic farms. We've got a distribution company. We've got warehouse solutions that people are interested in. So really we're food-systems solutions, logistics and technology people that like to go to the farm every once in a while."

Partners

Some of the chief customers for those services are the roughly 100 smallish organic and natural food producers that supply products to Green BEAN. For those folks, the company can offer services ranging from warehouse space to distribution via Tiny Footprint to advice on things such as bookkeeping.

"If you look around at the success stories in Indianapolis, a great many of those people have been doing business with us for a long time," Ewer said. "We're not going to take their well-deserved credit, but I'd like to think that we're part of the solution and part of the success."

Few suppliers have a tighter relationship with Green BEAN Delivery than Sheridan-based LocalFolks Foods. When Ewer was considering moving back from Seattle to start his company, LocalFolks founder Steve Spencer was one of the first people he called. Spencer started out selling vegetables to Green BEAN, and today produces 17 different, mostly tomato-based sauces. All are distributed by Tiny Footprint Distribution, which also places his goods in brick-and-mortar stores.

"They take a lot of their shelf-stable items, the same ones that go to Green BEAN, and use their own distribution company," Spencer said. "Not only does it go into the Green BEAN Delivery system, which is massive. It also goes into Tiny Footprint Distribution."

Ewer said his company plans to add 100 to 200 additional acres of Hoosier farmland in the coming year. Which means that, if he isn't already the state's biggest organic producer, he soon will be.

Though Green BEAN's 60-acre Feel Good Farm might not sound like a big deal, here in the Midwest it's quite a spread.

"When you think of fruits and vegetables, 60 acres is large," said Corinne Alexander, professor of agricultural economics at Purdue University. "We have a lot of farmers here in Indiana that are doing local production, and they're supporting a family on about five acres of vegetables."

But Feel Good Farm is a postage stamp compared with operations in America's salad bowl, California, where organic vegetable operations can run into the thousands of acres.

Yet Green BEAN's scale and sophistication make it a formidable foe of the small-scale produce-delivery services that have popped up in most major cities. Each of them misses portions of what Green BEAN offers—especially its vertical integration and local production.

"That is a huge advantage for Indianapolis consumers sourcing from Green BEAN Delivery," Alexander said. "Not only are they getting certified organic vegetables, but they're getting the freshest they can possibly get. When you go to the grocery store and buy organic products from California, they've been on a truck for four or five days."

Green BEAN will need all the advantages it can get, because the days when it was one of the only local purveyors of organic/natural goods are long gone. Nowadays, every grocery store offers them. Which is both good and bad.

"When we first started in 2007, we were brand new and first to market," Ewer said. "Now, there are a lot more grocery stores that are going all-natural. As the industry grows, it creates more competition, but it also generates more interest from consumers."•