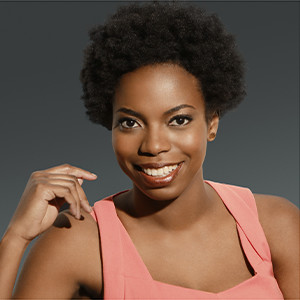 (Photo courtesy of Mary Ellen Matthews/NBC)
She's played Beyonce, Michelle Obama and Rihanna—some of the most famous women of our day.But Sasheer Zamata—a Pike High School graduate who joined "Saturday Night Live" mid-season in 2014 and is now a featured player—says one of her favorite characters so far has been Janelle, a teenage YouTube star who hosts dance tutorials. During her SNL break this summer, Zamata, 29, took on roles in the Kevin Smith film "Yoga Hosers" with Johnny Depp and the independent thriller "Sleight" with Dule Hill, while also playing stand-up and improv dates. She returns to SNL in October.
What's the weekly SNL schedule like?
Monday is the pitch. We start writing ideas, meeting with the writers, and figuring out what we're going to work on.
Tuesday is a writing night. We come in in the afternoon and stay late. Wednesday, we read about 40 of the sketches with the writers and producers and host and Lorne [Michaels]. We whittle that down to about 15.
We rehearse and the sets are built, we get costumes, and do all of that. Then have a run-through and dress rehearsal for Saturday with an audience. And then, according to feedback, we cut ones that haven't worked, rearrange, and then whittle it down to nine or so.
Was there a learning curve?
I was hired mid-season, so I didn't have a ton of time to catch up on everything. I just got in and started working. People did a great job of helping me get up to speed.
Is there sometimes a big difference between the reactions of the dress rehearsal audience and the broadcast audience?
Sometimes the dress is better, sometimes worse. You never know.
Sometimes they come for the host, sometimes for the musical guest. We did one show where they were missing all of the political jokes and we were so confused. We didn't know if we missed the mark. How are they not getting these? Then we realized there were a lot of teenagers in the audience there for [musical guest] Ed Sheeran.
How do you feel on Sunday?
Tired.
Does the cast monitor how much airtime each one gets?
There's no way to know how the show is going to shake out. Everyone writes and hopes their sketches get chosen. But there are so many factors. What's relevant that week? What's topical that we need to talk about? Does this idea clash with other ideas? Does this idea make the host look good?
Are there characters you are looking forward to adding this season?
Definitely, but I don't want to say. I don't want to jinx it.
How about a favorite that you brought to the table last year?
I had done Eartha Kitt in a few showcases and was able to do her for a Joan Rivers roast skit when Sarah Silverman hosted. That was fun.
And I really love the sketch where I play Janelle, a YouTube star teaching dance [on] the Internet and unaware of how much her body has grown. It was my first recurring character, which was great.
Successful comedic performers are often called naturally funny—but does that trivialize the work that goes into it?
Some people are naturally talented. But it takes a lot of experience and repetition to get good at it.
I did improv in college. I took classes when I moved to New York at UCB [Upright Citizens Brigade, where she still works out]. For stand-up, I did a ton of open-mics. It's not a thing where you can just get up on stage and you are good.
When did your on-stage persona finally develop?
It's an ever-going process. I'm still figuring it out. Honestly, I don't know.
When doing stand-up, do you always try to incorporate new material into your act?
I'm always writing, but not always trying out new stuff.
It kind of goes in waves. If I have a theme or an idea that I have to work on, I'll try to slip it into material that I already know will work.
In September in Indy, you played at the White Rabbit in Fountain Square. Why not a bigger venue?
For the tour, I'm specifically asking to perform at venues that are more indie and alternative. A lot of them have been music venues or art spaces. I really like that. People are coming specifically for the show as opposed to going to a club just to see a general comedy show.
Your website and your UCB bio don't mention SNL. Is that an oversight or a deliberate choice?
I just haven't gotten around to updating. I don't have to tell people I'm on SNL.
 
Click here for other interviews.
Please enable JavaScript to view this content.