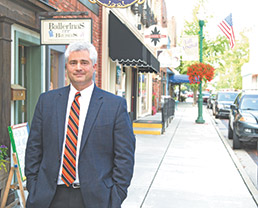 (IBJ photo/Eric Learned)
Jeff Papa estimates he's been to 45 countries in the last 25 years—for either teaching, volunteerism or vacations. He helped create an orphanage in Nepal. And last year, he went to Guantanamo Bay in Cuba to be an observer for prisoner hearings.
But international work isn't his full-time job—even though he might like it to be.
Instead, the 46-year-old works as chief of staff for the Indiana Senate, a position he's held since 2007. And this past June, he became Zionsville's first mayor.
What got you into working with government initially?
I accidentally did an internship with the [Indiana] Senate.
How did you accidentally do an internship with the Senate?
I was a Rose-Hulman [Institute of Technology] student, and I was going out of town for the weekend with my friend who went to [Indiana State University]. I said, "I'll pick you up at ISU when your class ends," and I parked outside the building and he never came out. Well, what was I going to do? There are no cell phones.
I kept walking around and there was a flier for a Senate internship. By the third time I passed it, I thought, "Well, the application deadline's today, but there's an 800 number so I'll call it."
The guy who answered said, "You need to stop by and see me." I said, "Uh, I didn't shave today, and I'm wearing my AC/DC T-shirt and jeans with holes in them." He said, "Oh, it will just be me and you. Don't worry about it."
So I stop by and, of course, he took me around and introduced me to everybody and I thought "Yup, I'm never going back there again."
I didn't hear from him and then in December he called and said, "Hey, do you still want that internship?" And I said, "Sure." I eventually figured out that somebody must have backed out and I was a last-minute alternative. OK, whatever. It worked out.
I did the internship and left and thought I would never work in government again. When I was finishing up my master's at Ball State University and came back to visit, they hired me.
You're getting your Ph.D. in education leadership from ISU. What made you want to pursue that?
My name has been in the mix a couple of times for university presidents and clearly one thing that's lacking [for me] is an earned Ph.D. I also have a lot of interest here on the policy side of education, so it really went together well.
Would you like to be a university president someday?
I think that would tie together a lot of my background. I taught English in Nepal and Korea; I was an adjunct professor for Indiana University law school in Indianapolis; I was president of the alumni board at Rose-Hulman and served on the board for seven years.

But I'm very happy here. I'm not in any hurry to go. But that kind of career would be very interesting to me.
You also started the Youth Enhancement and Training Initiative to fund an orphanage in Nepal. Tell me more about that.
When I went and taught English in 2000 for a nonprofit, it [cost] like $500. They probably made $300 profit on that, which would pay for community development.
Three years later, I emailed the organization and asked if they had ever thought of an orphanage. In 10 days, they visited four existing orphanages, went through their books, visited with state and local governments about the requirements for orphanages, lined up people for the board, and secured donated land. An unemployed architect had done building renderings, and unemployed construction workers were available.
We really didn't have any choice at that point. So we raised the money and in three phases we built a three-story building and a cafeteria kitchen building. We started with 10 orphans and got up to 26.
As we raise money, we keep 10-15 percent to spend on underprivileged kids in Indiana, and we don't have any employees, overhead or an office. So, 100 percent of everything we raise goes to it.
I try to go over every year and visit, and that comes out of my pocket. When we have fundraisers, if we need name tags or prizes, we either get it donated or it comes out of our pockets.
Tell me about your trip to Guantanamo Bay [last September].
When President [George W.] Bush decided that the prisoners were going to be held at Guantanamo and hearings were going to be there, the Pentagon said it would appoint [non-governmental organizations] as observers.
Observers have to write about it, and the government can't say what you're going to write.
But you have to be an NGO appointed by the Pentagon. One of those appointed is the human rights law program at the law school here, and the professor who runs it asked if I would do it.
What was it like?
The hearings themselves were really interesting because a lot of it was stuff that's not been done before. A lot of it is very procedural: Can you do that? Can you use that evidence? What kind of hearsay should be allowed? Is that even a reliable source?
Guantanamo is really interesting itself because you can only get there on military authority, but it's basically an American city. Except for the restricted areas, you can go wherever you want. There's McDonald's, Subway, a shopping mall, a gym. It's not exactly like being on a military base, but it's one of the most secure bases on the planet sometimes.
Click here for other interviews.
Please enable JavaScript to view this content.