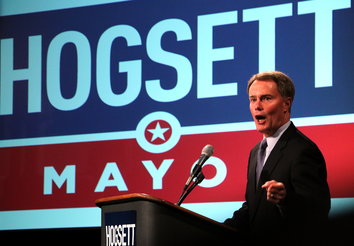 Joe Hogsett is Indianapolis' next mayor.
The Democratic former U.S. attorney and secretary of state on Tuesday handily defeated Republican small businessman Chuck Brewer.
With nearly all the vote counted, Hogsett was leading with 62 percent of the vote in the race to succeed Republican Mayor Greg Ballard. Brewer had 38 percent of the vote. Brewer called Hogsett just before 8 p.m. to concede and congratulate the winner.
Hogsett and his team were celebrating the news at a campaign party in the Grand Hall Ballroom of the Crowne Plaza Hotel at Union Station. He appeared on stage with his wife and declared "it begins tomorrow.
He called the win a "hard-earned victory" and said "with a victory comes enormous responsibility."
"We are one city," Hogsett said. "Now is the time for us to dream again."
In a concession speech, Brewer said it had "been a true honor for me to represent the Republican Party in this campaign."
Brewer said Hogsett "loves this city just as much as I do" and said he would be "at his disposal."
"I will always answer the call of my city" when asked about running for office in future "I don't think you should ever count anybody out" 
Hogsett started and finished the race with significant advantages over his Republican opponent, a political newcomer.
Hogsett earned about $4 million in contributions since he started running last August, dwarfing Brewer, who raised about $900,000 from the day he launched his campaign in January through mid-October.
That allowed the Democrat, who already had a lead in name recognition from his previous stints in public office, to spend much more money getting his message out.
Hogsett's campaign spent $2.42 million on political ads from the start of the campaign through mid-October and he started advertising on TV in early June. Meanwhile, Brewer spent about $323,000 during that time. By September, he still hadn't placed an ad on TV.
The mayoral race was largely civil and uneventful, with few sparks igniting between the two candidates until late in the campaign.
Both candidates remarked often about their respect and admiration for the leadership of Ballard, who according to an Indy Chamber poll in early September had a 65.8 percent approval rating among likely voters. Even with the poll's 4.9 percent margin of error, those are still high marks for a Republican in a city with wide Democratic support.
But Brewer threw a few jabs at his opponent after an IBJ story showed that Hogsett's claim that there's "never been a year that I haven't spent less than the year before" in public life isn't quite true. Hogsett's campaign disputed the story.
"He's parsing words," Brewer said on Tony Katz's morning show on WIBC. "It's insulting."
Over the weekend, Brewer also criticized Hogsett for taking a $50,000 donation from Indy Project Venture LLC, a company formed by a mysterious group of donors days before it wrote Hogsett's campaign a check. The donors later revealed they are executives from Indianapolis-based developer Scannell Properties.
"Something does not smell right with this," Brewer said at a Saturday press conference.
Hogsett's campaign manager Thomas Cook called Brewer's claim a "desperate, baseless attack."
Please enable JavaScript to view this content.