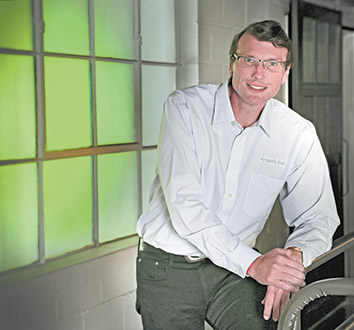 Angie's List, which sells subscriptions to its home-services reviews and marketplace website, attracts 11 million unique visitors each month. But most of the visitors—six of every seven—are nonmembers.
These so-called "free users" visit for a limited selection of daily deals like pre-priced paint jobs or chimney sweeps, but few subscribe to the site, CEO Scott Durchslag said, even though prices start around $10 a year.
Durchslag has no problem with nonmembers showing up on the free front porch, so to speak. But if they aren't going to join the club, his goal is to monetize their traffic far better than the 20-year-old company has so far.
"There are certain things that we offer as benefits to our members that I could sell on a one-time basis" to nonmembers, Durchslag said in a recent interview. "And I could sell targeted advertising to the free users, so I'm making money on that traffic."
Monetizing free users is just part of the vision that Durchslag, who took the helm of Angie's List in September, is laying out to reinvigorate the struggling home-services company, which has seen revenue growth slow notably since last year. His strategy includes keeping the oft-criticized consumer pay wall intact, at least for now, and giving the website what analysts say is a much-needed makeover.
Durchslag, 49, also plans to stem the tide of service-provider attrition with softer sales tactics. Plumbers, roofers and the like buy ads and provide Angie's List a cut of e-commerce transactions. Those revenue streams together account for 80 percent of the company's revenue.
Total overall third-quarter revenue was $87 million, up just 7 percent from the same period a year earlier.
Analysts say that growth pace is concerning for a firm that occupies only a sliver of the massive, largely uncharted home-services market. Transactions in that market are estimated to total nearly $400 billion a year, with Angie's List estimating it facilitates $10 billion to $15 billion of that.
"I view, and I think most investors probably still view, Angie's as a growth company," said Kerry Rice, a San Francisco-based senior equities analyst with Needham & Co. "I don't think it's bumping up against the top of opportunity."
Durchslag, a former executive at Skype and Best Buy, hasn't detailed his entire vision, but outlined some tenets in his first earnings call Oct. 21 and in a subsequent interview with IBJ. He said he intends to unveil more plans at the company's annual investor conference next spring.
By and large, Durchslag wants to preserve the company's core business model but tweak it around the edges.
Angie's List, which went public in 2011, has 3.3 million members and just under 54,000 service providers. A few years ago, it decided it wanted to become a marketplace that made money off transactions—in addition to memberships and ads—but building a marketplace behind a pay wall has proved difficult.
Company shares fetch about $7.60, off 73 percent from their July 2013 peak, as the firm has struggled to show strong revenue growth or consistent profits. Durchslag thinks his tweaks can change that.
"As many of you know, I've led successful turnarounds at other consumer and tech companies," he told analysts on last month's earnings call. "Angie's List is unique in that it actually looks better from the inside than it does from the outside."
New options, new look
Some of Durchslag's key initiatives relate to the pay wall, which some investors have called for the company to remove to boost transaction activity and, consequently, Angie's cut of that activity.
Durchslag said he hasn't reached a decision on its fate, but for now plans to enhance what's available on both sides of the pay wall.
The CEO began moving on this vision last month, announcing a "fair price" guarantee for all members and a "quality service" guarantee to members who pay the highest subscription rates. Outside the pay wall, Durchslag said, he envisions offering some members-only perks, such as service insurance or complaint-resolution support, a la carte.
"You can either join the club or pay for a drink at the bar," Durchslag said in an interview. "If you only want a one-time access to something, I want to figure out a way to make money off of you as a free user."
For the nonmembers who don't bite at a la carte offerings, he said he might introduce ads outside the pay wall.
Angie's List is in the process of giving its website a major face-lift, a project Durchslag has dubbed Angie's List 4.0.
The most visible change will be improved flow and user experience, which Durchslag said will get the company caught up with competition. The platform will then "leapfrog" the competition, he said, with features like predictive analytics and personalization.
"We're going to be able to change the way members see things based on who they are," he said, citing reviews, advice and offers as examples. "The whole center of the platform is all of the data we have on customers and their behaviors in the markets."
The goal behind the refresh is a smooth, relevant experience for both members and nonmembers. Angie's List has been widely seen as an industry laggard in this area, even though it's spent millions driving people to its website.
"Unless the user experience is good, right," Durchslag told analysts last month, "spending a lot of money to drive a ton of traffic to [the site] doesn't necessarily make a lot of sense."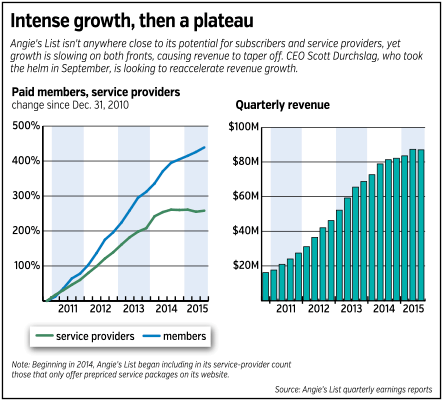 Service-provider churn
Durchslag also hopes to refresh the service-provider experience.
The company has been stuck in neutral with service providers, who pay Angie's a cut of sales they transact on the site and who sign lucrative advertising contracts. In the third quarter, the company put the service-provider tally at 53,918, about 1 percent fewer than the 54,392 it had a year earlier.
It was the first time the company reported a year-over-year loss in service providers since it went public. Angie's List estimates its potential service-provider market in the hundreds of thousands.
Rohit Kulkarni, a San Francisco-based analyst with RBC Capital Markets, said the service-provider woes could be the result of "sales and marketing execution missteps." A few former Angie's List employees who asked not to be named said aggressive sales tactics by inexperienced salespeople have alienated some service providers.
In the earnings call, Durchslag acknowledged the troubles and said he's trying to win back service providers who have churned. He cited the firm's ongoing transition to a team-based sales model from one where a single salesperson handled most aspects of a client relationship.
"Our service-provider relationship team … must focus on building relationships, rather than simply closing transactions," he said.
Reigniting the engine
From mid-2012 to mid-2014, Angie's List increased quarterly revenue an average of $20 million over the year-ago periods.
That pace has slowed notably. In the latest quarter, the firm generated only $5.7 million more than it did in the same quarter of 2014. It closed out the third quarter with $86.9 million in revenue, up 7 percent.
Kulkarni said the company has room to grow faster, but a few factors have led to the deceleration. One is the company's lack of technological innovation, he said, which hampers its ability to drive traffic and membership higher.
Emerging competition by startups and large companies like Amazon.com only compounds the problem, he said, and the recent marketing cutback is probably a drag.
"Unless they are able to consistently grow traffic to the website and the number of paid subscribers, which is a function of marketing spend," Kulkarni said, "it's hard for service providers to allocate more advertising dollars."
Durchslag is betting the website makeover will attract members and nonmembers alike, and that both will find more offerings when they arrive. He hopes service providers will buy more ads and sell more services when they see the pool of consumers grow.
He doesn't have a ton of time or money to meet his goals, and, as such, he told IBJ he's forgoing a massive workforce expansion charted by his predecessor, Bill Oesterle.
Among other ways to save, he said he plans to shift marketing spending from TV ads to more efficient digital ads.
He knows the company can't cut its way to growth. But he realizes he must demonstrate he's deploying resources prudently to win investors' confidence.
"My view is, given where we're at right now, we need to earn the right to make bets," he told analysts. "But at the same time, we can't be in the position where we don't take any bets or make any investments that are necessary."•
Please enable JavaScript to view this content.