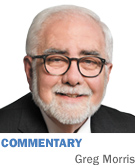 Yes, there are plenty of topics I could delve into this week and risk irritating at least half our readers. But I'm taking a break from the norm. I'm extending the Thanksgiving holiday weekend glow because I'm still feeling thankful for all my blessings and grateful for time spent with family.

Most of us run so hard all the time, it's easy to lose sight of what's important in life. Thanksgiving is probably my favorite time of year. And while hosting a dinner for a large group is a lot of work, the lasting memories created always make the effort worthwhile.

By this time, you've no doubt recovered from your food coma and, after eating all the leftovers, don't want to see anything that resembles turkey anytime soon. A good steak, Chinese or Italian sound good to me right now.

Anyone who reads this column with any regularity knows I'm a movie guy. I do love the escape of watching a great movie. At this time of year, along with the new releases at the theater, I look for the old standbys that accentuate the holidays. I did catch my all-time favorite Thanksgiving movie again, "Home for the Holidays."

The 1995 movie is directed by Jodie Foster and stars Holly Hunter, Robert Downey Jr., Anne Bancroft, Charles Durning, Dylan McDermott and Claire Danes. It's a hilarious, but touching movie about a highly dysfunctional family spending Thanksgiving together. It's the kind of move you watch to remind you there are families out there a lot more dysfunctional than your own. You might love your family, but as this movie portrays, sometimes you might not like them much.

One of my favorite scenes features Bancroft, the matriarch, escaping the madness for a moment by retreating to the large kitchen pantry. Her daughter (Holly Hunter) finds her sitting in the pantry chain-smoking and asks what she's doing. Bancroft says, "I'm giving thanks that we don't have to go through this for another year, except we do, because those bastards went and put Christmas right in the middle, just to punish us."

In another favorite scene, the father (Charles Durning) gets the garden hose and sprays down his son and son-in-law to break up a fight that started during a game of football in the front yard. While holding the hose, Durning, looking at his neighbors who are all watching with judgmental stares from across the street, yells, "Go back to your own g#& d@*% holidays!" It doesn't matter how many times I watch this movie, it always makes me laugh—and I am reminded to appreciate my semi-normal family Thanksgiving get-togethers.

I hope you took some time to rest the mind, body and soul this weekend. There's still plenty of work to be done to close out the year strong and make sure you're positioned to hit the ground running after the new year. Maybe you're still working on budgets for 2016? "No rest for the wicked" my grandmother used to say!

I'm hopeful your company or organization has had a successful year and that you are looking forward to an even better 2016. Fortunately, that's the position we find ourselves in at IBJ. That's largely because of the support given by our readers, event attendees, sponsors/advertisers and vendors. And, of course, the great effort put forth by our talented and dedicated staff.

Don't get me wrong; we're not back to the "glory days." Nothing is easy these days. Everyone has assumed more responsibility in their jobs, and staff members are working harder than ever. No more "country club atmosphere" or feet up on the desk eating bonbons. Was that ever really the case? I doubt it. At times, it still feels like hand-to-hand combat in the streets, but overall, I feel fortunate to be where we are today.

So it is with great humility that I thank everyone who has contributed to our success. And thank you in advance for your future business and support. As always, thanks for reading IBJ!•

__________

Morris is publisher of IBJ. His column appears every other week. To comment on this column, send e-mail to gmorris@ibj.com.