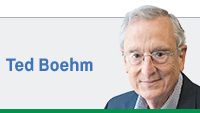 The Redistricting Study Commission established last spring by the Indiana General Assembly is to report its findings by December 2016. In the meantime, there have been some interesting developments in redistricting litigation that suggest an increasing willingness of the federal courts to entertain constitutional challenges to gerrymanders.
Four current U.S. Supreme Court justices contend that gerrymandering claims are not "justiciable"—lawyer-speak for "a matter the courts can entertain," and at least two federal courts threw out constitutional challenges on that ground.
But five Supreme Court justices have now come down firmly in favor of justiciability.
Perhaps more significantly, last June, an opinion joined by five justices observed that "partisan gerrymanders … [are incompatible] with democratic principles," and implied a readiness to hold that a gerrymander can violate the U.S. Constitution if a "manageable standard" can be established.
Precedent makes clear that there is no federal constitutional requirement that a state's congressional or legislative districts produce proportional representation—that a political party have the same share of legislative seats as the statewide percentage of votes cast for its candidates.
The challenge now is to establish a test to distinguish unconstitutional infringement of voters' rights from disparities that result from legitimate considerations or from the natural concentration of some populations. Help may be on the way.
Federal redistricting cases have their own special procedure. They are assigned to a special court composed of one circuit judge and two district judges. Appeals go directly to the Supreme Court. Last month, a court in Wisconsin, composed of two judges appointed by Republicans and one appointed by a Democrat, refused to dismiss a claim that the Wisconsin Legislature was districted in violation of the constitutional rights of the minority Democrats.
In so doing, the court took the first step to suggest a possible measure of gerrymandering that is "judicially manageable."
The essence of the viable claim was: 1) the plan was intended to minimize the electoral effect of votes for Democratic candidates; 2) the "efficiency gap" (explained below) between the votes of the two parties is great enough to support a presumption of an unconstitutional plan; and 3) the bias in favor of Republicans was not required by legitimate districting principles such as adherence to existing county and municipal boundaries.
Gerrymanderers intend to "waste" as many votes for their opponents' candidates as possible and waste as few as possible for their own party. At its heart, the technique is very simple: "Crack" the opponent's voters in potentially competitive districts to below 45 percent and "pack" them into a small number of districts that the opponent will win overwhelmingly.
Plaintiffs propose the "efficiency gap" as a manageable judicial standard to identify and quantify the degree of gerrymandering. The gap measures packing and cracking by comparing the difference between the percentages of wasted votes for the two parties. A vote is wasted if it doesn't help elect a representative—either because it is cast for a loser or because it is more than the plurality it takes to be a winner.
If 20 percent of Party A's votes are wasted and 10 percent of party B's, the efficiency gap is 10 percent. A gap of more than 7 percent is claimed to prove a high likelihood that the bias will continue until a new census requires another redistricting.
The Wisconsin plaintiffs will now be required to back up their allegations with evidence. If the plaintiffs succeed at trial, an apparently more hospitable U.S. Supreme Court will have another crack at gerrymandering—with potentially major implications for Indiana and many other states.•
Please enable JavaScript to view this content.