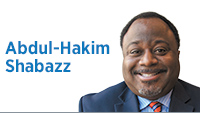 As I sit down and write this IBJ Forefront column, I am enjoying a Davidoff cigar and glass of scotch. My total bill for both these items will be about $25. Or, to look at it another way, the cost of an increase in the gas and motor fuel tax to fix Indiana's roads and infrastructure.

Indiana lawmakers are debating various proposals to deal with the state's transportation needs. Gov. Mike Pence has offered more than $1 billion over four years for state roads and bridges. Senate Republicans have offered more than $400 million for local governments.

And House Republicans have put nearly $500 million in new funding through an increase (or index, if you prefer) in the gas tax and motor fuel tax. They would also dedicate all the dollars of the state sales tax on gasoline to roads and replace that revenue by increasing cigarette taxes, which will free up dollars currently going to Medicaid.

While I can appreciate the governor's $1 billion plan, as well as what the Senate Republicans are doing for local roads, Indiana needs a long-term fix for its roads and bridges. The House Republican plan, with its tax increases, does that.

I know some people balk at any idea of "tax increases" to pay for anything. I am a fiscal conservative and I am not a big fan of taxes, either. But being conservative also means that certain things need to be paid for, and roads are definitely among them.

For too long, Indiana's road-funding solution has been to pour more short-term money into projects while never addressing the state's long-term needs. Even Major Moves, which funneled nearly $4 billion into fixing and expanding Indiana's infrastructure, provided only about 10 years of real road funding. Yes, money was set aside in a trust fund, but it was never meant to address Indiana's long-term road funding problem.

The House plan puts us on that path.

And for those of you who reject any "tax increase," let's try to put this into some kind of perspective. According to House Speaker Brian Bosma, indexing fuel taxes to 2015 dollars (which, by the way, have not been indexed since 2002) will cost the average consumer about $25 a year.

Now juxtapose that with the price you paid when you took your car in for a repair because it hit a pothole. Exactly. Would you rather pay a few bucks for roads or a few hundred bucks for a car repair that could have been avoided?

If $25 seems too expensive for your wallet, here are just a few things that would cost you the same amount: a week's worth of Starbucks, a pair of movie tickets, the entire Cards Against Humanity set, lunch downtown or dinner in the townships. I am sure you could come up with your own list.

With all due respect to my Democratic friends, as well as those at Americans for Prosperity who oppose any increase or adjustment in the gas tax, might I suggest you go ahead and give a bunch of money to your mechanic now. That way, you can mitigate the sticker shock from the repairs you'll have to make.

Indiana needs more than just a pothole solution to its road problems. It's time to step on the gas and address this issue for the long haul.•

__________

Shabazz is an attorney, radio talk show host and political commentator, college professor and stand-up comedian. Send comments on this column to ibjedit@ibj.com.