VisionThree was founded in early 2003 in the mold of so many other advertising agencies.

Company founders Jeff Hopler and Eric Davis designed websites and created content for CD-ROMs and DVDs, like countless other firms.

In 2008, they were asked by Eli Lilly and Co. Inc. to do something a bit different. Lilly executives wanted something "interactive and experiential," Hopler said.

They wanted something that could cut through the clutter of a massive trade show to draw potential customers to their booth like moths to a flame.

What VisionThree came up with worked so well for Lilly, it cascaded to other client offerings and triggered growth so explosive the small firm last year sought help in handling sales and business development.

Hopler
"We needed somebody with the experience and wherewithal to take us to the next level," Hopler said. VisionThree wants to expand beyond Indiana and further diversify its customer base to include everything from hotels and amusement parks to business complexes and large universities.

Last November, a business contact recommended Hopler talk to former WISH-TV Channel 8 General Manager Jeff White.

Davis
Hopler and Davis wondered: How could a guy with a background in television help the agency grow?

But the conduit insisted White, who spent 28 years in the TV industry—25 of those with WISH—had a strong background in sales and a Rolodex stuffed with contacts.

It took White only one trip to VisionThree's studio to convince him to take an ownership stake in the company and spearhead sales and product development for the firm full time. He officially came on board last month.

"I was absolutely amazed with the technology and their ability to engage a consumer," White said.

Outside of animation, VisionThree doesn't now do anything it was founded on. Instead, it's focused on creating small- and large-scale 3-D interactive displays for use at public attractions, trade shows and corporate settings, including sales presentations.

Hopler, the company's creative engine, and Davis, the firm's tech guru, became convinced White was the right guy to help VisionThree grow.

"We could see that Jeff could bring a great, dynamic personality to our company," Hopler said. "He understands the sales process and the intricacies of business development. Simply put, he brings capabilities we don't have."

White departed WISH in June 2014, shortly after it was announced that Virginia-based Media General would acquire the station's parent, Rhode Island-based Lin Media.

White, 51, spent the rest of 2014 traveling and reconnecting with family and did consulting work in 2015. He was looking "to hit the reset button" on his career when Hopler called. His sales-oriented mind started churning as he interacted with VisionThree's wares in the company's showroom at 330 N. College Ave.

"I saw a million different applications," White said. "It's incredibly cutting-edge."

But while it might be cutting-edge, Hopler stressed that, "We're not a tech company."

"For us—and our clients—it's about the content and storytelling first and foremost," Hopler said. "We're just utilizing the technology as the delivery vehicle."

What VisionThree is doing is not unlike TV, White said.

"What we do in TV is storytelling and engaging all the senses that we can to make that happen," he said.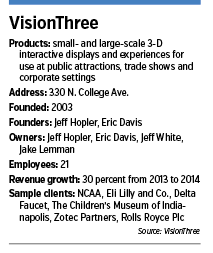 Major change

VisionThree's journey into an interactive world started with a single call from Lilly.

Members of the Pharmaceutical Research and Manufacturers of America had agreed to cease using branded trinkets and other giveaways as marketing tools, starting in 2009. So, the year before the moratorium took effect, Lilly officials were looking for something new to grab the attention of potential clients at trade shows.

Davis and Hopler turned to gaming technology to develop an interactive touch glass designed to stand out from the typical touch screen or video wall, something that would allow physicians to engage with 3-D DNA images.

What resulted, Hopler said, "was a way to display content like had never been seen before."

"When we first developed it, we knew we had something," said Davis, 43.

It wasn't long before VisionThree's client list began to grow.

"Rolls Royce, Delta Faucet, Firestone …" Hopler said, ticking off just a few of the new clients.

And in the years since, the customer base has greatly diversified.

"Before 2008, 80 percent of our clients were health-care-related," Hopler said. "Now, only 20 percent of our clients are health care. And it's not because our health care clients have declined. The non-health-care segments have simply grown."

Since delving into its new line of work, VisionThree has quadrupled its client list, Hopler said. Revenue grew about 30 percent from 2013 to 2014.

In 2012, VisionThree upgraded its capabilities from single-touch interaction to multi-touch. Using one finger or two, the company's clients can do almost anything with the three-dimensional displays the firm created.

For instance, VisionThree designed a display for Rolls-Royce that showed an engine that could be turned and viewed from any angle and can be pulled apart to see exactly how it was put together and what components were used in the process.

"You can count the number of screws that are used," said Hopler, 50.

You are there

Delta Faucet used VisionThree to design an application that allowed Delta customers to take photos of their kitchen or bathroom and virtually insert Delta products into the picture.

"It's not like other products," said Aaron Conk, Delta senior merchandising and trade show manager. "It's much more detailed and precise than anything else I've seen. It blends in our products perfectly."

In 2013, VisionThree took what it calls "augmented reality" capabilities a step further, creating cards that—when viewed under the camera lens of a cell phone or tablet—display three-dimensional images.

VisionThree's applications are far-flung. The company has designed a display to allow a medical company to show how a device is placed in the heart and how it works. It has designed virtual showrooms that take advantage of 3-D goggles to help customers shop. And it has even filled a semitrailer with its interactive, three-dimensional media so a publicly traded company could show off its wares to potential investors on Wall Street.

One of its clients uses the three-dimensional cards to allow customers to see how an appliance looks in their home by simply holding a tablet in front of the existing appliance and holding a card in front of the tablet.

Another product allows actual people to be screened into the display. The user can then control its own avatar as it interacts with other elements. One such display—as part of a Hasbro's Transformers exhibit—was a big hit at The Children's Museum of Indianapolis. It allowed kids to transform into the character Autobot Bumblebee and use their body movements to control him on screen.

Another of VisionThree's displays won accolades in the museum's Dinosphere exhibit.

Not just for kids

But the company's game-style projects are not just for kids.

VisionThree designed an interactive game for Delta that demonstrated how Delta's Touch2O line of faucets works.

"It was a Guitar Hero-style video game and, at every trade show we went to for three years, people lined up at our booth to play that game trying to win a Delta faucet—from the time we opened the booth until the time we closed it," Conk said

Andy Sellers isn't surprised.

Sellers, owner of Indianapolis-based audio-visual firm Sensory Technologies, said few companies nationwide create the kinds of programs VisionThree does.

"You normally have to go to a much bigger market to find a company with this kind of capabilities," said Sellers, who met the VisionThree folks while both companies were working on a project at the NCAA Hall of Champions three years ago.

Since then, the two firms have worked on projects together at Eli Lilly, the Indianapolis Motor Speedway, Indiana University Health and others.

"The interactivity of their work is what really sets them apart," Sellers said. "That's what really pulls people in."

VisionThree's projects run from $50,000 to $600,000, Hopler and Davis said, and usually take two to three months to complete.

VisionThree's owners aren't worried about local and regional firms catching up to them.

"Our goal is that, by the time they catch up to what we're doing, we've moved on to the next advancement," Davis said. "We know technology is always changing and we're set on staying up with it."•