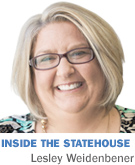 Gov. Mike Pence's move to appoint longtime political operative Eric Holcomb to be his new lieutenant governor has raised questions about whether the GOP ticket is now stronger—or if Sue Ellspermann's decision to resign from the role will hurt the governor's re-election efforts.

The answer is probably both.

Holcomb
Ellspermann's exit doesn't look good, whether she's leaving the job because she'd rather lead Ivy Tech Community College (where she's applying to be president) or because she disagreed with Pence over policy or whether the two had a falling-out over campaign tactics.

Ellspermann, who is expected to officially resign the post any day, has said repeatedly that her desire to lead Ivy Tech is the reason. And Pence has enthusiastically endorsed her for the job (see story, page 3). But there is talk, too, of a rift between the two over gay rights and Pence's push for religious liberties over civil rights for the LGBT community.

Sources close to the pair say there also have been disagreements about political issues, including how much Ellspermann would participate in fundraising and how willing Pence would be to attack his Democratic rival, John Gregg. After running a couple of highly negative-yet-unsuccessful campaigns early in his political career, Pence pledged to run only positive campaigns. But now, he has said essentially that, if he's attacked—and he will be—all bets are off.

Democrats are seizing on Ellspermann's departure as evidence that Pence is on the wrong side of the gay rights issue and are criticizing the number of GOP elected officials who have failed to serve out their terms (think auditors Tim Berry and Dwayne Sawyer, Treasurer Richard Mourdock and Secretary of State Charlie White—although White's departure wasn't a choice; he was forced to resign after a conviction on voter fraud charges).

So, in that way, Ellsperman's decision to resign is just not helpful.

But Holcomb, while not particularly well known to the electorate statewide, brings key assets to a Pence campaign. Chief among them: relationships. Holcomb has carefully cultivated strong connections with local party leaders.

He built those relationships during his time as chairman of the Indiana Republican Party, then as manager of Mitch Daniels' gubernatorial re-election campaign and in his work for U.S. Sen. Dan Coats and former Rep. John Hostettler.

And they are important. Local party leaders are the people largely responsible for coordinating volunteers, motivating voters to go to the polls, and making sure people have campaign signs in their yards. Even as campaigns go high-tech and ads go digital, grass-roots organizations remain key to election victories.

Holcomb is also dogged. Friends and colleagues say no one will work harder or travel more miles than Holcomb—and those are qualities absolutely essential when running a statewide campaign.

And finally, Holcomb—though considered one of the truly nice guys in Indiana politics—appears to have few qualms about being an attack dog. In his own unsuccessful campaign for state representative 16 years ago, Holcomb accused his opponent of supporting bestiality because he voted for a state budget that included money for Indiana University's Kinsey Institute, which studies sex and relationships. And it was Holcomb who criticized Gregg four years ago when Pence was running his positive first campaign for governor.

Still, some of those close to Holcomb say they're surprised by his move to join Pence, whose style and substance are so different from that of Daniels, who put social issues on a back burner to focus on fiscal discipline and economic development. It's a move that might serve to unite fractured wings of the Republican Party.

But Bill Oesterle, who ran Daniels' first campaign, thinks otherwise.

"My friend Eric Holcomb has let ambition distract him from his principles," Oesterle tweeted when Pence introduced Holcomb as his next lieutenant governor. "Sad day for me."•

__________

Lesley Weidenbener covered the Statehouse for two decades. She is now IBJ's managing editor.