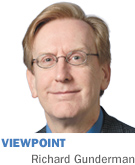 To create products and services that people will not only buy but also genuinely benefit from, there is no substitute for spending time in the company of great minds.

What was the last influential book you read? For too many Hoosier leaders, the answer is a title from the bookstore's business or self-help sections. Business classics such as "How to Win Friends and Influence People" and "Think and Grow Rich" promise a how-to guide to wealth and success, but when such works constitute the core of a reading diet, professional malnourishment is inevitable.

Wealth and success are not strategies but outcomes, and to acquire them requires creativity and insight. Really great leaders do not focus primarily on money, power or fame, because they realize that success is the byproduct of the pursuit of something even more important.

To plant and cultivate the seeds of innovation and to provide people with work they can really believe in, it is necessary to understand not only what sells but also what is good and true.

Consider the Aspen Institute, founded in 1950 by a Chicago businessman. The core of Aspen's programming is its seminars, which use core texts of Western civilization to foster reflection and conversation around the nature of a good society. Today, Aspen is a world leader in leadership education.

How nourishing is the reading diet of Indiana's business leaders? Here is a short list to improve it:

"Anna Karenina"—Often heralded as the greatest novel ever written, Tolstoy's masterpiece explores themes to which every leader should pay close attention: hypocrisy, envy, fidelity, and the relationships between family life and society. Set in 19th century Russia, "Anna Karenina" examines one of the ageless questions of leadership: Can we build our own happiness on the suffering of others?

"Plutarch's Lives"—The great Roman historian Plutarch arranged his seminal biography in the form of paired lives. What, he asks, is the influence of character—good or bad—on the life trajectories of notable human beings? He offers readers deep insights into an ages-old chicken-and-egg question: Which comes first, success or character, and which should a wise leader work hardest to cultivate?

"The Odyssey"—The story of Odysseus' adventures on his 10-year journey from the fields of a brutal war to a home where most assume he had died, explores the themes of kindness to strangers, dedication to purpose in the face of adversity, and the differences between what meets the eye and what is real. It shows readers the consequences of alternate life paths and warns of the dangers of pride.

The Bible—There is simply no greater text in Western civilization for thinking about the relationship between the fleeting lives of individuals, families, and communities and the enduring aims of human existence. More an anthology than a single tract, it provides some of the most compelling portraits of purposeful life in the Western canon. Leaders who fail to heed such callings are unlikely to flourish in work or life.

Though written hundreds and even thousands of years ago, these texts are timeless, illuminating the essential questions of leadership in our own day better than any books on today's best-seller lists.

Where is Indiana's version of the Aspen Institute? What is the city of Indianapolis doing to promote this kind of reflection and conversation? To foster better businesses, better government, better civic organizations, and a better state, we need leaders to draw on a richer understanding of the people and communities they exist to serve.•

__________

Richard Gunderman is chancellor's professor in medicine, liberal arts and philanthropy at Indiana University.