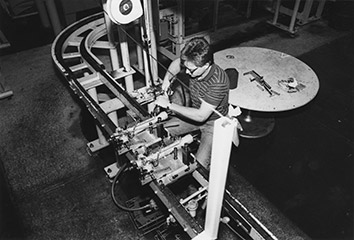 Thousands of Indianapolis workers used to manufacture Maytag ovens on Shadeland Avenue, dry cell batteries for P.R. Mallory on East Washington Street, and truck engine components for Navistar on Brookville Road.
Now the only memories of those long-gone jobs are the vacant factories they left behind when the companies bolted—after consolidation, restructuring or in search of cheaper labor.
The sites are giant, contaminated relics of Indianapolis' manufacturing glory days. And now the city seems likely to add another one to the list, as Carrier Corp. gears up to leave its heating and air-conditioning plant near Indianapolis International Airport, and head to Mexico.

Gigerich
The immediate focus in the aftermath of Carrier's jolting news has been the 1,400 workers the company plans to leave behind in Indianapolis. But when they do, city leaders will have yet another vacant industrial site in Indianapolis to grapple with—and even fewer high-paying manufacturing jobs.
"It's not just about vacant land," said John Franklin Hay, executive director of Near East Area Renewal. "It's about livelihoods, local economy, community losses."
At the former RCA/Thomson Consumer Electronics site on Sherman Drive at East Michigan Street—which, at its peak in the 1950s, employed 8,200 people—city leaders have seen fits and starts of progress. But nothing has stuck.
Hay has seen the property spiral downhill since the company shipped jobs to Mexico in the early 1990s. Now he's working with city leaders to explore reuses of the facility.

Naber
"We deeply desire renewal of this space for the sake of our community's revitalization," Hay said. "But it's a long slog. … There are just huge impacts over many years when companies make decisions of the magnitude that RCA/Thomson did and that Carrier has."
For the most part, manufacturing jobs that have left Marion County haven't come back.
Despite the state's reputation for retaining a strong manufacturing presence—Indiana has the highest rate of manufacturing employment of any state—Indianapolis has struggled. The city lost nearly 6.5 percent of its manufacturing workforce from 2010 to 2014. About 55,000 manufacturing jobs remain here, according to the Indiana Department of Workforce Development.
City leaders hope to increase that number and are embarking on efforts to bring back manufacturing. But even the most optimistic say the city might never lure a sprawling assembly plant again.
That's what makes Carrier's looming departure all the more worrisome, said Brett Voorhies, president of the AFL-CIO. He knows Carrier workers will be looking for good manufacturing jobs in a city of full of vacant plants.
"There's two jobs here, three jobs there," Voorhies said. "Where we're going to find 1,400 jobs in Indianapolis, I have no idea."
Struggling sites
Environmental challenges and surrounding neighborhood blight continue to plague several of the city's shuttered plants—delaying redevelopment that could eventually bring back jobs.
Both the former Ford Motor Co. steering systems plant and DaimlerChrysler automobile foundry—closed in 2008 and 2005, respectively, affecting about 2,900 workers combined—need substantial environmental remediation before they could be seen as attractive sites for redevelopment, said Larry Gigerich, managing director of economic development agency Ginovus.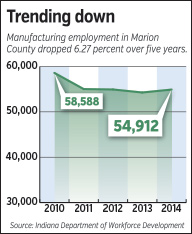 And Navistar, an engine component foundry that just laid off its last workers in 2015, might eventually be in the same boat.
"Those properties are located in areas that are more industrial or in areas that suffer from more blight in neighborhoods. It more limits the opportunities to redevelop," Gigerich said.
However, the Carrier site should be in a relatively decent redevelopment position after the furnace and air-conditioner manufacturer takes off for Mexico.
The site is newer and in better shape than many other vacant properties, Gigerich said.
"That's a blessing," he said. "They probably aren't facing some of those environmental issues."
Also, the site's proximity to other smaller manufacturing and distribution companies, including a large Target distribution facility, makes it a logical place for another industrial user. Plus, there's a potential workforce in nearby neighborhoods.
But Gigerich said it's more likely Carrier would become a multitenant facility than one company scoop the building up.
'If you provide a job'
Some former Indianapolis manufacturing plants here have fared better. But even when developers can look past brownfields and see opportunities, many of the sites haven't attracted much interest from industry.
"A lot of people look at these properties and see housing opportunities," said developer Derek Naber, who worked in former Mayor Greg Ballard's Department of Metropolitan Development. "That might be good, but these sites were the employers of that neighborhood."
The old General Motors metal-stamping plant, for instance, has been eyed as a prime location for several development projects since its 2011 closure. Located near the Indianapolis Zoo and White River State Park, the location just west of the downtown core makes it attractive—but not necessarily for industrial use.
The current redevelopment plan for the site is a concert venue, and former Mayor Greg Ballard last year targeted part of the land for a criminal justice center that never materialized.
Neither plan would create a lot of high-paying jobs. But at least it's something.
At the former Western Electric facility on Shadeland Avenue—which, in the 1960s, employed more than 9,000 workers making telephones before closing in 1984—the strategy to put the property back to use has been to attract multiple, smaller tenants.
"The likelihood of lightning striking and getting a single user was unlikely," Gigerich said.
Now, there are some small manufacturers, distribution centers and offices. But Gigerich said those wages can't compete with ones at big manufacturers.
"That's the tough thing for communities and why it's so hard to watch all the people at Carrier," he said. "It will be difficult for them to find a job in this market that pays at the level they're earning right now."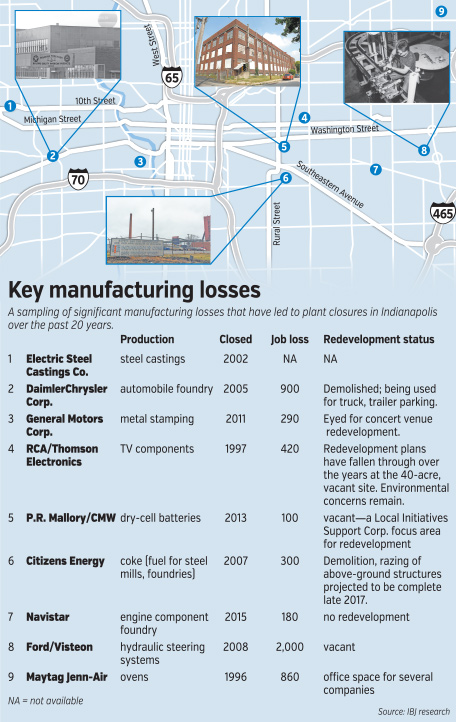 The approach
Bringing activity—and high-wage jobs—back to industrial properties rarely happens by sitting and waiting. Making these sites fruitful again has required a targeted approach by both public and private leaders.
Take the Massachusetts Avenue/ Brookside Industrial Corridor, a 480-acre area that sits along Mass Ave and I-70 just northeast of downtown.
The area is dotted with scattered, semi-vacant industrial sites, save for a few productive anchor businesses, including Colorcon, Chisholm Millwork, Mitchel & Scott Co. and RecycleForce.
The city wanted to build on those companies and "spark something," Naber said. A team of city leaders—including Local Initiatives Support Corp., Riley Area Development Corp. and the Department of Metropolitan Development— zeroed in on the corridor and surrounding neighborhoods, analyzing what was stymieing their redevelopment.
They found environmental contamination, CSX railroad line conflicts, poor air quality adjacent to the interstate and sewage overflow in nearby Brookside Park. But they saw benefits, like direct access to downtown and proximity to the interstate that made it worth pouring money and time into promoting and rehabbing the area.
Now, the neighborhood seems to be on the upswing. The city recently received a $400,000 Environmental Protection Agency grant to help fund site cleanup, which could help businesses that would like to move in but fear the expense.
Fishers-based McNamara Florist announced last year that it would move its headquarters to the area after renovating a vacant industrial building.
And the sprawling Circle City Industrial Complex, built in the 1920s, is being redeveloped to create retail, restaurant and office space. A business incubator and "maker space," Ruckus, will be the anchor tenant.
"Now it's a fun little corridor," Naber said. "It's not easy. It requires multiple years and continued focus, funding and staff time to figure this out."
To spur manufacturing growth, he said, the city and its partners should think about buying more struggling sites, or helping with brownfield—potentially contaminated soil—redevelopment.
"These things aren't cheap," Naber said. "But there are several sites that have good access to interstates and employees. They're not shovel-ready. If there was a funding mechanism to do that, you could sell those sites at a value. It doesn't have to be an investment with no return."
For all of IBJ's previous coverage of Carrier's planned move, click here.
Please enable JavaScript to view this content.