The list comes out every summer, causing cheers in some hospital administrative suites, and heartburn in others.
It's the annual report card of how each hospital is doing in keeping Medicare patients from being readmitted within a month of discharge.
The federal government says readmissions are often unnecessary, and cost taxpayers $26 billion a year.
So each year, the Centers for Medicare and Medicaid Services publishes a list that not only ranks how hospitals did, but also includes penalties that can amount to hundreds of thousands of dollars.
Across Indiana, 64 hospitals are facing total penalties this year estimated at $9.3 million, according to the Indiana Hospital Association. Nationally, hospitals will pay an estimated $420 million.
Hospitals in nearly every part of Indiana face penalties this year. The 10 hospitals facing the highest penalties span from Gary to Evansville, and include nearly every major hospital system and an assortment of small community hospitals.
Why? Patients leave in a wheelchair, and come back in a few weeks in an ambulance, needing more care for a problem Medicare says should have been corrected the first time through the hospital.
The program is now in its fourth year of assessing penalties, and hospitals are learning that it's in their interest to take a few extra steps to keep patients from coming back. Some are providing free medications to patients for a few weeks, or providing transportation vouchers so patients can get to their doctors, nurses or therapists.
That's a far cry from a decade ago, when hospitals could wave goodbye at the discharge desk and hope the patient recovered, said Douglas Leonard, president of the Indiana Hospital Association.
Leonard still remembers his days as president of Columbus Regional Hospital, when he would look out his office window from time to time and see nurses taking patients to their cars at the curb.
"I always thought the nurses must say a silent prayer when they put the patients in their cars," Leonard said.

Leonard
If the patient had problems and was readmitted, the hospital might be concerned for the medical relapse, but it got paid for the extra services. Now, a readmission is a cause for concern all around.
"It's caused a very good movement to happen, and hospitals are engaging in ways they never did before," he said.
Some examples:
■ Johnson Memorial Hospital in Franklin made arrangements with the city transit system to send mobility vans to patients who need to get to their doctor's office.
■ Union Hospital in Terre Haute sometimes gives patients detailed instructions for home health care and recovery, including photographs of medical products to minimize the risk of confusion. For example, the hospital will show patients suffering from chronic obstructive pulmonary disease pictures of which kind of inhaler to use for their daily needs, and which kind to use in emergencies.
■ Schneck Medical Center in Seymour offers patients a free, 30-day supply of medications.
"Patients might not have enough money on their own," said Karin Kennedy, the Indiana Hospital Association's patient safety and quality adviser. "For the hospital, it comes down to, what's the cost of a 30-day supply of medication, versus the penalty for readmission?"
Reduced reimbursements
The penalties for readmissions can be stiff. They come in the form of reduced Medicare reimbursements for all hospital procedures the following year.
That can be an expensive ding, as many hospitals count on Medicare for one-quarter to one-half of all patient revenue. A hospital that gets $10 million a year from Medicare would stand to lose $200,000, based on a 2 percent reduction penalty.
The fines are based on readmissions from July 2011 to June 2014, and include Medicare patients who were originally hospitalized for one of five conditions: heart attack, heart failure, pneumonia, chronic lung problems, or elective hip or knee replacements.
Thousands of U.S. hospitals were exempted because they specialize in certain types of patients, like veterans or children, or were deemed "critical access" hospitals.
For each, Medicare determined what the appropriate number of readmissions should be, based on the patient mix and how the hospital industry performed overall. If a hospital's readmissions were above that projection, Medicare fined the hospital.
Many hospitals say they are working hard to reduce readmissions, but it's a battle.
Community Health Network saw two of its hospitals score poorly in the last round: Community Hospital of Anderson (readmission penalties of 1.85 percent) and Community Hospital South (readmissionspenalties of 1.15 percent).
"A patient comes into one of our facilities and has a broad array of different problems we're addressing," said Dr. Robert Lindeman, chief quality officer for Community Health Network. "It's all very challenging."
On top of that, he said, Community has been working hard to reduce admissions overall, and routinely shifts less serious cases to outpatient settings. So patients who are actually admitted tend to have more chronic diseases or more acute conditions, raising the risk of complications that might arise later, he said.
"That actually provides upward pressure on the readmissions number," he said.
At the top of the list, with the highest readmissions penalty in Indiana last year, was Franciscan St. Francis Health in Carmel, with a penalty of 2.55 percent.
Franciscan officials pointed out the Carmel hospital is a short-stay, six-bed specialized hospital that opened in April 2012. During the reporting time frame, the Carmel hospital had two patients out of 44 total who were readmitted within 30 days of discharge, for a "risk-adjusted readmissions rate" of 3.4 percent—slightly higher than the predicted rate of 3.3 percent.
The small numbers amplify the impact of one or two readmissions, the officials said.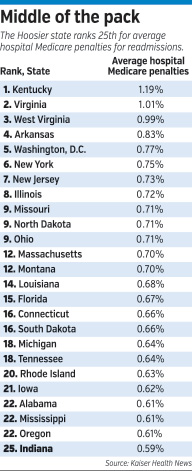 "To provide further quality context, in 2015, Franciscan St. Francis Health Carmel has zero readmissions for 95 elective total joint patients through October," said Dr. Christopher Doehring, the system's vice president of medical affairs.
Second-highest was St. Vincent Anderson Regional Hospital, with a penalty of 2.33 percent. Dr. Richard Fogel, chief clinical officer for the system, said that was due to "approximately 10 excess readmissions" during the 2011-2014 reporting time frame, which were often for reasons unrelated to the original diagnosis.
The state's largest hospital system, Indiana University Health, did not have any of its campuses in the top 10, although its LaPorte Hospital scored at No. 13, with a penalty of 1.05 percent.
IU Health, based in Indianapolis, said it works hard to reduce readmissions, such as calling patients three to five days after discharge to check on their condition; making follow-up appointments with a primary care physician before a patient leaves the hospital; and making sure patients and their families have transportation and understand their medications.
"Overall, IU Health is proud of its results and believes this is the result of great work by a highly accomplished team working closely with patients and families," said Dennis Murphy, president of IU Health.
Risk reduction
Outside the four walls of hospital buildings, a cottage industry of consultants has a range of advice for hospital executives on reducing readmissions.
The advice is across the board, from low-tech (working closely with patients who have limited English proficiency) to high-tech (installing telemonitoring technology in the homes of chronically ill patients).
Allegient LLC, an Indianapolis-based technology consulting firm, offers data packages and training that allows hospitals to examine a patient's demographic profile to understand his or her risk of readmissions.
"For instance, if you have a patient in his mid-50s who came in with a heart attack, is overweight, has high cholesterol and is a smoker, you can look at the data around that patient to see his likelihood of success," said Andy Brockett, business development manager at Allegient.
If the patient is in a high-risk demographic, he said, the hospital can start him immediately on a program for smoking cessation and perhaps healthy eating.
"You could offer the programs free," Brockett said, "which is cheaper than paying the readmissions penalties."•
Please enable JavaScript to view this content.