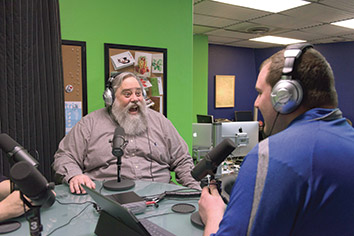 Josh Miles, a 39-year-old executive at local branding firm MilesHerndon, has been an avid podcast listener for years. In late February, he became a podcast producer.
His show, "Obsessed With Design," features unfiltered, sometimes humorous conversations with design luminaries from across the country, and it made iTunes' New and Noteworthy list for arts-related podcasts. Miles said he produces the weekly podcast with a laptop and a microphone.
But it's not an after-work hobby. It's part of his business.
"We're pretty confident in this being around long term," Miles said, referring to podcasting at MilesHerndon. "Podcasting as a whole is growing by leaps and bounds, and it's a way to reach an audience in a way that we never really had an opportunity to reach them before."

Reynolds
MilesHerndon is among the growing ranks of Indianapolis-area companies that have launched podcasts in recent years, capitalizing on lower barriers to entry and swelling listenership. About 21 percent of Americans over 12, or 57 million people, reported listening to at least one podcast a month this year, according to Edison Research, up from 9 percent in 2008.
The podcast terrain has long been occupied by news outlets, churches and enthusiasts of all stripes, but consumer-facing and business-facing companies increasingly have been showing up in people's earbuds with their own on-demand shows.
Money is the motivation, but these firms are hardly selling ads on their shows or making sales pitches. Rather, they're investing in podcasting as another channel for content marketing, confident the medium can touch prospective customers in ways how-to blog posts or explainer infographics can't.
"Text is great, and images and content are great to read online," said Doug Karr of DK New Media LLC, who spent about $25,000 building a soundproof studio that his business uses to produce two podcasts on the marketing industry.
"But you don't hear people's voice inflection, you don't hear their personality, you don't hear their sense of humor, you don't hear their sincerity. So podcasting really provides that."
Investment bank Goldman Sachs in late 2014 launched "Exchanges at Goldman Sachs," a podcast featuring conversations with company leaders about economies and markets. Enterprise messaging company Slack Technologies Inc. last spring launched the "Slack Variety Pack," shows that tell stories, often personal, about workplace challenges and triumphs.
Here in Indianapolis, home-services heavyweight Angie's List runs a podcast called "Chat with the Experts," and the weekly home and lifestyle show involves interviews with experts from home services, health care and other fields. The company wouldn't disclose listenership numbers, but the show is on its 109th episode after starting as a monthly podcast in the summer of 2013.
Author and columnist Peter Dunn, who runs Carmel-based financial planning company Pete the Planner, has a podcast called "The Million Dollar Plan," which attracts 4,000 to 5,000 listeners per episode. Among other things, he uses the podcast to give tailored advice to a listener each week and calculates the date they're projected to become millionaires.
Doug Karr, at computer in top photo, helps produce two podcasts on marketing technology at his downtown Indianapolis office. Josh Miles, bottom, launched a podcast in late February about the design industry. Both acknowledge the return on investment is hard to gauge. (IBJ photo/Eric Learned)
"I call you and we talk for 30 minutes about your financial life," he said about his podcast. "You may not be able to afford financial advice or have anyone to go to, but for 30 minutes you have my undivided attention. And that is a pillar of what my business is."
What's the goal?
While Angie's List and Pete the Planner largely target consumers, other corporate podcast producers in the Indianapolis area have taken aim at businesses and the professionals who lead them.
Their objectives vary, but many steer clear of any inkling of selling. Instead, they look to facilitate lively, informative discussions, hoping professional decision makers get to know them, return for new episodes and, ultimately, seek out their services.
"The goal for a lot of companies is to grow an audience that trusts them enough to look to them when they need that service," said Michael Reynolds of digital marketing firm SpinWeb Internet Marketing Inc., which launched the "SpinRadio" podcast in January 2015.
"So it's really building an audience and building a brand."
Miles, of MilesHerndon, rarely talks about his firm's offerings on his show. Instead, the smooth-voiced host converses with people like architect Mark Palmer or Hoodzpah co-founders Amy Hood and Jennifer Hood, hoping listeners glean useful nuggets when guests reply to questions like, "Where do you draw inspiration?" or, "How'd you get your start?"

Shoemaker
Every now and then, Miles will reply to questions guests ask.
Karr, of DK New Media, has roles in two podcasts. First, there's "Edge of the Radio," led by Erin Sparks of Site Strategics, which covers news and tips on digital marketing. Karr is the "funny guy" co-host there, he said, and the lead host for a podcast called "Marketing Technology," which features interviews with local and national influencers like marketing guru Jay Baer and Pete Kluge of Adobe Systems Inc.
Karr started podcasting at his office in 2010, but was hamstrung in the early days by shoddy Internet connections and subpar equipment. Late last year, he finished building out his soundproof studio, which features several thousand dollars' worth of equipment, including professional microphones, a digital mixer and more.
"We literally have the equivalent firepower of a radio station," he said.
Miles took a simpler route, spending just a few hundred bucks on equipment, but both he and Karr acknowledged that return on investment is hard to gauge. A podcast episode might be a factor in a customer's decisions to spend, but chances are it's not the only factor. The show could be an introduction to a brand or the final interaction before a purchase, they said, but determining which for every listener can be a fool's errand.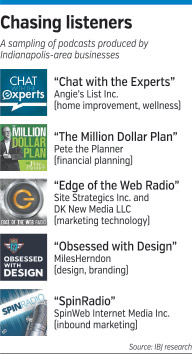 Podcasts also can yield benefits in other ways. Reynolds, of SpinWeb, said he has landed speaking gigs directly attributable to his weekly show, which he and co-host Abby Stearns broadcast on Fridays. And the two to three hours preparing content for the show, including industry news, helps keep the company sharp, he said.
"Let's say we never got a lead from it at all—I'd be OK with that," Reynolds said, noting that he has, in fact, closed business attributable to his podcast. "But if that never happened, it kind of forces us to stay on top of our game even more because every week Abby and I know we have to do our research, pay attention to the market, and really think through our topics."
Up-and-coming field
The interest in podcasting also has prompted entrepreneurs to build studios and consulting practices to help newcomers produce podcasts. Brad Shoemaker of Creative Zombie LTD is one example, pumping more than $40,000 into a studio near Lafayette Road and West 79th Street.
Shoemaker, a former radio producer at Clear Channel, used the year-old studio to recently help launch a podcast for Indiana On Tap LLC, a company focused on Indiana's craft breweries. He also is helping Kristi Lee, formerly of the "Bob and Tom Show" on WFBQ-FM 94.7, produce a podcast called "Uninterrupted," and he co-hosts a show called "Launchpad," which deals with entrepreneurial stories.
He said he has several prospective customers and expects to generate positive cash flow by 2017. Popular podcasts like crime-thriller "Serial," produced by the creators of National Public Radio's "This American Life," have helped make podcasts mainstream, he said, and technology advances, including smartphone apps like Stitcher, have made them easier to consume.
"In the past, some podcasts sounded like absolute garbage because they didn't understand sound quality," Shoemaker said. "I think you've got a lot of high-profile people in the space now that have come from radio, that have come from NPR, that have come from Hollywood, so people are starting to understand it."•
Please enable JavaScript to view this content.