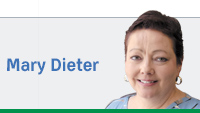 Yes, this is another column about abortion. If you just rolled your eyes, if you sighed in exasperation that this columnist again chose to write about abortion, then try this:
Try being a woman whose very personhood is challenged each time the massively male legislatures in Indiana and other states chip away at our right to self-determination.
Try being a woman who has a constitutional right to abort a pregnancy and yet is thwarted in every imaginable and ever expanding way by intrusive elected officials who think they know better and should impose their will on her.
Try being a poor woman who ends up pregnant because her employer claims his religious convictions forbid him from making contraception available to employees. Try figuring out how she's going to care for a newborn when her employer gives her no maternity leave. Try figuring out how she can cope with another mouth to feed and pay for child care when her minimum wages are already stretched to the limit.
Try being a woman who, for whatever her private reasons are, decides her best option is to get a safe, legal and early abortion. Try figuring out how she can exercise her constitutional right yet comply with the law by getting state-mandated, deceptive anti-abortion counseling and then returning, no sooner than 18 hours later, for the procedure. Try enduring this unnecessarily protracted, demeaning and expensive exercise that causes her to miss at least two days of work. Try figuring out how she can care for her children while she is away. Try figuring out how she can afford the extra financial burdens the Legislature has heaped on her.
Try being a teenager who must negotiate the exceptions to the parental-consent law because Dad impregnated her and Mom looked the other way. Try understanding the fear she feels as she walks a gauntlet of screaming, self-styled "pro-life" people who threaten her for making a personal, private and constitutionally protected decision.
Try being a woman who has just been told the fetus she is carrying is abnormal. Try feeling how overwhelmed she is by the painful considerations she must make before deciding to continue the pregnancy (likely a desired one, since she sought prenatal testing) or terminate it. If the pregnancy continues, will the child have any measurable quality of life? Will anyone so insistent that she have the child do anything to help? How will having a disabled child affect her other children? Her relationship with the father? Her ability to provide for the family? Her own hopes and dreams?
Try explaining why Indiana lawmakers have insinuated themselves in a woman's decision about aborting a disabled fetus. Try explaining why they want to torture a pregnant woman already tortured by such devastating news. Try explaining why lawmakers think it's a good idea to put a woman in the position of withholding information from her physician.
Try explaining why Indiana lawmakers are forcing a woman who has just endured a miscarriage or undergone an abortion to decide about and possibly pay for cremation or burial of the products.
And try being female and being bombarded with the insinuation that your womb matters more than your heart or your head, that you are too stupid or immature or thoughtless or frivolous to make, for yourself, the most profound and private decision of your life.
Now I dare you to roll your eyes.•
__________
Dieter, a writer and an editor, is the former Statehouse bureau chief for The Courier-Journal and press secretary for Gov. Frank O'Bannon. Send comments on this column to ibjedit@ibj.com.

Please enable JavaScript to view this content.