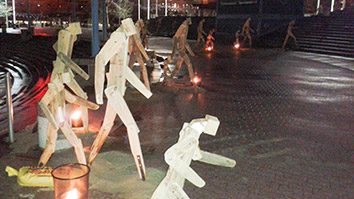 An immigrant woman looked me straight in the eye, pleading. She wanted me to know something or do something, but I don't speak her language and couldn't correlate what she was saying with the dispassionate words of the translator standing next to her.
As I walked, they did, too. I wasn't sure which of us was leading the other and it felt wrong to avert my eyes. But then the translator quietly drifted off and I was left with a voice I couldn't understand but with eyes I could. I was left with empathy but not understanding.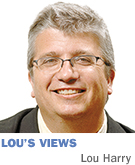 Behind the immigrant woman, a large, burning disc hung from a crane, sending sparks flying into the wind. Elsewhere on the pier, water jugs, fire pits, cork boats and scrawled messages added up to a rich, experiential connectivity that's lost in immigration statistics or anecdotal news stories.
It's called "Article 13" and it was a bold and deeply moving combination of spectacle and documentary that served as the free opening event for the Philadelphia International Festival of the Arts.
Created by Compagnie Carabosse of France and Teatro Linea de Sombra of Mexico, the immersive experience began at the entrance to Penn's Landing, where wooden, faceless figures seem to wearily trudge from the docks toward the city. It ended with a return through these same sculptures, this time walking in the same direction as those leaving.
"Article 13" has been on my mind since I witnessed it/participated in it during a recent trip to Philadelphia. And not just because of the experience itself, but also because of the messages it delivered about arts and public spaces.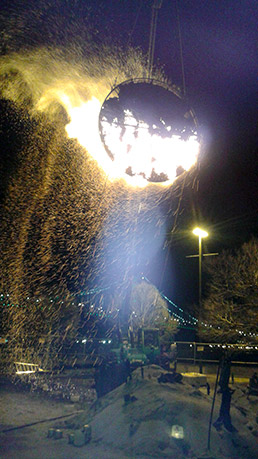 (IBJ photo/Lou Harry)
Much more than just a manifestation of the vision of artists, "Article 13" reminded me of how important trust is in the creation of public arts events that help define a city. It was an indication of the trust the city of Philadelphia has in arts professionals and the trust these artists and the city have in its audiences.
It's easy—or, at least, easier—for a city government to get behind an arts project when its messaging is overt—when there's a distinct "this means this" correlation, no ambiguity, but bumper-sticker simplicity and clarity.
Evocative, multi-faceted works such as "Article 13" are much richer than that. They don't feature a set of elements likely to survive a committee.
In a democracy, it's easy to forget that the most interesting, mind-expanding artwork comes from the quirky sensibilities and unique life experiences of individual artists or the unique chemistry that happens when artists collide.
Trust is not the same as blind trust, of course. This epic exhibition/event required countless hours of planning by a broad team ranging from actors and funders to security and fire professionals. Across-the-board buy-in is essential. And that takes work.
But when these elements come together, they can create work that embraces, enhances and helps define a city.
I attended "Article 13" during a trek to Philly for the annual conference of the American Theatre Critics Association. There, immersed in discussions and events focused on arts and criticism, ideas, observations and lessons flowed. Here are some thoughts from my notebook:
The masses don't need to be spoon-fed art. As shown in "Article 13," public arts events don't have to be watered-down experiences. Artists—and cities—shouldn't be afraid to challenge the public.
Indy can compete against the best of them—not that there's a competition. I had the pleasure of catching the Arden Theatre Company's production of August Wilson's "Two Trains Running" shortly after seeing the Indiana Repertory Theatre's "Fences." Both were strong and satisfying, but the IRT's had that extra something that makes for theatrical magic.
The big guys can help the little guys. One of the reasons the nationally renowned Arden Theatre Company exists is because, in its formative years, it was provided with performance space at the Walnut Street Theatre, the largest subscription theater in the country. Rather than be afraid of upstarts, established theaters can help grow a more vibrant arts community if they think beyond their own ticket sales.
The Star has taken a positive step. While it seems to be fishing around for how to cover local arts, the Indianapolis Star has a smart, talented ace up its sleeve with arts reporter Wei-Huan Chen, who recently joined the American Theatre Critics Association and was in Philly for his first conference. His reading proved the high point of a "review slam" event at the conference and his thoughtful questions added to other events. It's good to have him both in the organization and in Indy.
Arts can shape neighborhoods. I moved from Philadelphia about 20 years ago when the Arden was just opening its own theater in Olde City. Since then—thanks in large part to the theater's anchoring presence—that part of town is a vibrant center of restaurants, cafes and shops. Seeing that change gives me great hope for the move the Phoenix Theatre here in Indy is about to make.
We can do better. Diep Tran, associate editor of American Theatre magazine, offered a keynote address built from her essay "4 Ways Theatre Critics Can Be a Little Less Racist." Her core points: Don't ask the playwright-of-color questions you would not ask a white playwright, avoid stereotypical adjectives when describing different ethnicities, call out problematic representations when you see them, and own your mistakes. As to that last point …
Critics need to be able to handle criticism. Just before the conference, a Philly website blasted local critics for alleged ethnocentric reviews of "Two Trains Running." Defensiveness reigned where, ideally, there should have been self-examination. It's natural to be upset by sharp criticism or to look for overt flaws in the argument. But growth comes from self-examination—which is something critics, of all people, should know.•
__________
This column appears weekly. Send information on upcoming arts and entertainment events to lharry@ibj.com.
Please enable JavaScript to view this content.