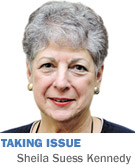 On April 9, according to state police estimates, some 5,000 people gathered at the Indiana Statehouse to protest a grotesque, unworkable and punitive anti-abortion law.
Ever since Gov. Mike Pence announced that he had "prayerfully" signed the measure, Indiana has been pilloried in the media—including international media.
Much of the attention has centered upon a brilliant guerilla tactic: "Periods for Pence" has called attention to the biological ignorance underpinning certain of the law's provisions, and has provided outraged Hoosier women with a satisfying outlet for their scorn and an avenue through which to vent their spleen.
People on both sides of the abortion debate have pointed out that forced pregnancy is not equivalent to a "pro-life" position.
Several months ago, Catholic Sister Joan Chittister was blunt on that score:
"I do not believe that just because you're opposed to abortion, that that makes you pro-life. In fact, I think in many cases, your morality is deeply lacking if all you want is a child born but not a child fed, not a child educated, not a child housed. And why would I think that you don't? Because you don't want any tax money to go there. That's not pro-life. That's pro-birth. We need a much broader conversation on what the morality of pro-life is."
Given Pence's refusal to expand Medicaid, offer preschool to at-risk children, or endorse regulatory measures to prevent periodic tragic deaths at child-care "ministries"—and given his adamant opposition to wage rates that would allow struggling families to feed those children—it is abundantly clear that our governor falls into Sister Chittister's "pro-birth" category.
But even if this particular bill weren't so insulting, it wouldn't matter. Because at its base, this argument isn't about abortion.
It's about the proper role of government.
The Bill of Rights is often referred to as a libertarian brake on majoritarian power. That's because its central purpose is to answer an important question: Who decides?
You get to decide what books you read, what prayers you say (or whether you pray), what political opinions you embrace, who you associate with, or marry, and how many children you have. You get to choose your own life goals, and determine your own morality.
The Bill of Rights is a list of decisions that government is forbidden to make.
When I teach aspiring public servants about what I call the "Constitutional ethic," I emphasize the limited nature of American government. Too often, pundits confuse "limited government" with "small government," but they are not the same thing. Big or small, our government is limited in scope—prohibited from telling us how to live or what to value.
The libertarian foundation of our Constitution and Bill of Rights is deceptively simple: We get to "do our own thing" until and unless we harm the person or property of someone else, and so long as we are willing to accord an equal liberty to others.
We can certainly argue about where to draw lines—about the nature of the harms that entitle the government to step in. Most political philosophers argue that imposing rules in the absence of widespread social consensus is both illegitimate and socially divisive. The problem with theocrats like Pence is that they believe they have the right to use the power of the state to impose their far-from-universal religious beliefs on everyone else.•
__________
Kennedy is a professor of law and public policy at the School of Public and Environmental Affairs at IUPUI. She can be reached at skennedy@ibj.com.
Please enable JavaScript to view this content.