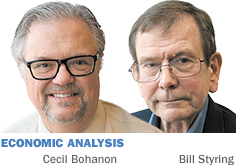 In about a week, we will troop to the polls and begin selecting candidates for office. It's a safe bet most of us will find all candidates wanting in some respect. You might like one candidate on foreign affairs and social issues but aren't so sure about the economic stuff.
That's an inherent drawback of making collective decisions. When we vote for someone, we vote for a whole bundle of positions, predilections and philosophies. Seldom will we agree with Candidate X on absolutely everything. "The State," for better or worse, is a legal monopoly of force that compels us to acquiesce to a package of things—taxes, programs, policies—not all of which we would pick if we could order a la carte from our own menu. Problem is, we can't: One size must fit all!
This is in contrast to private-market transactions, where we usually get something pretty close to what we want. Shopping for a car? Your problem won't be lack of choices. There are plenty of makes, models, options packages.
Suppose for some reason we were to decide to nationalize the automobile industry into one gigantic Government Motors. We'll use voting and representative democracy to decide the one kind of car we're all going to drive. What would such a beast look like?
The first obstacle would be the faction that wants no cars at all. Mass transit and bicycles, yes! To mollify this crowd, we might offer to junk the internal combustion engine for all electrics. Maybe we'd compromise on plug-in hybrids. Size? Performance? Soccer moms want room for the whole team. Yuppies want zero to sixty in 5.5 seconds. Old geezers like us want a comfortable ride.
By the time we got something that could pass Congress and be signed by the president, the monstrosity would no doubt look like a cross between a camel and an elephant and cost $200,000 to produce. But not to worry. There will be a political faction arguing that vehicle ownership is now a "right" and must be made affordable by taxing the rich.
Some things must be decided collectively. We can't all voluntarily decide what part of a B-52 we'll pay for, or what share of the public sewer system we'll finance. But we should surely leave as much as possible to individual private-market decisions. In that sphere, you get what you pay for and buy what you want.•
__________
Bohanon is a professor of economics at Ball State University. Styring is an economist and independent researcher. Both also blog at INforefront.com. Send comments to ibjedit@ibj.com.
Please enable JavaScript to view this content.