It's about time Speedway had its own vroom room for the rest of us—those inspired by the landmark racetrack but without the skill or courage to ever compete there. The Stefan Johansson Karting Center had a run for a while there up near 34th Street and Lafayette Road, but that's not exactly Speedway.

The 60,000-square-foot Speedway Indoor Karting is different. The brainchild of retired IndyCar driver and former race team owner Sarah Fisher and her husband, Andy O'Gara (whose family owns O'Gara's Irish Pub in Beech Grove), its nondescript exterior hides an attractive facility paired with its own sit-down bar and eatery.

SIK offers two course options: a mini oval and a two-level road course. Pricing is, well, a bit complicated. There's a $10 annual license fee for starters. From there, it depends on which course you want and what day and time you are there. A single evening run on the road course lists for $20. To try both tracks during evening or weekend hours is $30. Unlimited combo karting on a weeknight is $75. And higher rates apply to everything up to a 60-minute LeMans Endurance race—which should at least generate respect for the concentration required to compete in the left turn, left turn, left turn, left turn race just up the road.

A short safety video featuring Fisher comes before you suit up in a head sock, helmet and neck cushion. (Be warned: If you're wearing glasses, the helmets can be tricky.) Then it's on to whichever track you chose for a five-minute standard race.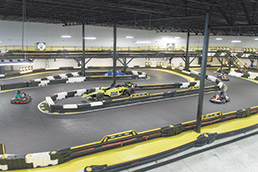 Speedway Indoor Karting, co-owned by Sarah Fisher, includes a two-level road course. (IBJ photo/Eric Learned)
Accompanied by a first-timer, I stuck with the oval, but quickly regretted not aiming higher. The new karts handled well and the track was, as expected, free of the dings and skid marks that mark its older cousins, but I could have used a little more excitement. The first-timer was pleased, though, requiring only one visit from the operator on duty to pull him away from the wall and get him rolling again. It wasn't until we were on our way home that we realized we never checked our posted race times. A printout—offered at other tracks I've been to—wasn't mentioned here.

I recommend speeding things along by sorting through the price list and registering online before you arrive. Plus, calling ahead is helpful to avoid having your plans coincide with group bookings, which are likely to be SIK's primary fuel.

Minimum age is 8, with a height minimum of 48 inches. SIK's kart sizes range from minis for younger drivers to the Centurion Big Foot to accommodate the big-and-tall set. There's also a two-seater available by special request and driven by an SIK driver.•