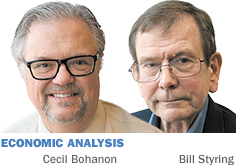 Every politico is talking health insurance. Bernie dreams of single-payer national health insurance. Hillary talks of expanding Obamacare's health insurance coverage. Every Republican pledges to repeal and replace the ACA with a different form of health insurance. But the discussion is based on a bad definition.
Just what is insurance and why do you buy it? Why, for example, do you buy auto insurance? We assume you don't intend to be in an accident; however, there is a small but real chance you might. The financial consequences could be catastrophic. So you pay a small amount to insure against the small chances you might have to buy a new car or pay off someone you injured.
Ditto for life and homeowner's insurance. You don't expect in a given year that you will die or your house will burn down. But there is some chance those events will happen. Your family would be in dire straits if your income were lost from your death or if the equity in your house goes up in smoke. So you pay a small amount in insurance to guard against the small chance of something very bad happening.
You don't buy auto insurance for oil changes or homeowner's insurance to get the gutters cleaned. You don't purchase insurance for outlays you know you will make. For that, you need a budget—not insurance.
In the wacky world of health insurance, you have both. Yes, most health insurance plans protect against large insurable events. You don't expect to have a heart attack but you might. That's insurance. The kicker is that most health insurance plans also cover the equivalent of oil changes. If you always have an annual checkup, or take routine meds for, say, hypertension or cholesterol or any other known condition, those aren't insurable events.
Bohanon and Styring aren't fans of government involvement in health care. But consider how different the health insurance debate would be were we to emphasize only true "insurance." Policy discussion would focus on insuring against financial catastrophe. After a household has spent something like half of its median household income, or around $25,000, the insurance would pick up all additional costs. These policies are cheap and, if broadly subsidized, would eliminate most all medical bankruptcies.
Most important, we'd expose the call for free health care for everybody for what it isn't. It isn't insurance. So stop calling it that.•
__________
Bohanon is a professor of economics at Ball State University. Styring is an economist and independent researcher. Both also blog at INforefront.com. Send comments to ibjedit@ibj.com.
Please enable JavaScript to view this content.