During these election seasons, all kinds of comparisons are drawn between polar opposites in attempts to describe the minds of the electorate: liberal vs. conservative, populist vs. elitist, traditional vs. progressive, ketchup vs. mustard. It's common to hear "urban" described as the enemy of "rural," and vice versa. But as is the problem with these oversimplifications, it has clouded our understanding of both. Considering this is a column dedicated to urban design, I would like to provide some clarity.

Let's start with basic definitions. We have, since the earliest human settlements, gathered in urban places, which is to say, a centralized location where enough people, close enough together, provide the opportunity for spontaneous collaboration that facilitates the sharing and conservation of resources. Such places have always been balanced and buoyed by rural expanses of native landscape and agricultural fields. They are not nemeses, urban and rural—rather, essential components of the whole.

To presume that only big cities are urban is to mistake density for urbanity. I am reminded of a statement from the venerated urbanist Jane Jacobs, who would have turned 100 earlier this month: "[Cities] are not like suburbs, only denser … cities are, by definition, full of strangers."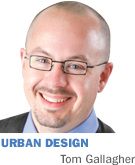 What urban places do, perhaps the greatest thing they do, is give us the opportunity to meet those strangers. Consider your life without them. Your significant other, your best friend—once unknown to you. Your best client, your co-workers, your classmates—they were strangers first. Would you still go to an Indians game at Victory Field if the rest of the stadium were empty? That bear of a guy you say hi to at the coffee house, a nod from a passerby, the lingering glance from a woman across the room—they, and those like them, enrich our lives, even for the briefest of moments, every day. In so doing, we overcome our innate apprehension about the unknown.

Urban places facilitate the most meaningful relationships of our lives: family and friends (home), colleagues (work), acquaintances (so-called third places like a coffee house or public street), community (commons) and the universal. With this in mind, there is little facility in describing if a place is more urban than rural. Better to describe how well a place achieves an urbane existence. Said another way, within relative close proximity, can you find basic necessities, work, recreation and meaningful connection? How likely are you to meet a new client, someone of a different culture or just someone you could not have met the day before?

By this characterization, I can say a place like Nashville, Indiana, is one of the most wonderfully urban places I've had the opportunity to experience. Likewise, Midtown Carmel, Midtown Indianapolis and Midtown Manhattan have more in common than their moniker.

There is a more insidious side to buying into the idea that urban and rural are on opposite ends of a spectrum. We've allowed ourselves to believe that in a suburban existence we've found a middle ground. Yet, at their core, suburban places are defined by the lack of strangers. As such, they lack the capacity to help us overcome our fear of the other. Urban places, by definition, don't sprawl. For suburban places, sprawl is elemental to their existence. In so doing, they stretch resources to the brink and consume precious countryside. In the end, both urban and rural settings are compromised, not balanced, by suburbs. It will be one of the greatest challenges of this century to recover from this well-meaning but misguided intention.

It does us little good to overly romanticize urban places. In fact, it is the authenticity of their imperfections that are most worthy of consideration. People are flawed and biased, so we shouldn't expect the places we make for ourselves to be without blemish. Yet, it is not necessary to share every ideal to share an identity.

Urban places are about opportunity and potential, but more than anything, they are about bringing us together. In the end, we are better together even when we are in the company of strangers.•

__________

Gallagher is an urban designer with RATIO.