Zackery Ladnier was drunk the first time police arrested him. The second time, he was high.

And then on Jan. 14, his first night out of prison—penniless, hungry and homeless—the 22-year-old caved into drugs yet again.

Today, Ladnier is sober. He has a job working in construction. And he's had zero encounters with police in the past four months. He credits Pathway to Recovery, a sober-living transitional housing program.

"Luckily, I found this place," Ladnier said, sitting in a brown Tudor near 22nd and Alabama streets that is home to more than 20 people dealing with addiction. "I don't know where I'd be at. I'd be in the mission, in prison, under a tent. It's like a big family. It makes me want to do better for them."

But Pathway's ability to help others like Ladnier is now in jeopardy.

The program's residents and staff are reeling from a stinging loss of its federal funding—a $102,000 cut that amounts to 30 percent of Pathway's annual budget.

And Pathway is not alone.

Programs across Indianapolis that provide housing and support to the homeless are bemoaning a $687,540 decrease in U.S. Department of Housing and Urban Development funding this year.

Overall, the groups received $4.2 million from HUD, compared with $4.9 million last year—a 15 percent cut. HUD also gave Indianapolis a $150,000 planning grant.

And there's tension about why the groups are suffering: Is it the fault of the local group that coordinates the funding request? Or is it a problem with federal priorities?

To Mayor Joe Hogsett's Office, the blame belongs with Continuum of Care, a local group with representatives from the city and homeless advocates that submits the funding request. The Mayor's Office believes Continuum of Care left money on the table for the city.

Service providers say programs weren't prioritized in the right way to win dollars. Some say discord among the decision-makers has slowed progress.

Witchey
"It's a self-inflicted wound," said Alan Witchey, executive director of the Coalition for Homelessness Intervention and Prevention, commonly called CHIP and a member of Continuum of Care.

"There has been a lot of inherent conflict in the homeless community rather than cohesively working together," Witchey said. "Everyone has to accept responsibility for this. There's plenty of blame to go around."

But for the people served by the programs, the question is less about blame and more about practicality.

"It's not something to deal with—homelessness—having to sleep outside and it's snowing and your toes are freezing and your hands are freezing," Ladnier said. "Programs like this are meant to help homeless people with addiction. When they cut our funds off, we can't bring other people in and get them help. That's another day they have to struggle outside."

Four other local groups just learned they've lost all their HUD funding: Partners in Housing lost $81,300; Eskenazi Midtown Community Mental Health lost $243,000; Coburn Place Safe Haven lost $107,500; and HVAF of Indiana lost $153,750, according to CHIP.

Two new projects—Healthnet's Rapid Re-housing Project at $623,750 and a CHIP expansion at $62,800—were also denied funding.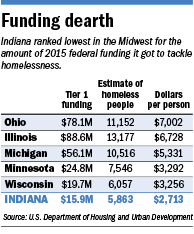 Shifting priorities

Advocates say the funding crash is due to shifting federal priorities—and how city leaders responded to them.

In recent years, HUD has advised that it's moving away from funding traditional transitional housing—which typically contains some barriers to entry, such as sobriety—and prioritizing funding for "permanent supportive" housing, part of a "housing-first" approach where basic shelter needs take precedence. However, transitional housing is still recommended for specific populations, including those suffering from substance abuse, according to HUD.

But HUD doesn't make funding decisions in a vacuum.

It has empowered local groups across the country—called continuums of care—to make funding priority decisions. In Indianapolis, that group includes local service providers, CHIP and the city.

The most recent local application was submitted last year, during Mayor Greg Ballard's administration, but service providers said the Republican shouldn't be blamed for the problems.

Armstrong
Partners in Housing Director Scott Armstrong said all the decision-makers in the local COC have debated at length the merits of HUD's priorities. As a result, less time was spent on actually developing a competitive application.

"You can discuss forever whether HUD is right or not, but where we screwed up was believing that HUD cared whether they were right or not," Armstrong said.

Witchey said the methodology used by COC this year was "very random" and subjective, resulting in strong programs falling low on the list of priorities. And since the city was competing with the rest of the country, its entire funding application didn't score well.

For instance, Partners in Housing, which provides the permanent supportive housing service touted by HUD, was listed as a second-tier funding priority, instead of a first-tier priority, Armstrong said.

Jeffers
Pathway to Recovery was funded as a first-tier program by HUD just one year ago, said Executive Director Sandy Jeffers, which suggests federal officials thought it was worth funding. But in the most recent application, Pathway was listed as a second-tier priority.

"The ranking wasn't based on who was successful with outcomes," Witchey said. "It was kind of based on a bit of, 'Who do you know?' People were more concerned about being nice than they were about making hard decisions."

Jeffers said part of the problem is the power structure of Indianapolis' continuum group. She said voting members "should be taking our direction" from the homeless service providers, the faith-based community and other community groups. Instead, she said, there's a top-down approach from city leaders.

"When you are sitting across the table from people who hold the funds, you are not likely to rock the boat," Jeffers said. "Now the boat is filled with water with five agencies sinking and more than 300 vulnerable homeless citizens going down."

Deputy Mayor Jeff Bennett, who leads community development efforts for Hogsett, said the group's discord is unfortunate, especially since its "decisions literally cost us money."

He said the federal government has given "every indication" that it would no longer fund transitional housing at the same level, and that the local COC "has never acknowledged that and kept supporting the same projects ... without making some tough decisions as a community to move in the direction HUD was encouraging."

The same group needs to submit another funding request later this year. Bennett said doing it better this time around is a top priority. He stressed that HUD's decision is not a reflection on the programs' performance and that the groups will "certainly be priorities for us in the next application."

"If we start now, I think we can submit a much different, better-prioritized application that gets us on the path that we need to be on," Bennett said.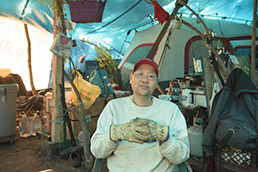 Lloyd Yang lives in a homeless camp along the White River at Kentucky Avenue, on the southwest side of downtown.
(IBJ photo/ Eric Learned)
Competing for dollars

Indianapolis' funding shortfall seems to be part of a larger problem in the state, although certainly not because of a lack of need. About 1,660 people were homeless in the city in 2015, according to one count that includes people in emergency shelters, transitional housing, safe havens and unsheltered people. That was less than in 2014, but 30 percent more people were considered unsheltered.

Still, overall, Indiana received the least amount of "Tier 1" federal support for homeless programs than any of its five peers in the Midwest this year. It also ranked last in the Midwest for dollars secured per homeless person.

Part of the reason, Bennett said, is that Indianapolis isn't doing a good job competing for federal dollars. He said he hopes the Hogsett administration does better capturing money next year.



"This announcement was disappointing but not surprising," Bennett said. "We've known since day one that our efforts to compete for federal funds have needed to be improved. That's not just in issues relating to homelessness. We're trying to do a better job at getting more of our fair share."

It's also true that federal support for these programs—a total of $1.9 billion was awarded to the states—was more competitive this year than in prior years, said U.S. HUD spokeswoman Gina Rodriguez.

"Funding is really tight," Rodriguez said. "We had our priorities and we were very clear as to what we would fund first. We want to see results. All the evidence points to rapid rehousing as a model that should be followed."

Rodriquez said she didn't know what Indianapolis' application lacked specifically, but she urged the local Continuum of Care to work with HUD more collaboratively.

She also suggested emulating or merging with a "stronger COC to create a more effective homelessness response."

But Indianapolis' Maurice Young—an advocate for the homeless who is himself "homeless by choice"—said the problem isn't just about funding; he said the city is not as imaginative or as compassionate as it could be. He said the local COC should be "dismantled and rebuilt" in a way that better reflects the actual needs of the homeless.

Young said a recent trip to Seattle—which has authorized "tent cities," a village of tiny houses for the homeless, and a collection of "urban rest stops" where the homeless can use restrooms, laundry facilities and showers for free—was eye-opening.

"They're not concerned with the issue of what brought you into homelessness," Young said. "They just want to ease your landing. That's brilliant to me."

Filling a hole

Witchey said it's important now that the city and advocates for the homeless rally around the groups who have been cut off. But he said everyone needs to start thinking seriously about a "long-term plan."

"There should be an emergency response to this," he said.

"It's devastating," Armstrong said, "but we're not in the business of putting people on the street."

And for Jeffers' Pathway program—which serves more than 90 people with a staff of six, only three of whom are full-time—that means relying more on fundraising and philanthropy. Last year, the group raised $100,000. She said the group's six houses are mostly self-supporting—except for the one Ladnier lives in with 22 other homeless men and women.

"Now we somehow have to double that fundraising immediately," Jeffers said. "This is the program where the guys and gals start with absolutely nothing: They have untreated addiction, untreated mental health, sketchy job history, criminal histories. This program is never going to be self-supporting."

Jeffers said the city and its myriad civic groups need to do a better job of working together for the people who need it. But right now, she's not exactly hopeful.

"The ones who are supposed to care don't care," Jeffers said. "When everything hits the fan, they hand the burden to the service providers. The homeless pay the price—always."•