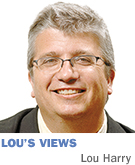 Lorraine Hansberry's "The Sign in Sidney Brustein's Window" doesn't have the name recognition or prestige of her most familiar work, "A Raisin in the Sun."

And Indy native Chris Stack, 42, isn't an actor yet known by many outside the theater world.

But a revelatory production of the play at Chicago's Goodman Theatre (through June 5), starring Stack, could begin to change the fate of both the play and the actor.

A frequent host for the Indianapolis City Ballet's annual benefit concert (parents, Ann and Chris Stack, are leading local arts philanthropists), Stack hasn't performed in a play in Indy since a Park Tudor School production of "Once Upon a Mattress." But since leaving town, he's racked up an impressive resume that includes work at some of New York's leading theaters—including Roundabout Theatre Company, the Public Theatre, Soho Rep and Playwrights Horizons. He was also a regular on the television soap opera "One Life to Live."

In Hansberry's play, he has found a complex, fascinating dream role—an ulcer-ridden alternative-newspaper owner wrestling with ethical, political and personal conflicts.

I caught up with Stack for a chat after the show.

What was your entry point to finding the character?

His ulcer is pretty indicative of the level of stress and energy that Sidney's working with. But I think it was just his drive, that real drive and passion and urgency that he feels about pretty much everything. His head is ahead of his heart, though. That serves him well in some ways and cripples him in others that are arguably more important, including his relationship with his wife.

I could feel the audience cringe when he makes those mistakes.

That's a wonderful indicator that we're doing something right. In order to have that reaction, you have to care about him. That collective cringe means they are on my side, just wishing I wasn't making those mistakes.
Stack
Hansberry gives actors a lot to work with.

You could work on this play forever and keep finding more gold. I can honestly say it's my favorite thing I've ever done—it's so big and messy and beautiful and wonderfully human and relevant and all those important things you look for. It's an American classic that should be right up there with "Long Day's Journey into Night" and "Death of a Salesman."

Why do you think the play isn't usually mentioned in that company?

After "A Raisin in the Sun," people had [Hansberry] pegged as a certain kind of playwright. In 1965, people in the theater establishment were put off by this young black woman writing a play about white people. And there was a lot more in it that people had to wrap their heads around. It was a lot more than some of them could handle. So it kind of got lost.

But it still holds up.

Good lord, this thing was portentous—it's as relevant as it was in 1965, if not more so. Some plays can benefit from a little time, like wine. It can pack a bigger wallop.

How has your soap opera experience helped your stage work?

It really helps a lot with time pressures. On the soap, I replaced an actor and got the job on a Tuesday, and on Thursday shot 70 pages of material. To get a script like this and have two weeks [Stack was brought in to "The Sign in Sidney Brustein's Window" to replace another actor]—I knew I could get all the words and motions in my bones but also knew that I would still be learning the character for some time afterwards.

That takes confidence.

When [Director] Annie Kaufman calls you, that lets you know you can do it. If she thinks I can do it, I can probably do it.

Are you enjoying Chicago?

Chicago is called The Second City but, in many ways, it's first. I've been surprised not by the number of theaters but by the number of theaters doing really great work. There's a real market for culture in Chicago. People have been coming to the Goodman incredibly focused and engaged and not jaded—just really hungry for a great play. I hope I can work here again.

What's next?

Nothing set. But that's how it works. One day you've got nothing and the next day you have everything. This job is a case in point. On a Monday, I didn't have anything. On that Tuesday, my next two months were spoken for. I've been wanting to work at the Goodman since long before I even knew about New York theaters. I would have taken a much lesser part in a much lesser play to work in this theater.•

__________

This column appears weekly. Send information on upcoming arts and entertainment events to lharry@ibj.com.